Osteosarcoma: Kambre's Story
The first day of kindergarten is one many parents remember—as both a happy and sad milestone. But Kambre Jo Konrade's first day marked a milestone of a different kind. She was diagnosed with osteosarcoma—bone cancer.
That afternoon, the 5-year-old took a tumble off the monkey bars at school in Spearville, Kan., a small town northeast of Dodge City. During the evening, she complained that her leg still hurt. A trip to the ER led to an X-ray that initially seemed reassuring: no breaks or fractures. But the radiologist saw a grapefruit-sized mass above Kambre's knee and forwarded the image to doctors in Wichita, Kan., and Kansas City. They confirmed the Dodge City doctors' suspicions: tumor.
Kambre was referred to Children's Mercy Kansas City for assessment and treatment. Her oncologist, Katherine M. Chastain, MD, Assistant Professor of Pediatrics, remembered how—early on—she was impressed with Kambre's resilience.
"I could not believe this little girl had this huge tumor and very little pain," Dr. Chastain said. "Just goes to show how tough she is!"
That toughness would be critical in facing her illness. Kambre was "too small with too many years left to grow," her mother, Morgan, explained. That meant doctors couldn't follow the typical procedure of removing the cancerous bone and installing an expandable rod.
"They didn't make a rod small enough to fit her little leg nor with the potential to expand as much as she still could grow." In addition, a specific margin of healthy bone must be removed to ensure all the cancer is eliminated—a critical necessity because recurrence yields less than a 30 percent survival rate. Plus, the typical procedure would have required additional major surgeries throughout Kambre's life.
"The risks offset the benefits substantially," Morgan said. Yet, the safer surgery for Kambre was also an extreme one: rotationplasty, a procedure in which surgeons remove the lower section of the leg and reattach the ankle and foot backwards to the thighbone. The ankle then acts as a knee joint for a prosthesis.
Dr. Chastain said, "Ensuring that rotationplasty was the best choice for Kambre was important, because we had to balance getting out a large tumor in a small child, plus making sure she had good function and no limitation in what she wanted to do going forward."
Kambre proved immediately after surgery that "good function" would be an understatement in her recovery. The same day as the procedure, for example, she could move her toes on command.
"Normally that takes about two-plus days," Morgan explained. "Kambre could also move her foot back and forth!" Later, on her first attempt with her prosthesis, Morgan said, "She did unbelievably well. It's like she knew no different. Amazing is just what she does and who she is!"
The same could be said about the Children's Mercy staff. "Children's Mercy and all the providers we encountered along the way have been incredible," Morgan said. "The specialty knowledge of her illness and willingness of her providers to listen to us and support us, as well as educate us, made us confident we were in the right place. Children's Mercy knows kids and addressed the needs not only of the illness, but emotional, physical and mental, as well. We loved the family we became a part of while there!"
Kambre will continue to be part of that family for many years to come. "She has a good prognosis," explained Dr. Chastain. "But osteosarcoma can still come back. So we will follow her a long time with regular scans." Morgan added, "While you expect good care in a hospital, we continue to be humbled and beyond thankful for the nurses and doctors at Children's Mercy."
Related Stories
Ewing sarcoma: Alex's story
Despite the life-threatening diagnosis of advanced Ewing sarcoma, Maruska and Jeff Goodwin, Leicester, United Kingdom, were determined to find answers for their 8-year-old son, Alex. At Children's Mercy, they discovered the expertise Alex needed to not only beat cancer, but to grow stronger day by day.
Meet Alex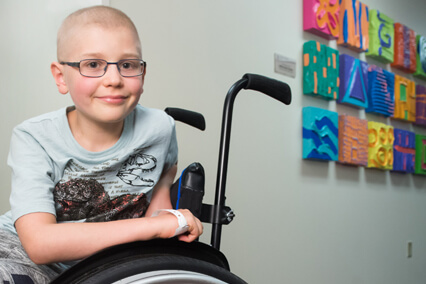 Rhabdomyosarcoma: Suela's story
At just 15 years old, Persephone Consuela (Suela) Duran was diagnosed with a rare form of cancer called rhabdomyosarcoma. Luckily, the Salina, Kan., teen lived less than 200 miles from one of the premier hospitals in the nation known for treating this deadly disease, and sought help at Children's Mercy Kansas City.
Meet Suela