Rhabdomyosarcoma: Suela's Story
Persephone Consuela (Suela) Duran had a better chance of being hit by lightning than developing rhabdomyosarcoma.
Suela was a 12-year-old when she began experiencing what seemed to be harmless, though uncomfortable symptoms.
Claudia, Suela's mother, said frequent doctor visits became the norm when Suela began menstruating. "We knew something was wrong, because Suela's periods were extremely heavy, and she was always cramping," Claudia explained.
Suela's pediatrician in her hometown of Salina, Kan., tried birth control pills and injections to lessen her symptoms. Blood tests and physical exams initially showed no cause. But, in early September 2013, a mass was discovered in Suela's uterus. She was 15 years old.
Surgery at the Salina Regional Health Center removed the tumor, and it was sent for a pathology test. A week later, results confirmed the teen had embryonal rhabdomyosarcoma (ERMS). The protocol was for a hysterectomy and chemotherapy.
Rhabdomyosarcoma is a rare cancer; just four per million patients develop it before age 15. And, on average, only 350 cases occur in the United States each year in children under age 21.
Her parents were caught off-guard by the severity of Suela's illness. She had been a healthy child, taking dance lessons and playing soccer over the years. "We weren't prepared for our 15-year-old to have her uterus removed, a port put in and chemo for six months," Claudia said. "We were scared and devastated."
While Suela's chances of getting the cancer may seem unlucky, she had the good fortune to live less than 200 miles from one of the premier hospitals in the nation known for treating the deadly disease.
The staff at Children's Mercy was overwhelming in its support, Claudia added, especially Katherine M. Chastain, MD, Assistant Professor of Pediatrics, University of Missouri-Kansas City. When she saw Suela's test results, Dr. Chastain said, "I knew we needed to get her specialized care."
That specialized care included six months of weekly chemotherapy treatments. So, every Friday, as soon as Suela's father, Johnny, got off work from his night shift at the local college, the family packed into the car for the 175-mile drive from Salina to Children's Mercy. Claudia said the disease impacted her daughter's life in many ways.
"She was sick and missed out on sports, visiting and enjoying her friends, and eating out. She had to wear a mask to school. Fevers were a concern, and she was sick to her stomach on Mondays after treatment and couldn't attend school," Claudia explained.
But the staff at Children's Mercy sustained them through the fear and uncertainty. "Her treatment at Children's Mercy was the best you could hope for and receive," Claudia said.
Suela said Dr. Chastain was particularly reassuring when the teen had questions. "She made me feel at ease with her laughter and reassured me I would make it through," Suela said. "I felt like she cared about the whole person. She let me know I would make it to college, and I did."
Now a sophomore at Kansas State University, Suela is studying business and hopes to become a veterinarian. Dr. Chastain said her former patient had an excellent chance of achieving that dream.
"She has a very good prognosis," Dr. Chastain said. "She's already several years out with no signs of disease recurrence."
Claudia said she knew her daughter got "the best medical care in the world," adding, "Our child is alive and well today because of Children's Mercy staff."
Related Stories
Ewing sarcoma: Alex's story
Despite the life-threatening diagnosis of advanced Ewing sarcoma, Maruska and Jeff Goodwin, Leicester, United Kingdom, were determined to find answers for their 8-year-old son, Alex. At Children's Mercy, they discovered the expertise Alex needed to not only beat cancer, but to grow stronger day by day.
Meet Alex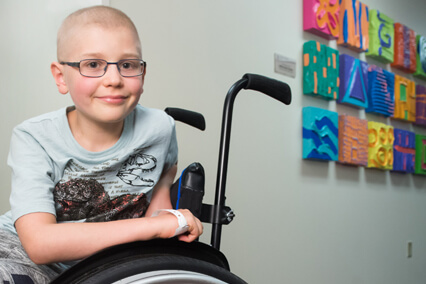 Osteosarcoma: Kambre's story
Kambre Jo Konrade started kindergarten facing a life-threatening obstacle—a grapefruit-sized mass above her knee called an osteosarcoma. The experts at Children's Mercy performed a procedure called a rotationplasty. Today, Kambre's tumor is gone, and she has good function in her leg.
Meet Kambre