Ewing Sarcoma: Alex's Story
Maruska and Jeff Goodwin weren't initially worried when their usually happy, precocious, 8-year-old son complained about pain in his leg. But then it began waking him at night and their parental instincts went on high alert. When Alex began limping and was in nearly constant discomfort, the Leicester, United Kingdom, couple went searching for help.
For seven months, they took their son from one doctor to another, from Leicester to Sheffield to Birmingham, but there was no definitive diagnosis.
Meanwhile, Alex's health worsened. "He was rapidly losing weight, was always very tired, stopped attending school, stopped eating and was in constant, unbearable pain," his mother said.
Finally, doctors re-evaluated the boy's condition and referred him to a bone-tumor specialist. A biopsy confirmed what the parents had feared all along: cancer—specifically, Ewing sarcoma. Tests showed a tumor had destroyed Alex's right hip and thigh bone. Alex eventually began chemotherapy, but by then his health had significantly deteriorated. Soon, doctors told his parents nothing else could be done. Surgery to remove the tumor would simply reduce the quality of time Alex had left. His mother and father should prepare to say goodbye to their little boy.
But Alex's parents chose a different path, beginning with an online search for help. Their efforts led them "across the pond" to Children's Mercy. And doctors here offered a much different perspective on the little boy's illness.
In December 2016—11 months after initially seeking treatment for their son—the family flew to Kansas City. After reviewing his records, Katherine M. Chastain, MD, oncologist and Assistant Professor of Pediatrics, University of Missouri-Kansas City, said the team here could offer surgery and further treatment. "We wanted to give some hope that we could help," she said.
Alex was immediately admitted to Children's Mercy, and chemotherapy was restarted as the health experts assessed his condition. "His treatment was very efficient," Maruska said. "We felt we were very well-informed of every step taken, something we weren't used to in the U.K."
In January 2017, surgeons in Kansas City removed Alex's tumor and thigh bone. He received titanium versions of his femur and knee cap, followed by more chemotherapy and a unique radiation treatment. By July, his cancer was gone. That same month, doctors replaced his titanium femur with a telescopic version that could grow with him.
Alex headed home in August, but he'll be returning every three months for the first year, and then continued follow-up for many years to come. Dr. Chastain will check regularly to ensure his cancer hasn't recurred, and his telescopic femur will be incrementally extended.
"Alex's case has been challenging because of the aggressiveness of his tumor and the extensive surgery he required," Dr. Chastain said. "But he has done remarkably well."
His parents see the same fortitude. Maruska said, "Alexander is getting stronger every day. We will forever be grateful not only to the medical professionals, but to the numerous friends we made. Kansas City will always feel like a second home.
"The level of expertise and care we received was astounding," she added. "We feel so fortunate to have come here."
Related Stories
Osteosarcoma: Kambre's story
Kambre Jo Konrade started kindergarten facing a life-threatening obstacle—a grapefruit-sized mass above her knee called an osteosarcoma. The experts at Children's Mercy performed a procedure called a rotationplasty. Today, Kambre's tumor is gone, and she has good function in her leg.
Meet Kambre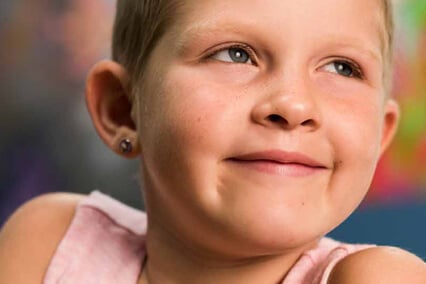 Rhabdomyosarcoma: Suela's story
At just 15 years old, Persephone Consuela (Suela) Duran was diagnosed with a rare form of cancer called rhabdomyosarcoma. Luckily, the Salina, Kan., teen lived less than 200 miles from one of the premier hospitals in the nation known for treating this deadly disease, and sought help at Children's Mercy Kansas City.
Meet Suela