Hodgkin lymphoma: Miqueas' Story
The moment Terrie Flatt, DO, MA, Director of the HOPE Clinic, the Children's Mercy Spanish-Speaking Cancer Clinic, walked into the exam room where Miqueas Valdez Cisneros was waiting for him, he knew the 14-year-old was facing a cancer diagnosis.
"Miqueas had a tumor that measured 16 centimeters by 10 centimeters on the side of his neck," Dr. Flatt explained. "It was about the size of half a small cantaloupe."
Blood tests and a biopsy confirmed that Miqueas had stage IIB Hodgkin lymphoma, a cancer that begins in the lymphoid tissue which is part of the body's immune system, with bulk disease. Although Hodgkin lymphoma can start in any lymph node, it often begins in the lymph nodes in the upper body. The most common sites are in the chest, neck or under the arms. For Miqueas, it started in that lymph node on the side of his neck.
"At first, it was a small, hard bump, like a bean," Miqueas said. "I told my mother about it and she took me to the doctor, but the doctor said it was my lymphatic system."
As the days and weeks went by, the bump got larger, and Miqueas began itching excessively. "I itched all over, especially my feet," he said. "My mom tried to help me by changing my diet. I began exercising, and took baths in Epson salts to relieve the itching, but the bump was still there."
Maria, Miqueas' mother, speaks Spanish and limited English, but she knew something was wrong with her son, and took him to multiple providers in search of an answer. She also applied several times for medical insurance before being approved.
"The burden of the family's insurance and a possible language barrier may have contributed to a delay in Miqueas' diagnosis," Dr. Flatt said. "We often see this with solid tumors in the Hispanic community. Fortunately, Hodgkin Lymphoma is one of the most treatable forms of cancer. Miqueas' survival rate is 90 percent, even though his cancer was diagnosed late."
"I didn't want to hear the diagnosis," Miqueas admitted, "but I was relieved to know what I had and that it could be treated."
Dr. Flatt prescribed five rounds of chemotherapy delivered every 28 days in the Hope Outpatient Clinic. Radiation therapy to the original tumor site will follow to be sure all the cancer is gone. Though Miqueas said he was exhausted after his first chemotherapy treatment, the bump had disappeared.
"I couldn't believe it," Maria said. "We were so happy it was gone! Dr. Flatt has been a blessing from God—someone who could talk with Miqueas and who we could understand."
Over the next five months, Miqueas lost much of his hair, but he gained an appreciation for the people who made his diagnosis and treatment possible. "Miqueas is a bright, articulate, young man with positive attitude," Dr. Flatt said. "He is an advocate for himself, and very considerate of his parents and family."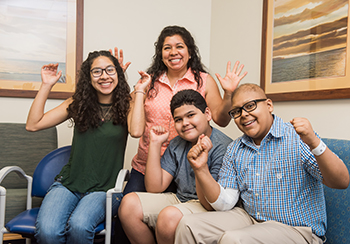 As he wrapped up his last chemotherapy treatment on July 13, 2018, he was accompanied by his mom, older sister Micaya, and younger brother Asaf. His father, Leo, had to work, but Miqueas said he has been very supportive, too. "My family and I are a team," Miqueas said. "I could not have gotten through any of this without them."
He also gives Dr. Flatt and the nurses in the Hope Clinic credit for the outstanding care he has received. "Dr. Flatt and everyone at Children's Mercy have been very kind and professional to me," Miqueas said. "They have made me feel at home and have brought me so much joy. I think it's good to have people like them in the world!"


Terrie Flatt, DO, MA
Dr. Flatt specializes in Pediatric Hematology/Oncology and is the Director of the Spanish-Speaking Cancer Clinic.