Ewing Sarcoma: Gavin's Story
Just take one look at his picture, and it's easy to see that Gavin Beaver is a fighter, but it's not because he wants to be. It's because he has to be.
At just 9 years old, Gavin was diagnosed with Ewing sarcoma, a very rare type of cancerous tumor, usually affecting about 200 people each year from ages 10 to 20, most often males. It grows in the bones or the soft tissues surrounding the bones, such as cartilage or the nerves.
In Gavin's case, the tumor began in his back, pressing on his lumbar spine and the nerves controlling his left leg, eventually causing excruciating pain and temporary paralysis.
To relieve the pain and prevent further nerve damage, Gavin had emergency surgery to remove the tumor, then began the first round of chemotherapy to treat the disease.
"Standard protocol for Ewing is 17 chemotherapy treatments," said Julie Beaver, Gavin's mom. "Between treatment and complications, Gavin spent more than 100 days as an inpatient at Children's Mercy that year."
Once he completed that first round of chemotherapy, Gavin started radiation therapy as an outpatient. The goal was to be sure all of the cancer cells in the original tumor were gone. And for a while, they were.
"Gavin put cancer in the rearview mirror and went on with his life," Julie said. He enjoyed swimming, school and reading. But about two years after he finished treatment, Gavin started waking up with terrible headaches.
Another MRI confirmed the cancer was back, appearing at the base of his skull, cervical spine and in his ribs.
The news was a devastating blow for Gavin and his family, but he mustered the strength to fight the cancer again.
"What's really important is to have the willpower to continue with treatment," Gavin said. And Gavin's will is strong.
For round two, Gavin received treatment in the Children's Mercy Hematology/Oncology Outpatient Clinic. That was followed by radiation to the base of his skull, neck and rib area. After almost a year, Gavin was back in remission, but the victory was short-lived.
"Not long after he finished treatment, Gavin started having pain in his rib area again," Julie said. "He was off treatment barely a month."
His oncologist, J. Allyson Hays, MD, confirmed that Gavin had relapsed, and treatment began again, this time with a different combination of chemotherapy drugs.
Fast forward to today, and Gavin said he's now relapsed five or six times—he's lost count. Julie has, too.
"It seems like if Gavin isn't on a different chemotherapy regimen the cancer returns, so treatment has become routine for him," Julie said. "Dr. Hays and her team are always working and fighting for Gavin, trying to outsmart the cancer."
"Over the years, we have used standard chemotherapy to treat Gavin, but we have also looked at a variety of out-of-the-box options, including experimental therapeutics and immunotherapy," Dr. Hays said.
Today, Gavin is on a new combination of chemotherapy at Children's Mercy. He balances treatment with walks at the Overland Park Arboretum near his home, reading and spending time with family.
"I try to savor each 24 hours," Gavin said. "I love everyone in the Hematology/Oncology Clinic. They are all so kind and they have known me for so long. The relationships we have developed give me the strength to keep fighting."
Dr. Hays said Gavin is exceeding everyone's expectations.
"I have known Gavin since 2013, and what impresses me about him and his parents is that they continue to choose optimism, generosity and love throughout his treatment," Dr. Hays said. "He is an inspiring young man and we are exploring every avenue possible to give Gavin a fighting chance."
Over the years, we have used standard chemotherapy to treat Gavin, but we have also looked at a variety of out-of-the-box options, including experimental therapeutics and immunotherapy.
Stories & Videos
Ewing sarcoma: Alex's story
Despite the life-threatening diagnosis of advanced Ewing sarcoma, Maruska and Jeff Goodwin, Leicester, United Kingdom, were determined to find answers for their 8-year-old son, Alex. At Children's Mercy, they discovered the expertise Alex needed to not only beat cancer, but to grow stronger day by day.
Meet Alex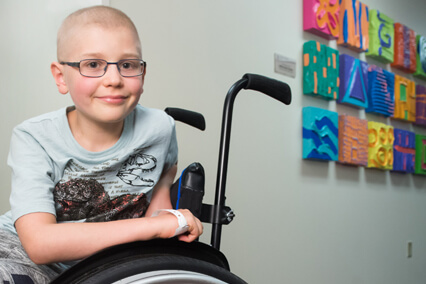 Osteosarcoma: Kambre's story
Kambre Jo Konrade started kindergarten facing a life-threatening obstacle—a grapefruit-sized mass above her knee called an osteosarcoma. The experts at Children's Mercy performed a procedure called a rotationplasty. Today, Kambre's tumor is gone, and she has good function in her leg.
Meet Kambre