Broken Leg and Shattered Kneecap: Martez's Story
Meet Martez

At just 13 years old and 6' tall, Martez Hall is a promising student-athlete who has played football, basketball and baseball for nearly half his life.
But on Sunday, Aug. 23, 2020, Martez's life changed. "I had taken Martez to football practice earlier that day, and then he wanted to go to his grandpa's house," said Shantel Hall, Martez's mom. "All the kids love hanging out at my daddy's house. He has a basketball court, motorized scooters, all the fun stuff kids love."
Shortly after Shantel dropped Martez off, he went for a scooter ride with some friends. As he was cruising down the street, a driver in a Dodge Charger hit Martez, sending him crashing onto the pavement.
"I got a call from the mom of one of the friends who was with Martez telling me he'd been hit," Shantel said. "I got to the scene just after the police arrived. The ambulance crew was picking him up."
Though Martez initially had been knocked unconscious by the blow, he came to by the time Shantel got there. "One of his teeth had come through his top lip completely, his right leg was broken, and he had a big hole in his left leg where the kneecap was. You could actually see the bone. The kneecap was shattered."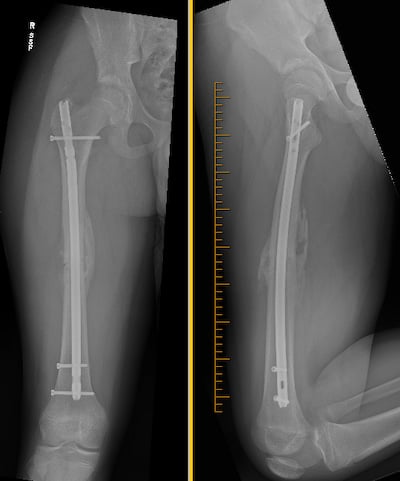 The ambulance transported Martez to the Children's Mercy Kansas City Adele Hall Campus where doctors evaluated his injuries. "Martez had some swelling in his abdomen, so the doctors waited before doing surgery on his legs. They wanted to be sure he didn't have any internal bleeding," Shantel said.
The next day, Richard Schwend, MD, Pediatric Orthopedic Surgeon, took Martez to the operating room for a 10-hour surgery. Dr. Schwend stabilized the fracture in his right femur, the large bone in the thigh, using a metal rod, but repairing his kneecap proved to be a challenge.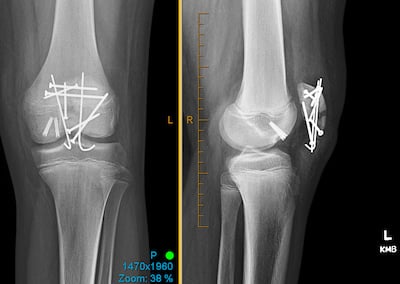 "Martez's kneecap was literally in pieces," Dr. Schwend said. "It was like putting a puzzle together using surgical screws, wires and sutures."
Once Martez was out of surgery and back in his room, hospital staff worked to get him up and moving. With a wheelchair for support, he walked a few steps every day. Only one week after the accident, he was released to go home, but he could only bear weight partially on the right leg, and not at all on the left leg, the one with the shattered kneecap.
Challenging rehab

A few days later, Shantel took Martez back to the Children's Mercy Adele Hall Campus for his first rehab appointment with Julie Perrini, DPT, ATC, Physical Therapist, Children's Mercy Sports Medicine Center.
"I saw Martez for the first time on Sept. 2, 2020," Julie said. "He was in a pretty rough place. He came in in a wheelchair with his mom and aunt. In just a matter of days he had gone from being an active kid playing football on a competitive traveling team, to needing help just to move from the wheelchair to the table for our evaluation. It was hard to see him in that position."
But Julie connected immediately with her patient, focusing on Martez's love for sports and his goal to play again.
"Julie knew exactly how to get Martez talking about sports, and injuries, and the players," Shantel said. "She's able to have those conversations and she understood how to motivate him."
Julie said Martez is an extremely polite patient who always calls her "Miss Julie" and who has been determined to do everything she's asked, and more.
"We see the type of trauma Martez experienced in his right leg from automobile crashes or high-impact sports injuries," Julie explained. "But Martez's kneecap was another story. The repair Dr. Schwend did was just astounding."
The challenge for Julie and Martez were the restrictions he had to both legs. "He had healing fractures in his right and left legs, so he couldn't put full weight on either side initially," Julie said. "I had to balance his desire to get out of his wheelchair with the need to do so safely."
Julie started by helping Martez regain his range of motion and strength in his right leg since he could put some weight on it. "The first time Martez came to therapy, he couldn't lift either leg without help," she said.
As Julie worked on strength and range of motion, two weeks after the accident, Shantel asked if Martez could attend his team's football game.
"The accident happened the day before Martez was supposed to play his first game, so he was in the hospital and had to miss it. Julie said it would be fine if I took him, so I pushed Martez in his wheelchair," Shantel said. "Around halftime, he asked me to go back to the car and get his walker. He was determined to stand on his own two legs with the walker."
"We always try to encourage our patients to still be a part of their teams so they can see the reality of getting back to their sport and having the support system of their team in place to motivate them to get better and stronger," Julie said.
And it worked. About one month after his injury, Martez was completely off crutches, and no longer needed the brace on his left knee. "That first month was a really tough one, but all the hard work paid off for Martez," Julie said.
In fact, he had made so much progress, he was ready to begin aquatic therapy in the pool at the Adele Hall Campus. "Before moving to the next level of therapy, I always checked in with Dr. Schwend to be sure Martez's injuries were healing properly," Julie added.
When can I play football?

Martez loved working out in the pool, and as he regained his strength, confidence and flexibility, he started asking Julie and his mom, "When can I play football?"
"Martez was doing all the things in the water that athletes do on land," Julie said. "So, I started using the football to help him practice balancing on one leg while throwing and catching, making a game out of it for him. That's when I think things really started to click. You could tell playing football at every level was his dream."
Martez agreed. "I love everything about football," he said. "Of all the sports I play, football is my favorite."
By the end of 2020, Julie felt Martez was ready to begin working out at the Cleaver Family YMCA, located at 70th and Troost. That location features a weight room, basketball courts, and gives student-athletes a real-life feel for what it will be like to return to a training environment.
At the Y, Martez continued to build on the important foundation Julie had started for him. He even challenged "Miss Julie" to races on the Y's stationary bikes and during basketball drills.
When Martez returned to see Dr. Schwend on his 13th birthday Jan. 6, 2021, he received the best present … ever!
"Martez was doing remarkably well when I saw him," Dr. Schwend said. "His range of motion was really good. He could do squats, a standing 4' broad jump and sprinted up and down the hall."
"Dr. Schwend released me to play basketball," Martez said. By February, he was back on the court for real, playing in a local tournament.
But Martez's therapy was far from over. Julie continued to get her patient back into playing form for football, a goal he's close to reaching thanks to his hard work and determination.
"Martez is fearless and is always asking for more," Julie said. "My biggest challenge is reeling him back in. I know he feels like he can play football, but I want to see him clinically hit specific milestones before he can move forward. I don't want him to get injured again."
Proceeding with caution

Shantel doesn't want Martez to get injured either. "I always tell Martez to listen to Miss Julie. She's the best therapist ever. If she says you're not ready, you're not ready," Shantel said.
And though Martez was ready to play basketball, Julie said he's not quite ready for football. "That right side is solid and Martez tends to use it to his advantage, driving off the right side, jumping off the right side, landing on the right side," Julie said.
"I have to push him to safely do the same on his left. When he started therapy, there was a 40% difference in quadriceps strength when we compared his right and left legs using a hand dynamometer. Now that difference is less than 10% Our goal is to transition him out of physical therapy slowly into the strength and conditioning he'll need to play football in the fall," she added.
But the jury is still out as to whether he'll get back in the game. "I let him try out for the basketball team and play in that tournament, but I'm not as sure about football," Shantel said. "He tried out for a new traveling team in April and he made it, but as a mother, I'm just leery of it.
"We go back to see Dr. Schwend in June and we'll see how things look then," Shantel added. Julie agreed that Dr. Schwend's guidance is important for a safe return to sport after such a devastating injury, but Martez has worked hard to get back on the field.
"Martez's recovery hasn't happened in isolation," Dr. Schwend said. "Surgery is just one component of his treatment. It's taken outstanding nursing, rehabilitation, family support and Martez's own motivation to get him back to the high level of activity required to play football."
Shantel agreed that Martez is motivated to get back in the game. "Martez is determined to play again. He was an excellent football player before the accident. He has tons of trophies and awards to prove it. I don't want to take away his opportunity to play the game he loves, but I want him to be safe," she said.
Martez is hoping he'll have the chance to prove himself again. "I'm going to play football," he said.
In agreement

Though Martez and his mom may not be on the same page yet when it comes to football, there is something they can agree on.
"Miss Julie is the best," Martez said.
"Momma agrees," Shantel said. "Miss Julie is the best and Dr. Schwend is a wonderful doctor, too.
"Julie was able to break through where I couldn't. She knew exactly how to talk to Martez about sports and that's right up his alley.
"I just thank God that Martez is still here and that he is able to walk again. He has a lot of metal in his body, but he's basically healthy. And I'm thankful for Children's Mercy, Dr. Schwend and Miss Julie."
"COVID has presented a lot of extreme difficulties for all families and health care providers over the past year, and adding an injury like this hasn't made life easy," Julie added. "But Martez has always seen the light at the end of the tunnel. He's a funny, competitive kid whose spirit shines through every single time we work together. He's pushed me to be a better therapist."
Find Children's Mercy Sports Medicine on social media


Pediatric Orthopedic Surgery
Rex L Diveley Endowed Professorship in Orthopaedic Research; Interim Chair Department of Orthopedic Surgery; Director, Pediatric Orthopaedic Surgery Research Program; Past Chair, American Academy of Pediatrics, Section on Orthopaedics; Past President, Pediatric Orthopaedic Society North America; Professor of Orthopaedic Surgery, University of Missouri-Kansas City School of Medicine; Clinical Professor of Orthopaedic Surgery, University of Kansas School of Medicine