Ketogenic diet

The ketogenic diet program at Children's Mercy helps children with epilepsy and other seizure disorders to reduce or eliminate seizures through a medically prescribed personalized diet plan.
The ketogenic diet—high in fat and very low in carbohydrates—helps children whose epilepsy does not respond well to medications alone.
The typical American diet is about four parts carbohydrates to one part fat and protein. The ketogenic diet reverses this ratio so that the majority of the diet is fat and only a very small amount is protein and carbohydrates.

How does the diet work?

For reasons scientists are still working to understand, changing the body's main source of energy from carbohydrates to fats has a calming effect on the brain.
What we do know is that it significantly improves the quality of life for more than 90% of the kids in our program. For many of them, eating "keto" (usually together with medications) means they can finally experience life with fewer or even no seizures for the first time.


Is the ketogenic diet right for my child?

Talking with your epilepsy team is the first step to determining whether the ketogenic diet might be a good fit for your child.
At this time, medication is still the first line of treatment for most kids with seizures. In most cases, your child will have tried two or three different medications without success before entering the ketogenic diet program at Children's Mercy.


What to expect

The program starts with a week-long hospital stay to begin the diet, monitor your child's health, and educate your family about how to prepare food for your child. This gives your child's system time to adjust to the diet and allows their care team to watch closely for any concerns.
You'll stay connected with your health care team and follow up with them periodically to make adjustments to your child's diet and medications.
Our ketogenic diet program for children with epilepsy is much more rigorous than most of the popular "keto diets" for adults. It is a medically prescribed treatment plan that must be carefully monitored by a team of doctors, nutritionists and dietitians. Children on the diet require several kinds of nutritional supplementation and can experience serious side effects if not under a doctor's care.
While some kids can transition off the diet after a period of prolonged improvement, others will need to follow it for life, making it a significant commitment for kids and their families.


Modified Atkins diet

We've found that some kids who are unable to handle the ketogenic diet still have fewer seizures by following a modified Atkins diet. This diet carefully controls carbohydrates, but is less strict about the amount and type of other foods a child can eat.
Similar to the ketogenic diet, it requires a family commitment and follow-up clinic visits periodically to monitor your child's health.
"Cooking with Keto Kids" program

Children's Mercy is fortunate to have Chef Rachel Finn, a professional chef and former restaurant owner, on staff to help kids and families learn recipes and cooking techniques for living on the ketogenic diet. She uses her creative culinary expertise to build recipes around the particular dietary needs and preferences of a child who is experiencing seizures.
Working together with our dietitians and nutritionists, Chef Rachel creates a plan that is not only nutritious, but delicious for her "keto kids."


Families cooking together

While it is generally not recommended for the whole family to follow the diet, Chef Rachel has come up with many recipes, from beef stroganoff and Kung Pao chicken to birthday cakes, that can be modified for the child on the diet as well as the whole family.
Chef Rachel also offers cooking classes for families in the program. The classes are hands-on, even for the youngest kids, as they learn how to weigh and measure their foods to create keto-friendly recipes. Working together with the occupational therapy team, Chef Rachel helps kids strengthen their fine motor and sensory skills in her classes as well.


Connect with support and resources

Kid-sized kitchen tools and low tables make classes easier on the kids, but the parents benefit from finding a network of support from other families in the program. Watch Santi's story to see how the program has helped his family.
For more information about the ketogenic diet program at Children's Mercy call (913) 696-8950. You can also listen to a podcast with Dr. Ahmed Abdelmoity, Director of the Comprehensive Epilepsy Center at Children's Mercy, about the scientific and medical basis for the ketogenic diet.
Learn more about the diet and how it works from the Charlie Foundation.
Stories
Ketogenic diet for pediatric epilepsy: Reed's story
Despite being diagnosed with a rare genetic disorder called Glut1 that causes seizures, Reed Williams is active and healthy. His family credits the Children's Mercy Ketogenic Diet Program with making that possible.
Meet Reed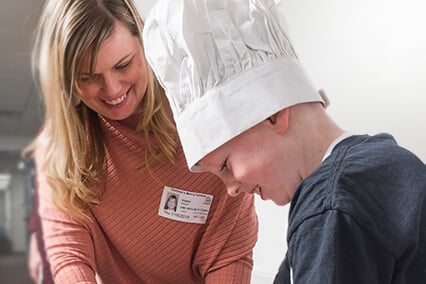 Ketogenic diet for pediatric epilepsy: Vito's story
Diagnosed with the rare genetic disorder Glut1 as an infant, Vito Costanza had constant seizures until beginning the ketogenic diet at Children's Mercy. Thankfully, the diet has been a lifesaver for Vito.
Meet Vito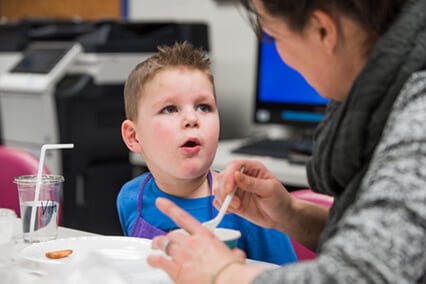 Pediatric epilepsy: Gary's story
Christian Kaufman, MD, Children's Mercy pediatric neurosurgeon, performs an intricate surgery to remove abnormal brain tissue, which should help stop severe epileptic seizures for Gary. Months later, Gary is seizure-free, and is slowly being taken off his anti-seizure medications.
Ketogenic diet for pediatric epilepsy: Santi's story
When Bertha Guillen's son, Santi, struggled with seizures, she was told he may never walk or talk. But with the help of an innovative diet plan, his epilepsy has been controlled, even without the use of medication. Watch Santi's story to see how a mother got her son back.