The Division of Infectious Diseases at Children's Mercy provides inpatient and outpatient care for newborns to young adults. Our experts in infectious diseases provide compassionate care, excellence in teaching, and investigations into clinical and laboratory research.


Infectious Diseases Programs

We have specialized clinics for international adoptions, travel medicine, and immunocompromising conditions. Our Antimicrobial Stewardship Program is one of the first pediatric programs in the country. We are the site for the IMPAACT and NVSN studies.
Outpatient management and inpatient diagnostic evaluation and management is available at Children's Mercy Adele Hall Campus and Children's Mercy Hospital Kansas. This includes consultation service for both primary infectious diseases and immunocompromised host consultation services.
For questions regarding vaccinations, outbreaks and alerts, infection control, diagnostic testing and laboratory interpretation please call (816) 234-3061.
Conditions
Fever

Chronic or recurrent infections

Serious systemic infections

Infections in the immunocompromised host

Foreign body-related infections

Post operative and hospital-acquired infections

Pneumonia

HIV infection

Meningitis

Herpes simplex virus (HSV) infection

Skin and soft tissue infections

Lymphadenitis/lymphadenopathy

Musculoskeletal infections

Tick-borne infections

Kawasaki disease

Tuberculosis

Intra-abdominal infection

Cat Scratch Disease

Gastrointestinal infection

Recurrent MRSA skin infection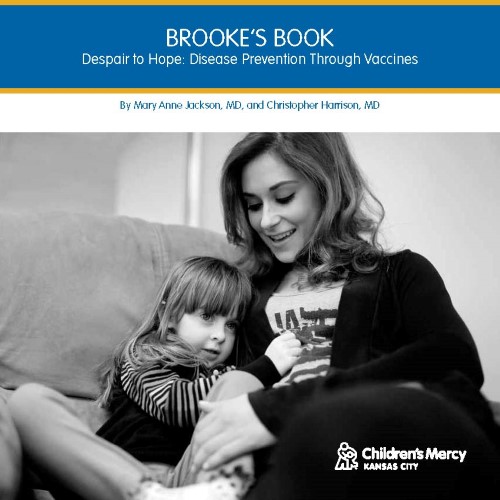 Brooke's Book
Despair to Hope: Disease Prevention Through Vaccines
by Mary Anne Jackson, MD, and Christopher Harrison, MD

Synopsis: Brooke was a seemingly healthy 28-year-old woman whose life was tragically cut short when she contracted meningococcal serogroup B disease. A vaccine protective against meningococcus serogroup B only became available in mid-2015 and may now be considered in healthy adolescents. It is approved for use in high-risk adolescents and adults and should soon be approved for younger children. Brooke's Dad was inspired to share her story, and we have included additional stories from other families regarding vaccine-preventable diseases.
This book tells the stories of individual children, teenagers, adults and families who experienced vaccine-preventable infections or other diseases that vaccines have not yet eliminated. Brooke's Book celebrates successes of the past as we look to the future for more breakthroughs in vaccines. It highlights potential advances that will be made possible from ongoing scientific discovery and innovation in the field of vaccine research, many of them happening at Children's Mercy.
Children's Mercy offers this book to the community knowing parents need as much good information about vaccines as possible to make it easier for them to make the decision to immunize their children.
Brooke's Book would not be possible without the generous donation of time and talent from Sarah Baum (copy development) and Laura Fitzgibbons (photography).
Stories
Time saves lives: Emersyn's story
When every minute counts, a great partnership matters.
Baby Emersyn's temperature spikes on a routine Saturday morning, prompting her community pediatrician to refer her straight to the Emergency Department at Children's Mercy Hospital Kansas. Using cutting-edge technology, the Infectious Diseases team rapidly diagnoses Emersyn with E. coli meningitis, which if not caught early, can have a devastating outcome.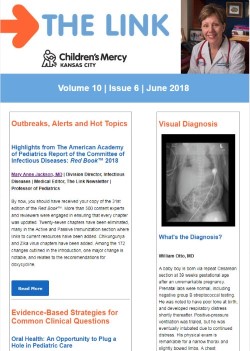 The Link
The Link is a monthly newsletter that provides education to an audience of local, regional and national pediatric providers, on subjects related to current medical trends, developments in best practices and analysis of hot topics.
The free, award-winning publication is authored by Children's Mercy pediatric specialists, edited by Mary Anne Jackson, MD, and Angela Myers, MD, MPH, from the Division of Infectious Diseases, and produced by the Communications and Marketing Department.
You'll receive updates on:
Medical news and trends

Reviews of pediatric bioethics cases

Discussion on challenging diagnoses
Subscribe to The Link