Wilms Tumor: Tripp's Story
Meet Tripp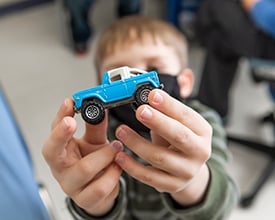 At 5 years old, Tripp Chase loves to play with his toy cars, dinosaurs and Legos. He's a typical boy, except for one thing. He was diagnosed with an aggressive form of Wilms tumor in 2019—a kidney tumor that required the state-of-the-art cancer care available at Children's Mercy Kansas City.
Tripp's cancer story began when he was just 3 years old. Jolynda Chase, Tripp's mom, said he had been a healthy child until one night when he started crying and grabbing his stomach in pain.
"He hadn't had a bowel movement in three days, so we thought he might just be constipated," Jolynda said. But when Tripp's doctor in Colby, Kan., X-rayed his abdomen, it looked like he had an enlarged liver.
The next week at a follow-up appointment, Tripp had an abdominal ultrasound that confirmed he had a large mass either on his right kidney or liver. "Our doctor wanted Tripp to have a CT scan, and referred us to Children's Mercy for the test," Jolynda said.
On Wednesday, July 17, 2019, Jolynda and Tripp made the six-hour drive from their Winona, Kan., home to Kansas City. Later that day, Tripp's family learned the source of the problem—he had a large tumor on his right kidney, a tumor that needed to be removed immediately.
Two days later, on Friday, July 19, Tripp had surgery to take out his right kidney and the tumor. A biopsy confirmed Tripp had a common type of childhood kidney cancer called Wilms tumor. What wasn't common was that it had already spread to Tripp's lymph nodes.
"About 650 cases of Wilms tumor are diagnosed in the United States each year," explained Joel Thompson, MD, pediatric oncologist with Children's Mercy and Tripp's physician. "In most cases, surgery is the initial treatment."
Unfortunately, analysis of Tripp's tumor revealed more widespread, aggressive anaplastic disease. "Based on the pathology, from the outset, we knew Tripp's treatment would be more challenging. He would need both radiation and intense chemotherapy for the best chance of survival," Dr. Thompson said.
Family sacrifices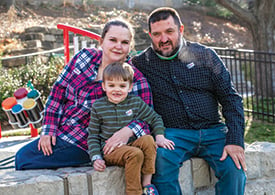 For Tripp's family, there was no question that he was in the right place to get the care he needed, but it came at a steep price.
"I had just given birth to Tripp's baby sister two months earlier," Jolynda said. Plus, Tripp has two older brothers, ages 6 and 11. Jolynda stayed in Kansas City to be at her son's side during treatment, while Tripp's father took care of the other three children in Winona with the help of family and friends.
"Tripp's parents are the calmest people ever," said Lindsey Fricke, RN, MSN, FNP-BC, Nurse Practitioner. "You never would have known that anything crazy was happening in their lives. I know this had to be difficult for them, but they took everything in stride. I never heard Jolynda complain."
Dr. Thompson agreed and said Tripp's family support was remarkable. "If they were stressed, they never let us see it, and I don't think Tripp sensed it either," he said. "That allowed us to focus on his treatment, and help Tripp get better."
Tough therapy for a tough tumor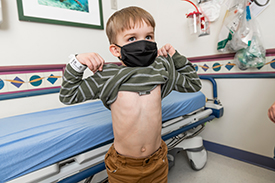 Tripp's treatment began just two weeks after his right kidney was removed. Dr. Thompson prescribed radiation therapy and chemotherapy, a powerful one-two punch reserved for the most aggressive Wilms tumor cases.
While chemotherapy was performed at Children's Mercy, Tripp's radiation therapy was delivered at the University of Kansas Medical Center, the hospital's partner in radiation oncology. In all, Tripp received 11 radiation treatments, and eight months of chemotherapy.
"Tripp did well with the radiation therapy, but the chemotherapy was hard on him," Jolynda said. Though technically he was able to return home between treatment cycles, he often ended up back in the hospital when he would spike a fever.
"This is an intense regimen of chemotherapy, and there are side effects," Dr. Thompson said. "As it wipes out the patient's immune system, they're at higher risk for infection, and that's what happened to Tripp.
"Toward the second half of his chemotherapy treatments, Tripp would get a fever about day eight of every cycle. It was almost like clockwork," Dr. Thompson added.
Jolynda knew if her son's fever rose above 100.5 degrees, it was an emergency. "We tried to return home, but over the months, Tripp had to be flown back to Kansas City 10 times. The flight crew called him their little frequent flyer," Jolynda said.
Chemotherapy also took a toll on Tripp's appetite and digestive system. Eventually he needed a feeding tube to be sure he received adequate nutrition. And, chemotherapy affected the nerves in his legs, causing some neuropathy and pain. But overall, Tripp fought through the treatment and its side effects.
"For his stage of diffuse anaplastic Wilms tumor, this was pretty standard treatment, but it is extremely intense, and there can be a lot of side effects, which Tripp experienced," Dr. Thompson said. "I knew if he could tough this out, there was about a 75 to 80% chance that he would be cured."
Thriving after treatment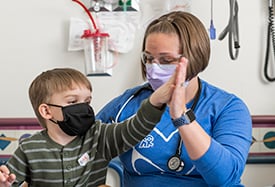 Though the cancer scare isn't completely behind Tripp, it's now been nine months since he finished treatment, and he's thriving!
"Tripp is back in school and loves being with family and friends, playing with his brothers and his baby sister," Jolynda said. "We are all glad to be back home."
"Tripp is a fun-loving kid," Lindsey added. "He's always playing with his cars or attacking me with his dinosaurs at his check-ups."
Dr. Thompson said even when Tripp was hospitalized and not feeling well, he'd curl up in the chair beside his bed, snuggling with his warm fleece blanket, and playing peek-a-boo.
"Now that he's healthy and on the other side of treatment, wow, his personality is out!" Dr. Thompson said. "That's so great to see."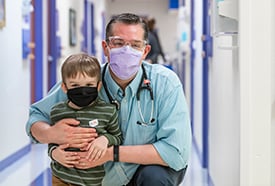 With treatment behind him, Tripp will continue to see Dr. Thompson and Lindsey regularly for the next five years for follow-up appointments to be certain the cancer doesn't return, and to monitor his kidney and heart functions, both which could have been impacted by the radiation and chemotherapies.
"Tripp's diagnosis was a big shock for us. I never thought something like this would happen to our family and it was really hard to take. There were a lot of stressful, sleepless nights," Jolynda admitted. "But we couldn't have asked for better doctors or nurses than we had at Children's Mercy."
For Dr. Thompson and Lindsey, Tripp epitomizes the reason they care for kids with cancer.
"It was heartbreaking to see Tripp undergo the short-term pain and suffering of his treatment, but I knew there was a good chance that in the long term, he could beat cancer," Dr. Thompson said.
"After Tripp's last visit, as I was walking out of the exam room, I thought to myself, 'This is why I do what I do, because of how good Tripp feels and looks.' He's now a normal 5-year-old and on the other side of this."
Stories
Cellular congenital mesoblastic nephroma: Chase's story
In his first year of life, "Chase the Champ" was diagnosed with an aggressive tumor that accounts for about 5% of pediatric kidney cancers. At one point, he was given only 72 hours to live, but now Chase is a resilient, young cancer survivor!
Meet Chase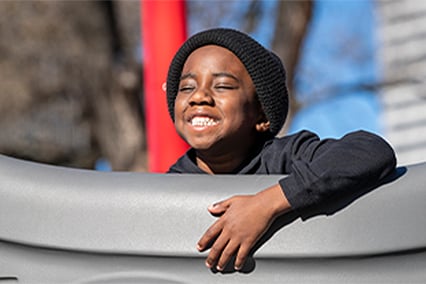 Inflammatory myofibroblastic tumor: Clara's story
Clara was born with a tumor the size of a golf ball on the back of her tongue. Genetic testing of the tumor showed that Clara had a rare form of cancer. By obtaining approval for a compassionate use trial—essentially a clinical trial just for her—Clara's doctors were able to successfully treat her cancer.
Meet Clara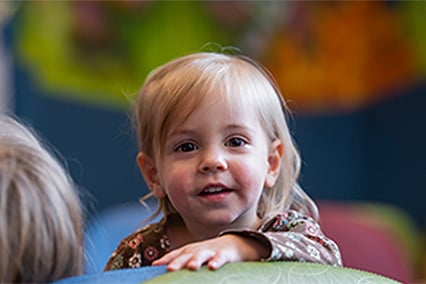 Pediatric Hematology/Oncology
Teaching Assistant Professor of Pediatrics, University of Missouri-Kansas City School of Medicine; Assistant Professor of Pediatrics, University of Missouri-Kansas City School of Medicine