Bowel Management Boot Camp
A service of the Comprehensive Colorectal Center
The Children's Mercy Bowel Management Boot Camp is a week-long outpatient program in Kansas City for children who want to gain confidence with their bowel control. We work with each child and family to create a personalized program to help achieve fecal (poop) continence (ability to control and hold poop). Our goal is to improve the daily function, create a poop schedule, avoid incontinence and increase quality of life and your child's self-esteem.
Who is the Bowel Management Boot Camp for?

We provide treatment for children with constipation or fecal incontinence (soiling, stool (poop) accidents, encopresis). Specifically, these issues may be related to children diagnosed with:
Anorectal malformations (imperforate anus, cloaca, cloacal exstrophy)
Hirschsprung disease
Sacral disorders that affect the bowel (spina bifida, spinal trauma, sacral coccygeal teratoma)
Spina bifida
Questions about Boot Camp?
Learn more about the team, the schedule and what happens after Boot Camp is over.
Personalized care from a team of specialists


You and your child will work closely with our team at the Comprehensive Colorectal Center that includes a colorectal surgeon, gastroenterologist (GI) doctor, nurse practitioner, registered nurse, psychologist, dietitian, and child life specialist. Together, we will find a daily bowel program that will empty the colon each day and prevent soiling accidents.
The program is created specifically for your child. It may include changes to diet, enemas, and/or medication with the goal to keep your child free of stooling accidents. Before starting bootcamp the team will review any previous test results and imaging to help determine the best starting point for your child. We will provide a personalized daily schedule at the beginning of your bowel management week.
Types of treatment

During the boot camp, the team uses a variety of therapies to help each child find their ideal bowel movement schedule. We have three overarching treatment programs that we will adjust to fit your child's needs. These include:
Laxative program
This program involves taking medicine every day to establish a bowel movement (pooping) pattern. It helps children whose colon and bowel work too fast or too slow. Our goal is to be clean without accidents and have one to two bowel movements each day.
Enema program
An enema is a way to put fluid into the last part of the colon (rectum) to empty the intestine of stool for 24 hours at a time. A flexible catheter and fluid bag are used to administer the enema. Our goal with this program is to empty the colon with the enema and be stool and accident free between enemas.
Appendicostomy (Malone, ACE, MACE)
An appendicostomy is a surgically created way to give an enema from the "top down," or beginning part of the colon, instead of from the bottom. Some children come to our bowel management camp after they have had an appendicostomy created. Other children wish to have an appendicostomy placed after they have established a working enema program. This may provide the child with more independence as they can help give the enema/flush through their abdomen instead of from their bottom.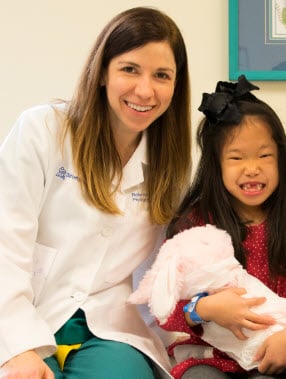 Bowel Management Boot Camp
See below for our upcoming Bowel Management Boot Camp dates. Please contact us for more information or to register!
March 7-14, 2023

July 11-18, 2023

August 8-15, 2023

October 10-17, 2023
Make an appointment

To make an appointment or learn more about our Bowel Management Boot Camp call (816) 234-3441.