Preparing for a Contrast Enema
Your child's doctor has requested a test called a contrast enema. This information will help prepare you and your child for a contrast enema. A contrast enema helps your child's doctor learn more about your child's intestine and colon. The intestine and colon are where poop is stored before leaving the body.
The contrast enema process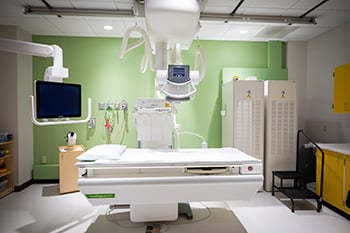 Please come to the Radiology Department and check in at the desk in the waiting area. A staff person will come to get you and your child and take you to one of the fluoroscopy rooms where the test will be done.


You and your child will meet a technologist that will be helping with the contrast enema. They will ask your child to change into a hospital gown and take off all clothing, including underwear and socks.


Next, your child will lay down on the table in the room. They have blankets to help keep your child warm and covered up. You can
stand right by your child during the test. You will need to wear a special lead apron.

They will move a large camera over your child's tummy area and take an X-ray of your child's intestine and colon. The camera will not touch your child.


A doctor called a radiologist will come into the room and talk to you and your child about the test. The radiologist will ask your child to roll onto their side or bend their knees to their chest. Then they will put special jelly on a small, flexible tube and slide it into the opening in your child's bottom. The tube is much smaller than poop. Encourage your child to take deep breaths and relax their bottom cheeks to help the tube go in easier.


The radiologist will tape the tube to your child's bottom to help it stay in the right place during the pictures. Then the radiologist will move a camera that looks like a small tent over your child's tummy area. It will come close to their body, but it will not touch or hurt them.


The technologist will connect the end of the tube in your child's bottom to a bag of liquid, called contrast. Some contrast looks clear like water and some contrast looks white. The contrast will slowly go into your child's body through the tube. The contrast helps the doctor see the pictures of your child's intestine and colon better. It does not hurt when the contrast goes in, but your child may start to feel uncomfortable, or it may feel like they need to poop. You will be able to see the pictures on a TV screen by the table as the radiologist takes them.


The radiologist may ask your child to roll from side to side or other positions to help get all the pictures they need. When the radiologist is done taking the pictures, they will:

Drain the contrast from the tube back into the bag.
Gently take the tape off and slide the tube out of your child's bottom.
OR
Gently take the tape off and slide the tube out of your child's bottom.
Have your child go to the bathroom to poop.
Your child's poop may look different or even white after the test, which is okay. After your child poops, they can change back into their clothes and are all done with their contrast enema.
Tips for parents


Have your child watch the contrast enema teaching video below.


A child life specialist can help your child learn more about getting a contrast enema and provide support.


Your child can bring a comfort item (doll, stuffed animal, pacifier, blanket) and a distraction item (tablet, video game, favorite book). We have distraction items available as well.


You can be in the room with your child the whole time during the contrast enema. This is important and helps your child cope.


If you are pregnant, please bring another adult to be with your child. Pregnant mothers are encouraged to leave the room during X-rays.


Please do not bring any other children. Other children are not allowed in the room during the contrast enema.


Your child can eat and drink before the contrast enema unless your child's doctor gives you different instructions.


Bring extra diapers, pull ups or underwear and a change of clothes for your child. Sometimes the contrast or poop can leak out after the test is done.


You know your child best. Please let us know how we can help your child during their contrast enema.


Questions?

If you have questions or information that you would like to share before your child's contrast enema, call (816) 234-3678. Please leave a message and a Children's Mercy staff member will call you back as soon as possible.


Safe, expert imaging for your child
Children's Mercy has been awarded accreditation in all areas of imaging technology by the American College of Radiology. This represents the highest level of image quality and radiation safety.