Who We Are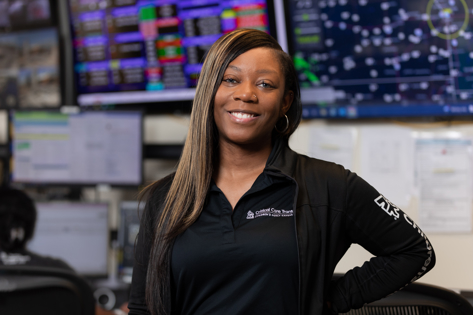 Janee Chapman
I work in the Transfer Center at our Adele Campus as a Communications Specialist. This role is unlike any other healthcare role I have had, and it has truly been a rewarding experience. As a Communications Specialist, I do a lot of behind the scenes work to make sure patients get from point A to point B. Every day is something new and I'm constantly learning. My first and most memorable experience with Transport was when my own son was transported to the ICN for RSV. I was scared but the team was so kind and ensured we felt safe and cared for during the ride. It motivates me to make sure all of our patients and families have the same experience. The Transport team is truly like a family. We go through so much together and we lean on each other for support and motivation. I don't think I ever imagined being in this role but I'm grateful every day that I made the leap. I feel blessed and lucky to work with such a talented and compassionate team - and for a great organization.


—Janee Chapman, Communication Specialist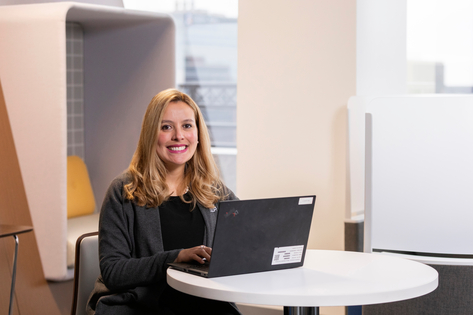 Liana's story
I love that my job allows me to educate and work with families that are self-pay patients by providing a good faith estimate during the pre-registration process. As a Pre-Registration Representative, I do my best to guide and inform them, while always remembering that they are often working through stressful situations with an ill or medically complex child. I am also trilingual – native in Portuguese and Spanish and fluent in English – and this allows me to use my skills to provide exceptional customer service. Recently, I was on a call with a family, and we were communicating in Portuguese. They were so grateful to be speaking with someone who spoke their native language – and then they recognized my voice! They recalled working with me when I was in a frontline role as a Patient Access Representative. We were overjoyed to reconnect and share the commonality of our native language. It's a gift to provide this service at Children's Mercy – and to work for an organization that places value on everyone – our patients, families, and staff.
—Liana, Pre-Registration Representative II, Patient Access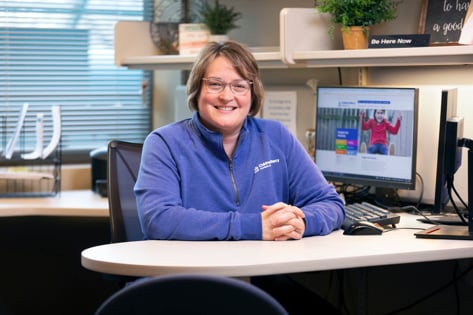 Lisa Grimsley
Building relationships and open communication is very important to me. My role as a Senior Employee Relations Representative, in the Human Resources Department, allows me to do that each and every day. No two days are ever the same! Just when I think I have my schedule planned, one phone call can change everything. However, that's okay because I am here to offer support to Children's Mercy staff and help them mitigate difficult situations. I work alongside an amazing team that is passionate about providing the right guidance to employees throughout our organization. Additionally, our leadership is top notch and really challenges each one of us to consider every aspect of every situation - to make sure we are guiding in a fair and consistent manner. When our employees feel they are valued and have a voice, this reflects in the service they provide to our patients and families. I am both proud and honored to work here!
—Lisa Grimsley, Senior Employee Relations Representative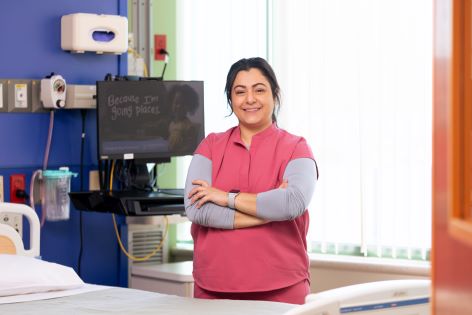 Jenny's story
I am a Care Assistant on 5 Henson and, each day when I wrap-up my shift, my cup is overflowing with joy and the knowledge that I was able to be there for my patients and families. I had the unique opportunity to be a part of the Children's Mercy "Grow Our Own" Care Assistant Training Program. Through this program, I received course work and on-the-job training to become a Care Assistant and can now give the committed and compassionate bed-side care that my family received when my brother was a patient here. Being given the chance to give-back in my career is so rewarding and I'm forever grateful to be a part of an organization that took a chance on me and allowed me to grow professionally!
—Jenny, Care Assistant
5 Henson Hall Tower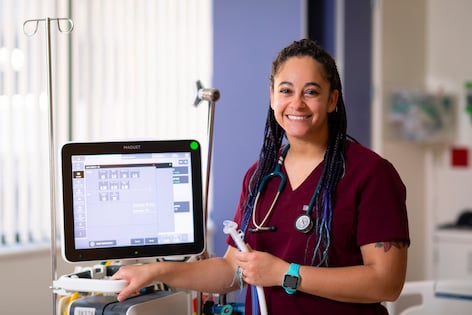 Myranda's story
In college, I worked clinicals at Children's Mercy and that experience was so fulfilling that I knew I wanted to work in pediatrics once I attained my degree. As a Respiratory Therapist, I work alongside patients and families to ensure that kids are able to breathe better through a variety of treatment options like nebulized medicine, inhalers, suctioning, and delivering pressured breaths given by nasal cannulas and ventilators. I also spend time educating families about what's going on inside the lungs. Working here as an RT is fun, challenging and, most importantly, very rewarding. One of my fondest memories was treating a little girl for severe asthma exacerbation in the ED. She was breathing so hard that she could not talk and was extremely anxious. After some time with the nebulized and IV treatments, she was playing, talking and having fun again. She was so happy to go home that she gave me a hug and a sticker before she left. I still keep that sticker on my employee badge as a reminder of the important work I do here each day.
—Myranda, Respiratory Therapist

Ben's story
I applied at Children's Mercy thanks to my sister, Katie, who had worked here as a nurse for 10 years. When I passed my CNA class, she told me there was no better place to work than Children's Mercy! I am so glad she encouraged me to join this organization and team.
I am now a Critical Care Staff Nurse in the Recovery Room/Same Day Surgery and each day I come to work to help our patients and families during, what can be, one of their most difficult times. I especially love building relationships by going above and beyond in my role – and providing clear communication to each patient so they know what to expect.
As a nurse, there are always patients that stick with you. I especially remember a time when I was caring for two teen patients for several months that were considered difficult assignments. I remember learning along the way and really connecting with both of them and that helped cement that I'm doing what I'm meant to do for a career. As my sister said, there is no better place to work than Children's Mercy!
—Ben, Critical Care Staff Nurse,
Recovery Room/Same Day Surgery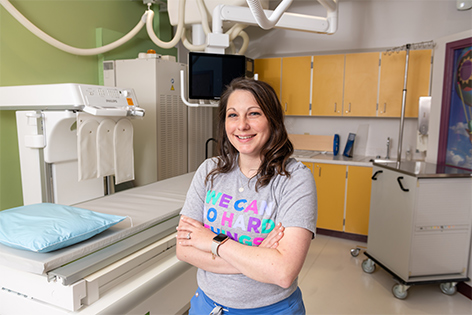 Audra's story
Working at Children's Mercy was always a dream of mine. As a child, I was a patient at Children's Mercy and received exceptional care from the staff I encountered during my visits. I knew that one day I wanted to give back to the place that helped me and my family during a challenging time.
In Radiology, we work as a team to ensure that our patients and families feel comfortable when they visit us for imaging tests. It's a joy to see bravery, resiliency and smiles from our patients – it means we've done our jobs well! The impact we can have on each child that walks through our doors is huge and when I share with people that I'm a part of this department and organization – I feel so much pride – because AMAZING care happens here every day.
—Audra, Radiologic Technologist

Crystal's story
I chose Children's Mercy for many reasons, including the vision of this organization, which has always been dear to my heart. Children's Mercy believes in "creating a world of wellbeing for all kids" and so do I!
As a nurse, I feel that one of the most profound ways to make a difference in the experience of a patient and family is to genuinely listen to their needs and show compassion and care. I value times when I can hold a child's hand through a scary procedure and watch them overcome it. I also love sharing silly moments with patients and seeing them smile – and even laugh and play in the midst of their difficulties. These are the facets of my job that bring me joy.
Children's Mercy is also an organization that places high value on the staff. I feel supported in my role which continues to fuel my passion for pediatric health care. I feel so blessed to work here!
—Crystal, Staff Nurse
Emergency Department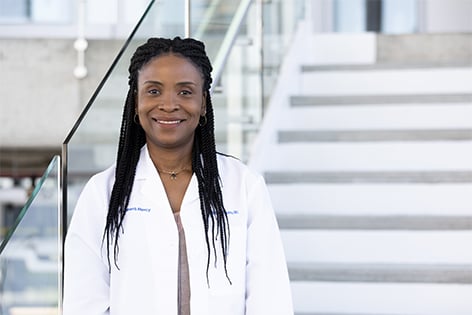 Marianne's story
I was introduced to Children's Mercy 20 years ago – and knew this is where I wanted to work! I'm a Research Associate Masters, and I work in the Neonatology research laboratory where we are dedicated to finding underlying mechanisms of inflammatory diseases of the lung and intestinal tract of preterm infants. Being a part of this team has given me opportunities to grow both personally and professionally as I collaboratively work with researchers from other cultures and intellectual backgrounds to find answers to pediatric illnesses. I love being a part of this amazing research team and an organization where everyone is dedicated to our hospital's vision – "To create a world of wellbeing for all children."
—Marianne, Research Associate Masters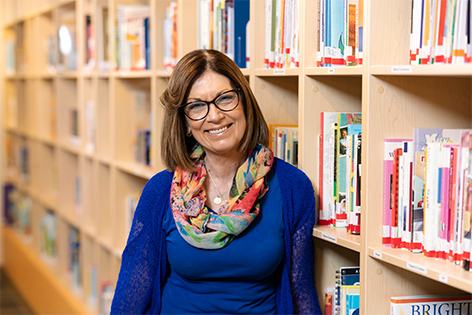 Alicia's story
I am trilingual, speaking Spanish, French and English. I previously worked in Buenos Aires, Argentina, in the health care industry where I provided translation services. When I saw the opportunity at Children's Mercy, I felt it was the right fit for me and I knew the door was opening to my dream job.
I have the opportunity to serve people by bridging the communication gap – and connecting providers, patients and their families with the goal to achieve better health care outcomes. It brightens my day when I see a child's precious face light up as I offer a sticker or show them how to change the color of the lights in the sky of the atrium. My job is simply amazing! There are constant opportunities to genuinely "do" for others and make a difference. This is a very special place – and I get to be a part of it!
—Alicia, Senior Medical Interpreter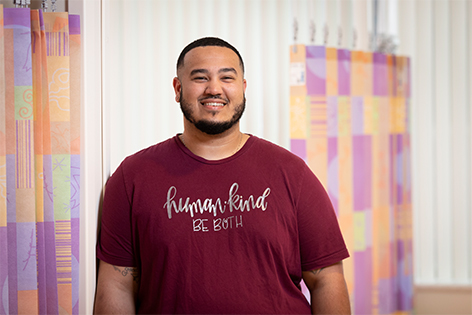 Stuart's story
I previously worked for several years in the mental health field and knew I wanted to work in a hospital setting. So, after attaining my CNA certification, I took a chance and applied for the Patient Safety Technician role at Children's Mercy.
I sit one-on-one with patients who have behavioral or mental health challenges and I enjoy building bonds and being a good role model for these kids who may be struggling to regulate on their own. Each patient is different, and I try to let them know that I am a safe person whom they can trust.
I work with a supportive staff of doctors, nurses, Care Assistants and other Patient Safety Techs and we know that the work we are doing here is making a difference in the lives of kids. I'm grateful for this opportunity with Children's Mercy!
— Stuart, Patient Safety Technician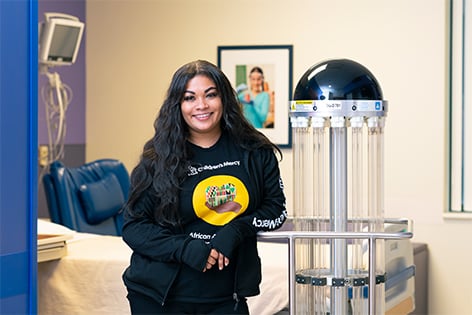 Rachael's story
I started in housekeeping in 2013, working in the hotel field, and soon moved into a supervisor role. I loved the responsibility and leadership opportunity to work with a team.
I began as an Environmental Services manager at Children's Mercy in April of 2020, and shortly after became the project manager of the TRU-D program. I love the many opportunities I've had here to learn, grow, and get involved with so many different things.
In Environmental Services, we keep the hospital safe and clean, but we also touch so many aspects that impact the staff and families. To work here is to LOVE here - Children's Mercy offers encouragement, kindness and hope, but the heart of this hospital is hope.
— Rachael, Environmental Services Manager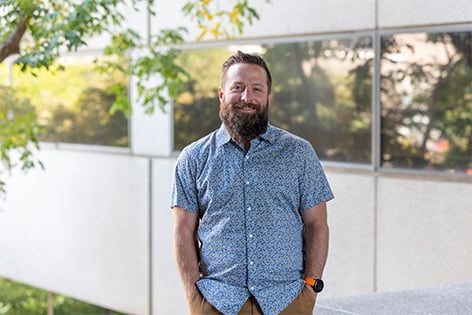 John's story
I am an Accounts Payable Manager at Children's Mercy and have been with the company for about five years. Our team is responsible for accurately tracking and ensuring payments to suppliers. In Accounting, I work with a great team of dedicated individuals who understand our "connection to purpose" with the patients and families we serve. We take a lot of pride in doing our very best to serve this community.
Additionally, there isn't a person who doesn't get a smile on their face when I tell them where I work. I feel fortunate to work here – a place with a mission to help the kids of Kansas City and beyond – and it makes it easy for me to give 100% to my job every day!
—John, Accounts Payable Manager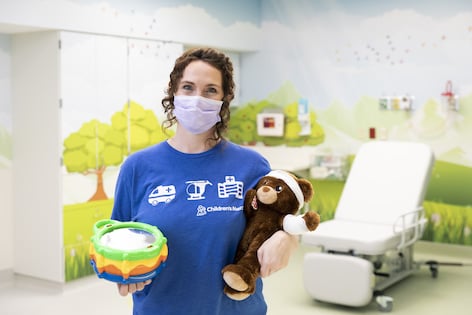 Lenore's story
During my college years, I was able to see a child life specialist provide support and facilitate positive coping for a young friend while he was in the hospital. It was incredible to watch the child life specialist help to ease his mind and melt away his fears through developmentally appropriate education and play. I knew instantly that this was the path for me.
When people ask where I work and what I do, I am proud to say that I am a Child Life Specialist at Children's Mercy. It's a gift to be able to work here and help children build confidence in themselves throughout their hospital experience. I am also lucky to receive such genuine support from my colleagues and the leadership team. I feel so blessed to work at Children's Mercy in a job that I love!
— Lenore, Child Life Specialist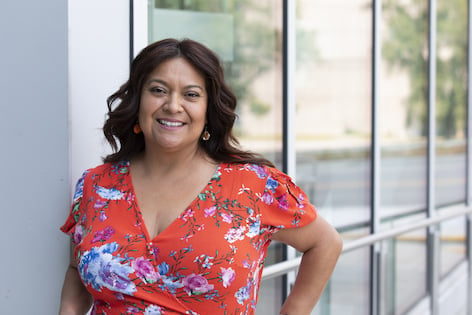 Sylvia's story
I have been with Children's Mercy for almost 11 years and currently serve in the role as Volunteer and Guest Services Outreach Manager.
In 2008, while in Wichita, my daughter became ill, and her pediatrician called to say they found a mass on the base of her skull. During a late-night search for a neurosurgeon, I stumbled upon the Children's Mercy website and found her care team. While she was being treated at Children's Mercy, I fell in love with the people here. Her survivorship is a miracle and the great care she received, and attention given to our whole family, moved me.
I feel blessed to be a part of this community. Philanthropy seems like such a small word, but the jam-packed action behind that word is so moving. I get to work with some of the most amazing team members in my department and throughout the organization. LOVE WILL move mountains – and I get a front row seat to see that love in action every day.
— Sylvia, Volunteer and Guest Services Outreach Manager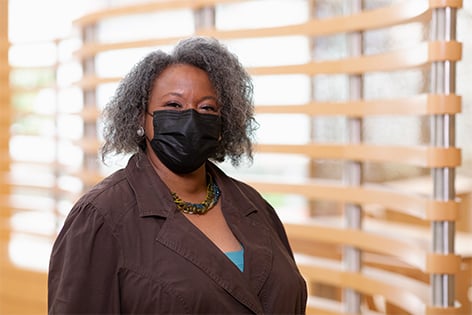 Melva's story
Working at nonprofits has been my passion; caring for others is at the heart of how I live each day. I became an executive assistant when I left Washington, D.C. and returned to Kansas City to care for my mother. By training, I am a social worker and through the years, I have held other positions including vice president. However, I know that a title doesn't always capture the many aspects of a job!
I came to Children's Mercy to serve as the Executive Assistant for the Physician-in-Chief and the SVP of Ambulatory and Physician Operations, but I was hired to be a leader and trusted advisor for my colleagues. I champion their vision and coordinate the necessary support to enable them to achieve positive results. Additionally, I play an instrumental role in helping to maintain teams, support successful systems and perform various activities in collaboration with others.
To work at Children's Mercy is to make a difference. We ultimately serve to provide the very best care to the children and families that walk through our doors. There is teamwork throughout this organization and everyone understands our mission and vision. Additionally, this is the most diverse and inclusive place for which I have had the opportunity to work. My co-workers are passionate, helpful and considerate – and I consider it an honor to call this so much more than a job. I am a better human because I chose Children's Mercy ... and they chose me!
— Melva, Executive Assistant to Executive Vice President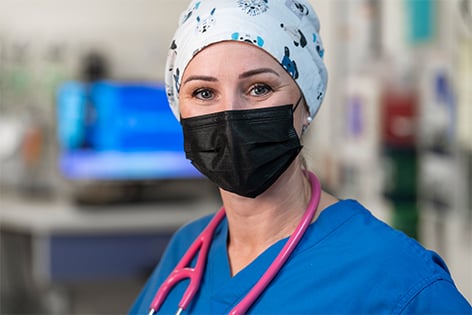 Ugne's story
I started working at Children's Mercy as a registered nurse, then left to attain my degree as a Certified Registered Nurse Anesthetist (CRNA). Now I'm back as a CRNA at a place I love, caring for the most amazing population – pediatric patients!
At Children's Mercy, I work alongside others who are here because of their passion to provide the best care possible for the kids and families we serve. Throughout this organization, there are extraordinary teams that make my job so much better. I could not be happier with my choice to work at Children's Mercy. This is my dream job!
— Ugne, Certified Registered Nurse Anesthetist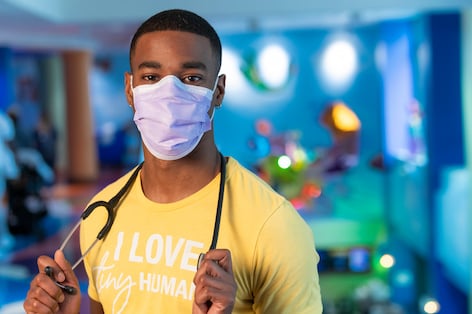 Ijon's story
I was a collegiate athlete and student at the University of Central Missouri, then later attended Avila University, where I pursued a career in nursing. I chose this field because someone close to me had experienced the loss of a baby and I wanted to make a difference in the lives of neonates that have a fighting chance. I am now a Neonatal Intensive Care Staff Nurse at Children's Mercy.
I came back to work at Children's Mercy because of the great experience I had here during clinical rotations, and I knew that it had the top NICU in the area. I love working with a care team dedicated to our smallest patients – and there is so much gratification in witnessing a baby who gets to go home! To all the nursing students out there who are just beginning their journey, hold onto that dream and 'be bold, be brave, be you!'
— Ijon, ICU Nurse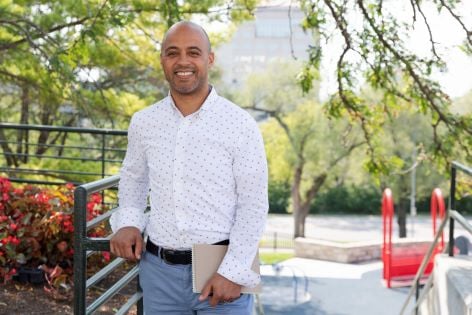 Sean's story
I joined Children's Mercy in 2015 and currently serve as a Medical Social Worker for the Primary Care Clinics at the CM Broadway location. While pursuing my master's degree, alongside my wife, at the University of North Carolina – Chapel Hill, I researched reputable hospitals and Children's Mercy rose to the top of my list.
Practicing as a medical social worker allows me to utilize my vast array of skills to help families who are coping with difficult situations and have challenging decisions to make. It's an honor to provide support and help them navigate through these issues. Each day, I am also surrounded by professionals who truly care about the work we do here. Our Social Work team believes in the heart of our Children's Mercy mission – to provide the best care to the children in Kansas City and beyond – and we strive to make that a reality each and every day!
— Sean, Social Worker
Apply for social work jobs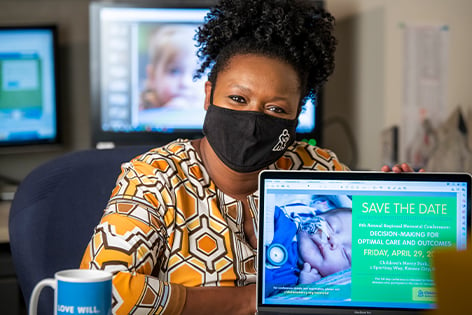 Telisa's story
I feel blessed to be a "creative" and love flexing that creativity in new ways. I found my path in Marketing after seeing a national commercial that inspired me, and in that moment, I knew that I wanted to be a part of the creative world.
I am now a Senior Graphic Designer at Children's Mercy and have been with the company for 22 years. It's been so satisfying to watch our brand evolve over the years and to know I've been a part of that process. It's also beyond inspiring to work here and see the bravery and resiliency of our patients. I've met some truly amazing kids. It fills my heart with joy and humility to have even a small part in their journey, by helping to tell their stories. I am grateful to work at Children's Mercy.
—Telisa, Senior Graphic Designer