Who We Are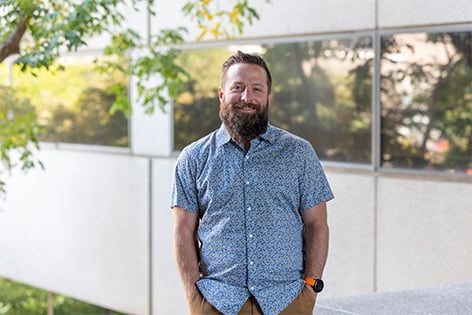 John's story
I am an Accounts Payable Manager at Children's Mercy and have been with the company for about five years. Our team is responsible for accurately tracking and ensuring payments to suppliers. In Accounting, I work with a great team of dedicated individuals who understand our "connection to purpose" with the patients and families we serve. We take a lot of pride in doing our very best to serve this community.
Additionally, there isn't a person who doesn't get a smile on their face when I tell them where I work. I feel fortunate to work here – a place with a mission to help the kids of Kansas City and beyond – and it makes it easy for me to give 100% to my job every day!
—John, Accounts Payable Manager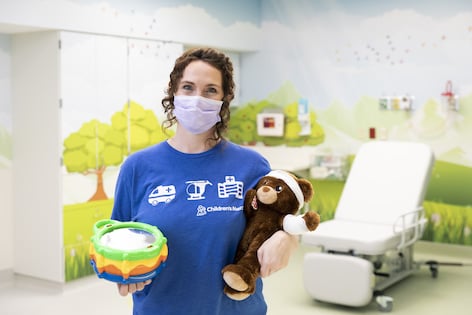 Lenore's story
During my college years, I was able to see a child life specialist provide support and facilitate positive coping for a young friend while he was in the hospital. It was incredible to watch the child life specialist help to ease his mind and melt away his fears through developmentally appropriate education and play. I knew instantly that this was the path for me.
When people ask where I work and what I do, I am proud to say that I am a Child Life Specialist at Children's Mercy. It's a gift to be able to work here and help children build confidence in themselves throughout their hospital experience. I am also lucky to receive such genuine support from my colleagues and the leadership team. I feel so blessed to work at Children's Mercy in a job that I love!
— Lenore, Child Life Specialist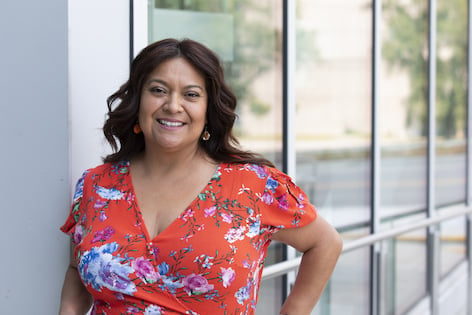 Sylvia's story
I have been with Children's Mercy for almost 11 years and currently serve in the role as Volunteer and Guest Services Outreach Manager.
In 2008, while in Wichita, my daughter became ill, and her pediatrician called to say they found a mass on the base of her skull. During a late-night search for a neurosurgeon, I stumbled upon the Children's Mercy website and found her care team. While she was being treated at Children's Mercy, I fell in love with the people here. Her survivorship is a miracle and the great care she received, and attention given to our whole family, moved me.
I feel blessed to be a part of this community. Philanthropy seems like such a small word, but the jam-packed action behind that word is so moving. I get to work with some of the most amazing team members in my department and throughout the organization. LOVE WILL move mountains – and I get a front row seat to see that love in action every day.
— Sylvia, Volunteer and Guest Services Outreach Manager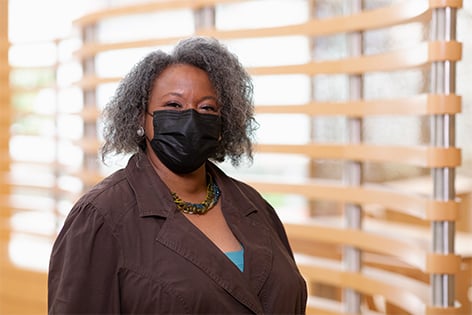 Melva's story
Working at nonprofits has been my passion; caring for others is at the heart of how I live each day. I became an executive assistant when I left Washington, D.C. and returned to Kansas City to care for my mother. By training, I am a social worker and through the years, I have held other positions including vice president. However, I know that a title doesn't always capture the many aspects of a job!
I came to Children's Mercy to serve as the Executive Assistant for the Physician-in-Chief and the SVP of Ambulatory and Physician Operations, but I was hired to be a leader and trusted advisor for my colleagues. I champion their vision and coordinate the necessary support to enable them to achieve positive results. Additionally, I play an instrumental role in helping to maintain teams, support successful systems and perform various activities in collaboration with others.
To work at Children's Mercy is to make a difference. We ultimately serve to provide the very best care to the children and families that walk through our doors. There is teamwork throughout this organization and everyone understands our mission and vision. Additionally, this is the most diverse and inclusive place for which I have had the opportunity to work. My co-workers are passionate, helpful and considerate – and I consider it an honor to call this so much more than a job. I am a better human because I chose Children's Mercy ... and they chose me!
— Melva, Executive Assistant to Executive Vice President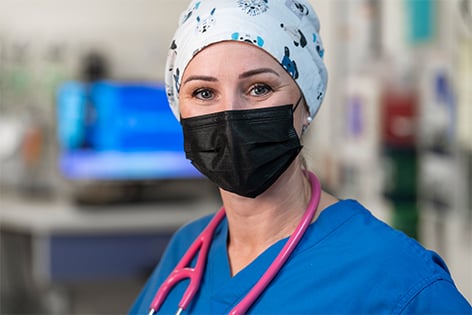 Ugne's story
I started working at Children's Mercy as a registered nurse, then left to attain my degree as a Certified Registered Nurse Anesthetist (CRNA). Now I'm back as a CRNA at a place I love, caring for the most amazing population – pediatric patients!
At Children's Mercy, I work alongside others who are here because of their passion to provide the best care possible for the kids and families we serve. Throughout this organization, there are extraordinary teams that make my job so much better. I could not be happier with my choice to work at Children's Mercy. This is my dream job!
— Ugne, Certified Registered Nurse Anesthetist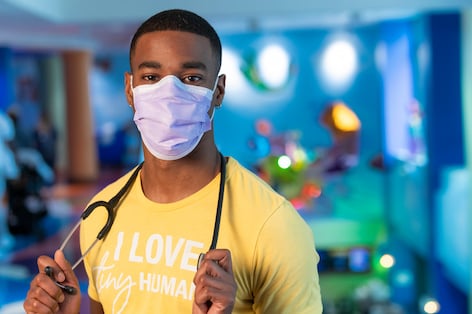 Ijon's story
I was a collegiate athlete and student at the University of Central Missouri, then later attended Avila University, where I pursued a career in nursing. I chose this field because someone close to me had experienced the loss of a baby and I wanted to make a difference in the lives of neonates that have a fighting chance. I am now a Neonatal Intensive Care Staff Nurse at Children's Mercy.
I came back to work at Children's Mercy because of the great experience I had here during clinical rotations, and I knew that it had the top NICU in the area. I love working with a care team dedicated to our smallest patients – and there is so much gratification in witnessing a baby who gets to go home! To all the nursing students out there who are just beginning their journey, hold onto that dream and 'be bold, be brave, be you!'
— Ijon, ICU Nurse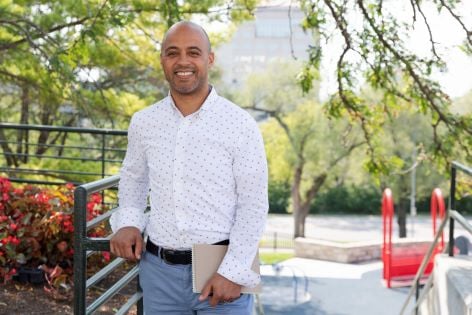 Sean's story
I joined Children's Mercy in 2015 and currently serve as a Medical Social Worker for the Primary Care Clinics at the CM Broadway location. While pursuing my master's degree, alongside my wife, at the University of North Carolina – Chapel Hill, I researched reputable hospitals and Children's Mercy rose to the top of my list.
Practicing as a medical social worker allows me to utilize my vast array of skills to help families who are coping with difficult situations and have challenging decisions to make. It's an honor to provide support and help them navigate through these issues. Each day, I am also surrounded by professionals who truly care about the work we do here. Our Social Work team believes in the heart of our Children's Mercy mission – to provide the best care to the children in Kansas City and beyond – and we strive to make that a reality each and every day!
— Sean, Social Worker
Apply for social work jobs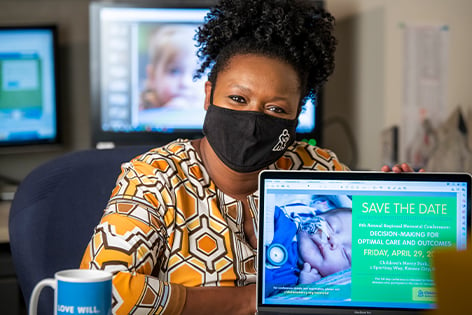 Telisa's story
I feel blessed to be a "creative" and love flexing that creativity in new ways. I found my path in Marketing after seeing a national commercial that inspired me, and in that moment, I knew that I wanted to be a part of the creative world.
I am now a Senior Graphic Designer at Children's Mercy and have been with the company for 22 years. It's been so satisfying to watch our brand evolve over the years and to know I've been a part of that process. It's also beyond inspiring to work here and see the bravery and resiliency of our patients. I've met some truly amazing kids. It fills my heart with joy and humility to have even a small part in their journey, by helping to tell their stories. I am grateful to work at Children's Mercy.
—Telisa, Senior Graphic Designer