Opportunities for Volunteers with Disabilities
Due to the ongoing COVID-19 pandemic, Children's Mercy has suspended volunteer onboarding. We have implemented many changes in policy, practice and protocol all designed to protect the children and families we serve, and to help decrease the spread of COVID-19. If you have questions, please contact us at volunteer@cmh.edu.
Making an impact is accessible for everyone

Children's Mercy volunteers play a critical role in providing a positive experience for our patients and their families. There are volunteer opportunities available for all of our community members including those individuals with disabilities or chronic health conditions.
As a volunteer, you can make a difference for our patients, families, visitors and staff every day. The kids at Children's Mercy are counting on you!
Our special P.A.V.E. (Providing Accessible Volunteer Experiences) program offers additional application support and training to individuals with disabilities who are interested in volunteering, especially former or current patients of Children's Mercy.
Volunteer requirements for individuals with disabilities or chronic health conditions
Please be aware of these requirements for our volunteers with special needs and reach out if you have any questions:
Age: Volunteers are over the age of 16.

Health & Background Clearance: The health and safety of our patients and their families is paramount, so volunteers will be required to pass a background check, complete a health form and maintain current vaccinations.

Independence: Our volunteers are expected to perform core volunteer duties independently, after an initial training period.
Making a difference in her own way
As a former Children's Mercy patient, Catherine is grateful for the outstanding medical care she received to treat challenges related to her cerebral palsy. But she also knows the importance of a smile when patients and families arrive for a visit or treatment. That's why she volunteers at the Kreamer Resource Center. "We all can make a difference in our own way," Catherine said. "I try to make the day a little brighter for our families."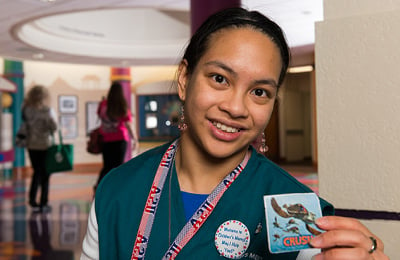 Have questions about our P.A.V.E. program or opportunities for volunteers with disabilities?
Visit the Frequently Asked Questions page for more information on becoming a volunteer at Children's Mercy.