Advanced Practice Providers
Advanced practice providers have higher education at the master's or doctoral level and specialized training to provide comprehensive care to patients and families in primary, subspecialty and acute care areas. At Children's Mercy, advanced practice providers may be pediatric nurse practitioners (PNP), neonatal nurse practitioners (NNP), family nurse practitioners (FNP), clinical nurse specialists (CNS), psychiatric and mental health nurse practitioners (PMHNP), or physician assistants (PA).
All advanced practice providers work within a collaborative practice agreement with a physician and are credentialed by the hospital in their specialty area. Advanced practice providers use evidence-based practice to provide high-quality care and promote optimal outcomes, working in partnership with the inter-professional team to translate evidence for best practice into hospital policies and procedures. Additionally, they disseminate their knowledge through presentations and publications and are active participants in research.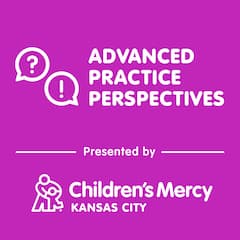 Advanced Practice Perspectives podcast
This podcast was created by advanced practice providers, for advanced practice providers. Co-hosts Tobie O'Brien, APRN and Trisha Williams, APRN, showcase some of the more than 400 advanced practice professionals at Children's Mercy, as well as offer pediatric practice updates, discuss legislative issues, highlight research projects and share other valuable information for advanced practice professionals.
Virtual and in person conference
29th Annual Pediatric Advanced Practice Nursing Conference


Friday, Oct. 6, 2023
Details to follow
Register online


The cost of the conference is $50 for non-Children's Mercy employees and no cost to Children's Mercy employees.
Non-employee registration
Employee registration