Emergency Medical Services
Children's Mercy is 100 percent dedicated to caring for kids—and just kids. That focus allows us to bring the highest level of training, resources, expertise and research to treating children and adolescents, from birth to age 18, especially those who are critically ill or injured.
When it comes to determining the most appropriate care destination for neonatal and pediatric patients, you know the best place may not always be the closest place. Choosing the right care is critical. Choose Children's Mercy.
Children's Mercy Emergency Department:
Is 100% neonatal and pediatric focused
Is staffed by experienced pediatric emergency medicine physicians and pediatric ED nurses
Serves the region as Level 1 Trauma center
Specializes in services for suspected victims of child abuse and neglect
Offers the area's largest and most comprehensive pediatric burn program
Manages the region's only pediatric stroke program
Information and education for EMS providers
We need help from EMS providers to identify child abuse. Sometimes it's hard to know which injuries are concerning and what to do about them. Read about the warning signs and what to do when you suspect abuse.
These episodes of the Pediatrics in Practice podcast focus on the important role EMS providers play in caring for pediatric patients and their families.
Of all pediatric asthma deaths, half occur in the out-of-hospital setting. We need help from EMS providers responding to pediatric asthma emergencies. Read about the signs and symptoms and how you can take action.
If it looks like a stroke, think F.A.S.T. Children's Mercy is the region's ONLY Pediatric Stroke Program. Read guidance for first responders on signs and symptoms, stroke mimickers, and what to do while awaiting transport.
Created by a multidisciplinary team of pediatric experts, the Children's Mercy PedsGuide App puts evidence-based resources – dose recommendations, drip calculations, resuscitation guides and more – right at your fingertips.
The Link is a monthly digital newsletter that provides education to an audience of local, regional and national pediatric providers, on subjects related to current medical trends, developments in best practices and analysis of hot topics.
View the 2021 calendar of in-person and virtual courses. Topics include trauma, neonatal care, child safety, pediatric mental health support and more.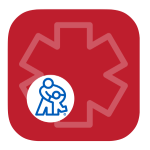 PedsGuide App
Download the PedsGuide: Pediatric Decision Support mobile app for point-of-care access to checklists, recommendations, decision trees, treatment algorithms and more.
Children's Mercy Emergency Departments
Level 1 Pediatric Trauma Center and Emergency Department
Children's Mercy Adele Hall Campus
2401 Gillham Road
Kansas City, Mo.
(816) 234-3430

Tom Watson Pediatric Emergency Department
Children's Mercy Hospital Kansas
5808 W. 110th Street
Overland Park, Kan.
(913) 696-8274
To request Children's Mercy's participation in a health fair, conference or event or if staff need education, training or support related to a children's health issue, please submit the online form. Requests are reviewed weekly, and a representative will contact you to confirm participation. We are best able to accommodate requests that provide a lead time of a month or more.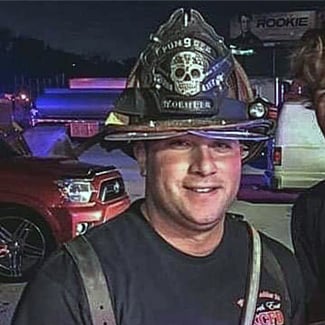 EMS heroes
Ryan Koehler is a paramedic/firefighter for the Kansas City Fire Department. He uses his "superpower" of empathy to make every effort to care for every pediatric patient as he would his own son, Paxton.
Emergency Medical Services menu