Torn ACL: Maxxwell's Story
Meet Maxxwell


Very few high school freshmen have the talent and drive to play quarterback at the varsity level, but Maxxwell Ford did.
"I've been playing football since I was old enough to step onto the field," Maxxwell said. "It's my favorite thing in the world. I love being a quarterback. I love the pressure. I love football."
So when he began practicing with his teammates early last summer, he was living the dream, preparing to start the 2019 fall football season.
But an injury at a summer football camp taught Maxxwell some important life lessons—lessons that have made him a better student, and a better athlete.
Summer camp injury


At just 15 years old, Maxxwell was thrilled to be attending a summer football camp. As the players were warming up against their own defense, Maxxwell ran the ball out of bounds.
"The whistle blew, and I got pushed in the back after the play," Maxxwell explained. As he was slowing down, all his weight shifted to his right leg. His knee buckled under the stress, and Maxxwell went down.
"It was a very odd feeling," he said. "I tried to get up, but couldn't. To be honest, it was the biggest scare I've ever had," Maxxwell said. "It felt very unnatural and was a very scary moment."
After resting and icing his knee that morning, Maxxwell returned to camp in the evening. "I thought, 'I'm lucky that I'm okay,'" he said.
For the next six weeks, Maxxwell put his knee to the test. "My dad bought me a knee brace, but I went on through the summer, playing football and even going to basketball camp."
As summer wrapped up, Maxxwell was playing in a contact-style varsity jamboree event, getting ready for the first game of the season.
"I re-aggravated my knee at the jamboree," he said. "It had been six weeks since the first injury. I was disappointed because I thought I had moved past the injury. I thought something like this could never happen to me. 'I'm going to play football my whole life. I'm never going to miss a season.' Then this happened."
Getting help


Immediately, Maxxwell knew he needed to get help. He didn't want to wait. "I told my mom I wanted to go to the hospital. At this point, I thought something was seriously wrong and that I needed to be checked out. The game wasn't even over when we left." And Maxwell never leaves a game early.
At the Children's Mercy Hospital Kansas Emergency Department, doctors gave Maxxwell a lock brace and crutches.
His right knee was so swollen, that before he could have an MRI, or magnetic resonance imaging, he had to start physical therapy to reduce the swelling.
That's when Maxxwell began working with Michael Denning, DPT, CSCS, sports physical therapist at the Children's Mercy Village West Sports Medicine Center.
"My right knee was probably twice as big as my left," Maxxwell said. "I couldn't even look at it."
After having the MRI, Maxwell went to see Kevin Latz, MD, pediatric orthopedic surgeon and Chief, Section of the Sports Medicine Center with Children's Mercy.
Dr. Latz told Maxxwell and his parents that his anterior cruciate ligament, or ACL, was torn. "He took one look at my knee and he knew right away what was wrong. Dr. Latz was a straight shooter," Maxxwell said. "He made me feel comfortable. I trusted him with my knee. If you had to have surgery, it was a good experience."
Austen Ford, Maxxwell's dad, added that Dr. Latz treated Maxxwell according to his dreams and aspirations. "I was afraid that someone would say, 'Well, you know football isn't everything,' but, they aligned with our family's values.
"Dr. Latz answered every question I asked, and when I was done asking questions, he said, 'Are you sure you don't have any other questions?' Obviously, he's very knowledgeable, and it seemed to me that he cared about where Maxxwell is going to be years down the road."
Dr. Latz reconstructed Maxwell's ACL on Aug. 8, 2019, at Children's Mercy Hospital Kansas in an outpatient surgery. Because his growth plates were still open Dr. Latz opted to use his patient's hamstring for the graft repair, resulting in a better outcome for Maxwell and reducing the risk of injury to his growth plates.
About a week later, Maxxwell started his new school, St. Thomas Aquinas, on crutches. It wasn't exactly how he had imagined it, but he didn't let it get him down.
"The team welcomed Maxwell, letting him observe practices and games," Austen said. "His coach allowed him to attend practices and games. I think that helped ease the heartache a bit. At least he was with the team and able to be part of the game."
In good hands ...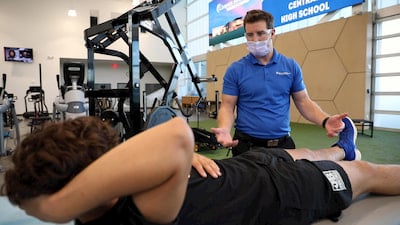 When Maxxwell returned to physical therapy at Village West, Michael knew it was game on for his patient, and he challenged him at every turn.
"Maxxwell is very competitive and so is Michael," Austen said. "We knew right away that Michael was the perfect physical therapist for Maxxwell. We could tell he was awesome."
Michael also recognized that if his patient was going to play football at such a competitive level again, they had to work harder. After all, Maxxwell's goal is a scholarship offer to play for a division I school.
Austen brought Maxxwell to therapy once a week at first, and then twice a week as his knee improved. "I felt like the Village West gym was very state-of-the-art," Austen said. "I watched from the mezzanine, but I could tell Maxwell was in good hands with Michael."
Michael started his patient's therapy using two tools unique to Children's Mercy Sports Medicine at Village West, a 13,000-square-foot gymnasium with state-of-the-art equipment—the hydrotherapy pool and the Alter G.
"We used the pool as Maxxwell's graft was healing. We could do a higher level of activity in the pool than on dry land because the water unweights you," Michael explained.
"It felt good to be able to move around without my brace on in the pool, and I could watch myself on the cameras. It was a fun experience," Maxwell said.
The same was true for the Alter G treadmill, which uses NASA-developed technology to unweight the patient. This reduces impact on the joints while walking or running during rehab.
And though it wasn't his favorite part of physical therapy, Michael used blood flow restriction, or BFR, training to help Maxxwell's rehab quicker.
BFR involves wrapping a restrictive device, similar to a large blood pressure cuff, around a limb during different forms of training and movement. Studies show BFR increases muscle growth when combined with low-load lifting.
"I pushed Maxxwell hard on that BFR, but it was one of the things he needed, and he never complained about it," Michael said. "He understood it was making him better physically and mentally."
"Michael explained what BFR was doing for my knee and the research behind it," Maxxwell said. "It kept me interested, and I was learning about physical therapy at the same time."
As Maxwell continued his therapy, Michael warned him there might be bumps along the way, but Maxxwell proved him wrong.
"Based on experience, in most cases, patients have a few setbacks here and there, but really, Maxxwell didn't. He's driven and a true athlete. He worked his butt off and he just kept getting better. It was impressive," Michael said.
To gauge his progress, Maxxwell performed Biodex testing to determine where he stood after 12 weeks of therapy, and then at the conclusion, to check if he was ready to return to play.
Biodex is a multi-joint isokinetic machine that provides physicians and their patients valuable information about strength deficits and muscle imbalances that may predispose a particular joint to further injury before surgery and after rehabilitation.
"At Maxwell's 12-week Biodex, he had numbers near ready for discharge, as far as his strength, and it was difficult to find any deficits," Michael said.
"His final test was as close to a perfect Biodex as I have seen in a long, long time. I remember being like, 'Wow! For Maxxwell, our goal is not only function and safety, but helping him return to playing at an elite level, and I feel like we did that."
"There were definitely some moments where I was like, 'Gee, my knee doesn't feel good. Is it going to get better?" Maxxwell admitted. "But I trusted Michael and things have gone back to normal now. Physically, I feel like I'm 100%."
Professional atmosphere, personal connection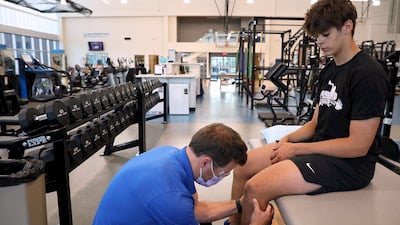 One of the things Michael believes helped his patient get back to into shape was the professional gym atmosphere at Village West.
"All of our athletes respond well to this environment," Michael said. "It doesn't feel like they're going to physical therapy. It feels like they're going to work out, and that helps your mental state.
"On top of that, the weight training we were able to do in late-stage rehab was indispensable. We were able to get Maxxwell back to what a weight room football practice feels like, and for an athlete who's been on the sidelines for so long, that's an incredible feeling."
Austen added that once he was up to it, father and son would finish the day with some throws themselves. "Sometimes we would go out to the back turf throw some balls, and sometimes Maxxwell would shoot some baskets. He really looked forward to rehab every time."
Maxxwell said he also enjoyed rehab because Michael made it fun. "Going to therapy was never boring," he said.
Austen agreed. "Maxxwell rarely volunteers whether he likes someone or not, but he told me he liked 'that guy.' Michael is like a coach, dad, therapist, uncle and buddy, all rolled into one, and he's just as competitive as Maxxwell is. He was the perfect therapist for us."
Michael added that he moves quickly when he's working with patients. Maxxwell was able to keep up and take things in stride.
"Maxwell competes with himself and with everyone else. He's out to win. We had fun with that," Michael said.
In fact, one of Maxxwell's favorite activities was a game to test his balance. "We'd play catch while standing on one leg. Whoever put their foot down or dropped the ball five times lost," Michael explained. "Toward the end of therapy, Maxxwell was consistently winning that game."
Fortunately, Maxxwell completed his physical therapy before the COVID-19 pandemic hit the Kansas City area. He's ready to start at Aquinas this fall, but he's not sure if he'll have the chance.
"Sports are still up in the air due to COVID," Maxxwell said. "I've worked hard to be ready to go back, but I understand this is out of my control.
"Sometimes I forget that I was injured. I look at my knees, and now they both look the same," Maxwell said. "There's no swelling, and it feels good to be healthy. But I'm also focused on being a good student. Aquinas is a great learning environment."
"I can tell Maxwell is much better," Austen said. "They ran 25, 40-yard dashes at practice and from what he tells me, he's back to his old self, giving it everything he's got."
"Maxxwell has been laser focused to get back on the field," Michael added. "He was on track to possibly play varsity as a freshman, but this injury caused Maxxwell to take a step back, and he's a much better athlete for it now.
"Not every patient who comes through our doors has a success story, but Maxxwell does. I feel like I'm going to be following his career for years to come, wherever he goes."
Find Children's Mercy Sports Medicine on social media


Stories & Videos
Torn ACL and meniscus: Berlin's story
When Berlin Butler-Swanger tore her ACL playing soccer, she heard the classic "pop," then fell to the ground in pain. But she fought back. After surgery and months and months of working with Children's Mercy Sports Medicine, she's confident in her knee and ready to return to the field.
Meet Berlin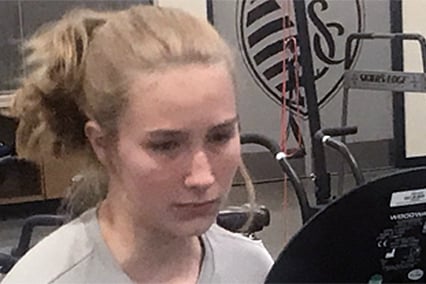 ACL injury and recovery: Michael's story
When Michael Shultz experienced a season-ending knee injury while wrestling, he turned to the experts at the Children's Mercy Sports Medicine. After surgery to repair his ACL and extensive rehab, he's back in action for his senior year, suiting up as No. 30 and playing middle linebacker and tight end for the Sabres.
Meet Michael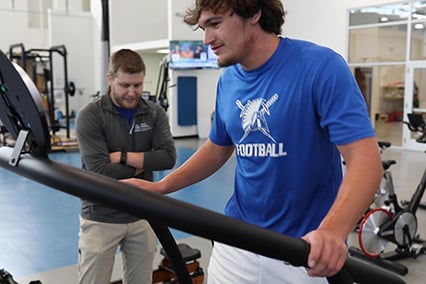 Pediatric Orthopedic Surgery, Sports Medicine
Chief, Section of Sports Medicine; Pediatric & Adolescent Orthopaedic Surgery; Associate Professor of Orthopaedic Surgery, University of Missouri-Kansas City School of Medicine; Clinical Assistant Professor of Orthopaedic Surgery, University of Kansas School of Medicine