Colorectal Center
Nationally ranked by U.S. News & World Report
Colorectal Center
Nationally ranked by U.S. News & World Report
Pediatric colorectal care
Children's Mercy is home to one of a very few comprehensive colorectal centers in the nation. We take a team-based approach to care for children with colorectal malformations such as Hirschsprung disease and other anorectal and pelvic floor disorders.
Colorectal conditions are often associated with several different systems of the body. Depending on your child's particular condition, they may need a specialist to help with the bladder, kidneys, spinal cord, gastrointestinal or reproductive systems.


Your treatment, all in one location

Our team includes all the specialists your child might need and, at our center, you will see them all in one appointment. Together, you and your team will work to find the best course of treatment for your child.
No matter where you are in your journey, your team at Children's Mercy will help meet your child's needs both now and in the future. By looking at the long-term benefits and risks of various treatment options, your care team will make every effort to give your child the best possible quality of life.


Meet the team
Our pediatric colorectal physicians and providers include: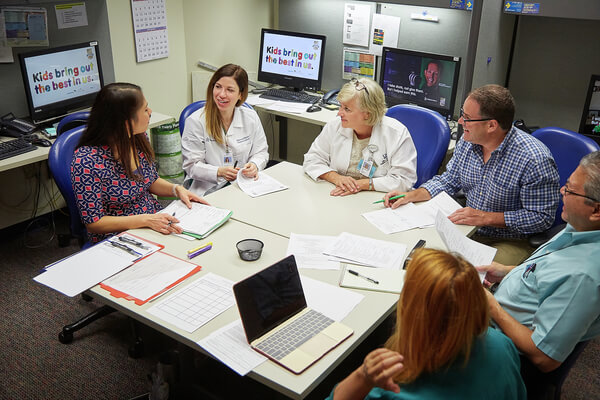 Diagnosing and treating colorectal conditions

We provide team-based care that centers on the best possible outcome for your child. We will work with you to create an integrated and personalized care plan specific to your family's needs.
Depending on your child's age and condition, we can:
Carefully examine your child's symptoms and diagnose any related conditions.

Help your child achieve independence with their fecal and urinary control.

Provide a second opinion or re-evaluation for children with complex conditions.

Coordinate complex, multi-system surgery to correct or reconstruct your child's anorectal, urological and gynecological systems using the least invasive approach, always keeping the patient's future in mind.

Evaluate internationally adopted children with colorectal or pelvic floor conditions in coordination with Children's Mercy's International Adoption Clinic.


What to expect during your visit

Families are usually referred to the center by their primary-care physician or another specialist for their first visit.
You can schedule a follow-up visit directly by calling (816) 234-3199.
You can expect to spend one to two hours at the clinic visiting with your care team.

Before your visit:
We will ask you to send any available tests, results and medical records you may have so we can review them ahead of time.

We will ask you to fill out some pre-visit online forms to customize your child's appointment.

Sometimes additional tests may be ordered to help us determine the best course of treatment for your child.


"Instead of multiple appointments with different doctors who each have a separate plan of care, our team meets all together to discuss your child's unique needs and create one, unified approach to treatment."
Bowel Management Boot Camp

The Children's Mercy Bowel Management Boot Camp is a week-long outpatient program in Kansas City for children who want to gain confidence with their bowel control. Learn more about this program.
One surgery means fewer complications

Because colorectal conditions can involve so many different systems of the body, our specialists look at your child's case all together to come up with a unified approach to treatment.
Whenever possible, our goal is to provide all the surgical procedures your child needs in one comprehensive surgery. This reduces the risk of complications and gives your child the best possible quality of life in the future.
Your team will answer all your questions and make sure you understand your diagnosis and treatment plan. You can always call and talk with them or message your care team through the MyChildrensMercy Patient Portal in between appointments as well.
After surgery, we'll continue to see you for follow-up visits to make sure everything is going well. When it's time for your teen to transition to an adult provider, we will walk you through the process and make sure your adult provider has all of your history and records.
Whole-person care for your child and family
Our clinic provides coordinated, team-based care, including mental health support for your child and family. Your voice as a parent is valued and your family's experience is central to the treatment plan.
Conditions
Hirschsprung disease is a condition which causes blockage of the intestine. Children are born with it and symptoms typically appear shortly after birth. The condition occurs when a variable amount of nerves normally present in the colon, small intestine, or both, are missing. Children will always need surgery to remove the non-functional segment of intestine so that stool can be pushed through the digestive tract out of the body.
Learn more about Hirschsprung disease
A condition present at birth where the child's anal opening and the rectum (last part of the large intestine) do not exit through the sphincter complex (muscles for continence). Surgery can help improve the ability to pass stool.
A malformation in females where the rectum (lower portion of the colon), vagina and urinary tract are fused together, creating a single common channel. Children will need surgery to help correct this malformation.
This can be a significant challenge for any child. Symptoms of chronic constipation include straining, hard stools, inability to pass stool and less than 3 bowel movements per week. There are many factors that can be the cause. Treatments include behavioral, medical and surgical approaches.
Rectal prolapse is also known as partial prolapse or mucosal prolapse. The rectum is the lower portion of the large intestine that meets up with the anus. When the rectum slips through the anus and it is exposed, this is known as rectal prolapse.
Learn more about rectal prolapse
Colorectal and pelvic floor conditions
We provide care for all types of colorectal and pelvic floor conditions including anorectal malformations/imperforate anus, Hirschsprung disease and others:
Anorectal malformations/imperforate anus, including:

VATER (Vertebrae, Anus, Tracheo-Esophageal, Renal)

VACTERL (Vertebrae, Anus, Cardiac, Tracheo-Esophageal, Renal and Limbs) Syndromes

Hirschsprung disease in children

Cloacal malformations, including:

Cloaca

Cloacal exstrophy

Bladder exstrophy/epispadias complex

OEIS sequence

Encopresis and idiopathic constipation

Fecal incontinence

Motility disorders
Management options for colorectal conditions

Your care team may recommend management options for your child that can be done at home. These may include:
Research
We are excited to be able to partner with our pediatric colorectal colleagues across the United States. Children's Mercy partners with other pediatric hospitals through the Pediatric Colorectal and Pelvic Learning Consortium. The Consortium provides a comprehensive database for researchers who are studying colorectal conditions to advance the techniques and treatment available to families.
Stories
Meet Dr. Rentea, Director of the Comprehensive Colorectal Center
Patients and families will work directly with Dr. Rentea, one of only a few highly-specialized pediatric colorectal surgeons in the United States. She is passionate about taking a comprehensive approach to treat often complex conditions and committed to helping families find answers. Her goal is to provide the highest quality of life to patients and families with colorectal conditions through every stage from infancy to young adulthood.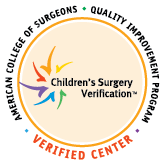 Highest Level of Surgical Care
Children's Mercy is one of only 10 centers in the nation to be verified as a Level 1 Children's Surgery Center — the highest possible rating — by the American College of Surgeons.
Planning for Surgery
From free valet parking at the front door to personalized follow-up care during your child's recovery, we want every aspect of your experience at Children's Mercy to be beyond your expectations.
Read about how to prepare your child for scheduled surgery, what to expect when you arrive, and resources available while you're here.
Pediatric anesthesia at Children's Mercy
At Children's Mercy, a pediatric anesthesiologist is an active member of your child's care team before, during and after their surgery or procedure.
We administer anesthesia for more than 27,000 kids per year—that's 74 per day—so our team is experienced at finding just-right doses of medication for kids of all sizes.
Pediatric Surgery
Director of the Comprehensive Colorectal Center; Assistant Professor of Surgery University of Missouri Kansas City School of Medicine