Colorectal Center
Nationally ranked by U.S. News & World Report
Colorectal Center
Nationally ranked by U.S. News & World Report
Choosing the best colorectal program for your child
Children's Mercy is home to one of a very few Comprehensive Colorectal Centers in the nation. We take a team-based approach to care for children with colorectal conditions such as Hirschsprung disease and other anorectal and pelvic floor disorders.
At the Children's Mercy Comprehensive Colorectal Center (CCC), you will find the highest level of pediatric colorectal care. Your care team includes providers who are nationally recognized by U.S. News & World Report for excellence. Children who we treat surgically receive the highest level care possible through our accredited surgery center.


Your treatment, all in one location

Colorectal conditions are often associated with several different systems of the body. Depending on your child's condition, they may need specialists to help with the bladder, kidneys, spinal cord, gastrointestinal or reproductive systems.
Our team includes all the specialists your child may need. At our center, you will see them all in one appointment. Together, you and your team will work to find the best course of treatment for your child.
Children may require care throughout life. Your team at Children's Mercy will help meet your child's needs both now and in the future. By looking at the long-term benefits and risks of various treatment options, your care team will make every effort to give your child the best possible quality of life.


We provide team-based care that centers on your child. We will work with you to create an integrated and personalized care plan specific to your family's needs. Learn more about what to expect.
The Children's Mercy Bowel Management Boot Camp is a week-long outpatient program in Kansas City for children who want to gain confidence with their bowel control.
Our clinic provides coordinated, team-based care, including mental health support for your child and family. Your voice as a parent is valued and your family's experience is central to the treatment plan.
Because colorectal conditions can involve so many different systems of the body, our specialists look at your child's case together to come up with a unified approach and individualized treatment.
Your care team may recommend management options for your child that can be done at home. We will work with you to understand the options and how to properly perform procedures.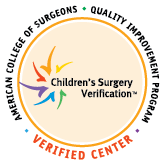 Conditions
Hirschsprung disease is a condition which causes blockage of the intestine. Children are born with it and symptoms typically appear shortly after birth. The condition occurs when some of the nerves normally present in the colon, small intestine, or both, are missing.
Rectal prolapse is also known as partial prolapse or mucosal prolapse. The rectum is the lower portion of the large intestine that meets up with the anus. When the rectum slips through the anus and it is exposed, this is known as rectal prolapse.
Fecal incontinence (FI) happens when a child who has been toilet trained either voluntarily or involuntarily passes stool, or poops, in their underwear or in socially inappropriate places.
A condition present at birth where the child's anal opening and the rectum (last part of the large intestine) do not exit through the sphincter complex (muscles for continence). Surgery can help improve the ability to pass stool.
A malformation in females where the rectum (lower portion of the colon), vagina and urinary tract are fused together, creating a single common channel. Children will need surgery to help correct this malformation.
A condition present at birth where certain inner abdominal organs and structures have some malformation and are exposed on the outside of the body. Cloacal exstrophy equires a series of surgeries.
When a baby is born with the bladder and urethra exposed on the outside of the abdomen, this is called bladder exstrophy. The open urethra is called epispadias. This condition requires one or more surgeries to repair.
We provide care for all types of colorectal and pelvic floor conditions including:
Cloacal malformations, including:


Cloaca
Cloacal exstrophy
Bladder exstrophy/epispadias complex

Encopresis and idiopathic constipation
Motility disorders
Anorectal malformations / imperforate anus, including:

VATER (Vertebrae, Anus, Tracheo-Esophageal, Renal)
VACTERL (Vertebrae, Anus, Cardiac, Tracheo-Esophageal, Renal and Limbs) Syndromes
An appendicostomy, also known as a Malone procedure, is a surgery that allows your child to more comfortably receive an enema through their belly button or abdomen. The goal of the surgery is to work towards your child having a bowel movement every day.
Stories
Meet Dr. Rentea, Director of the Comprehensive Colorectal Center
Patients and families will work directly with Dr. Rebecca Rentea, Director of the Comprehensive Colorectal Center, one of the few highly-specialized pediatric colorectal surgeons in the United States. She is passionate about taking a comprehensive approach to treat these complex conditions and committed to helping families find answers.
Her goal is to provide the highest quality of life to patients and families with colorectal conditions through every stage from infancy to young adulthood.
See more of Dr. Rentea's experience
Hypersensation of the gastrointestinal tract: Amarissa's story
At 4 ½, Amarissa Hampton has struggled with painful constipation since birth. Finally, she was referred to the Gastrointestinal team at Children's Mercy, and after a lengthy hospitalization, she's doing better than ever. Now she's enjoying her favorite foods, like ice cream and pizza, she has lots of energy, and she's thriving for the first time in her young life.
Meet Amarissa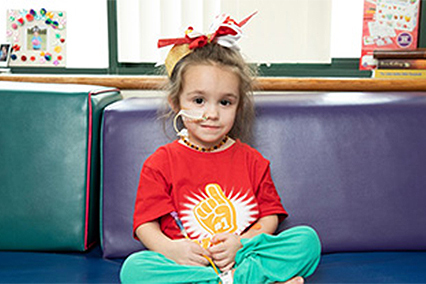 Pediatric Surgery
Director of the Comprehensive Colorectal Center; Assistant Professor of Surgery, University of Missouri-Kansas City School of Medicine