Endocrinology and Diabetes
Nationally ranked by U.S. News & World Report
Endocrinology and Diabetes
Nationally ranked by U.S. News & World Report
The Division of Pediatric Endocrinology and Diabetes at Children's Mercy is one of the largest full-service programs in the country and ranked as one of the nation's top endocrinology programs by U.S. News and World Report.
Families can receive a wide range of care and support services to help children with endocrine disorders—problems with the body's hormones and the various glands and tissues that produce them—lead healthy lives today and into adulthood.


Expert endocrinologists and diabetes specialists

At Children's Mercy, you have access to an established, experienced team of nearly 30 pediatric endocrinologists and 100 staff members who specialize in endocrine disorders and diabetes prevention, treatment and research.
Your family will benefit from our team approach to care and commitment to ongoing research that has earned us national recognition as a leader in caring for children with endocrine and metabolic disorders.
For example, our diabetes program was the first pediatric program in the U.S. to be accredited by the American Diabetes Association. Our pediatric endocrinologists care for around 2,400 children each year with type 1 and type 2 diabetes.
Girls with Turner Syndrome find both excellent medical care and a supportive community at our Great HeighTS clinic, led by Dr. Joseph Cernich. As part of an international group of experts assembled by the Turner Syndrome Resource Network, Dr. Cernich helped develop care guidelines for doctors around the world to use in treating girls and women with the disorder.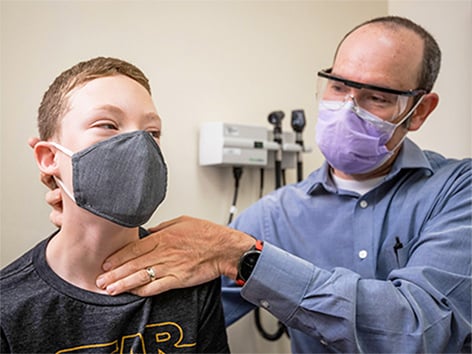 Diabetes education program helps power children's potential
Our innovative LAND program is improving diabetes care through extensive outpatient education at the onset of disease. Learn how our Endocrinology and Diabetes Division is changing care and outcomes for children in this Powering Children's Potential interview with Dr. Francesco De Luca.
Advancing innovations in pediatric diabetes care
The Rising T1DE Alliance is a Children's Mercy led-initiative focused on scaling quality improvement efforts and innovation in Type 1 diabetes care. Learn more about their mission, leadership, and accomplishments.
Conditions
Abnormal weight gain/insulin resistance
Adrenal abnormalities
Bone strength and density
Delayed or advanced pubertal development
Diabetes mellitus type 1 and 2
Hyperandrogenism/PCOS
Pituitary abnormalities
Advancing Endocrine and Diabetes Care for All Kids
We are committed to providing the best medical care for children with diabetes and endocrine disorders. Through ongoing clinical research, we are dedicated to discovering and pioneering the latest treatment methods.
Dr. Francesco De Luca, Division Director for Endocrinology and Diabetes at Children's Mercy, believes that great clinical care and advances in research are interconnected.
When you have a strong clinical program, it leads you to develop new research ideas. Then those research results come back to benefit the patient."
Together with the Genomic Medicine Center at Children's Mercy, we are working to quickly and accurately diagnose pediatric conditions at the genetic level. Our researchers continue to explore the relationship between hormones and genetics to better understand the factors that play a role in children's growth.
Children's Mercy, in partnership with University of Kansas Medical Center, is also involved in collaborative projects funded by the National Institutes of Health (NIH). These initiatives are exploring how technology and the principles of family-centered design can improve outcomes for children and their families dealing with type 1 diabetes.
Stories
Type-1 diabetes: Mason's story
A thirsty 2-year-old isn't likely to arouse concerns – especially during the brutal heat of a Midwestern summer. But Mason Brennan's mother knew something was amiss when her son's requests for water became excessive.
Contact the Endocrine and Diabetes Team

Endocrine and Diabetes Clinic: (816) 960-8803
Option 1: Growth Hormone Team
Option 2: Diabetes Team
Option 3: Endocrine Team
Locations


Kansas City metro area


Children's Mercy Broadway
3101 Broadway, 6th Floor
Kansas City, MO 64111
Children's Mercy Northland
501 NW Barry Road
Kansas City, MO 64155
Children's Mercy East
20300 East Valley View Parkway
Independence, MO 64057
Children's Mercy College Boulevard
5520 College Blvd.
Overland Park, KS 66211
Children's Mercy Olathe
20375 W. 151st St., Suite 402
Olathe, KS 66061
Children's Mercy at The University of Kansas Hospital
2000 Olathe Boulevard
Kansas City, KS 66103


Other locations


Services are also provided at Children's Mercy locations in Wichita, Joplin, Junction City, and St. Joseph, as well as at Stormont Vail Health in Topeka.