Allergy, Immunology, Pulmonary and Sleep Medicine
Allergy, Immunology, Pulmonary and Sleep Medicine
The Division of Allergy, Immunology, Pulmonary and Sleep Medicine at Children's Mercy provides an integrated approach to care for children from birth to young adulthood with a wide range of allergic, immune system, respiratory, and sleep conditions.
Highlights of our program include the nationally accredited Cystic Fibrosis Care Center, which is well-known for both excellent care and robust clinical research, and our expanded Sleep Center, which is the largest pediatric sleep program in the region. Additionally, our food allergy center is part of the Food Allergy Research and Education Clinical Network.
We also offer support for families that goes beyond their child's medical care. For instance, families impacted by asthma or allergies can partner with our Healthy Home Program to help identify environmental triggers that might cause or worsen their child's health problems. And children with complex conditions, like cystic fibrosis or 22q11.2 deletion or duplication syndrome, can see several different Children's Mercy experts in one visit, thanks to these multidisciplinary clinics.
Conditions
Allergies

Food allergies
Medication allergies
Seasonal allergies (conjunctivitis, rhinitis)

Asthma

Allergic asthma
Exercise-induced asthma
Life-threatening asthma

Chronic lung disease of prematurity
Congenital airway and lung abnormalities
Cystic fibrosis
Eczema and atopic dermatitis
Hereditary angioedema
Hives and urticaria
Immune deficiencies

Antibody deficiencies
Combined immunodeficiencies
Phagocytic disorders
Complement deficiencies
Interstitial and diffuse lung disease of childhood
Pneumonia and respiratory infections
Pulmonary hypertension
Pulmonary complications of sickle cell disease
Pulmonary complications of neuromuscular
disease
Pediatric tracheostomy and home ventilation
Primary ciliary dyskinesia
Restrictive lung disease (neuromuscular and
thoracic disorders)
Stories
Cystic fibrosis and research: Myah's story
Meet Myah, a teen who loves playing soccer and also happens to have cystic fibrosis. Recent clinical trials have helped Myah keep up with her teammates and improve her quality of life through access to new medication and treatment options.
Eosinophilic asthma: Hunter's story
In a matter of a few hours, Hunter Box went from being a healthy, active 17-year-old, to a severely ill teen struggling for his next breath. After two hospitalizations, he was diagnosed with eosinophilic asthma and a rare complication called plastic bronchitis. Now, thanks to the Children's Mercy Advanced Asthma Interdisciplinary Respiratory (AAIR) Clinic, Hunter's asthma is under control.
Meet Hunter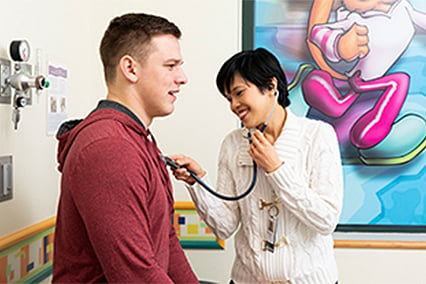 Inside Pediatrics: Zei's story
After a mysterious illness ravages Zei's lungs and leaves her fighting for life, the critical care team re-invents its life support protocols to push the limits of medicine to give her a chance.
Allergy, Immunology, Pulmonary and Sleep Medicine