October 09, 2023
A safe and affordable way to DIY Halloween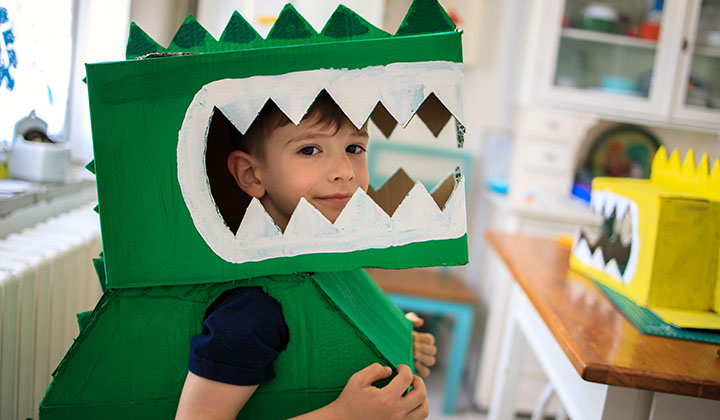 With spooky season here, trick-or-treating is near! The Child Life Department at Children's Mercy Kansas City has outlined 4 crafty costumes for you and your family to DIY together this Halloween.
Lego
Items you will need:
Cardboard box or flat cardboard sheets
Glue gun
Spray paint in your LEGO color of choice
Spray paint can lids (other options: pool noodles, cardstock, cardboard tubes, plastic cups cut down to size, etc.)
Scissors or box cutter
Find a box! You could also just make the costume sandwich board style.
Cut out head and arm holes. Cut the head hole big enough for the head to fit through but not so wide that it will slip off the shoulders. Cut out arms holes large enough to allow for maximum arm movement. For safety, cut off any excess length on the box; you want it to end above the knee so that walking is easy.
Glue on the circles. You can use spray paint can lids, slice up a pool noodle or cut 2-3" strip of cardstock and make the circle the diameter you like. then cut a circle out of the cardstock to glue on the end. Place a line of hot glue around the bottom of the circles and glue them into place on the front of the cardboard box.
In a well-ventilated area, spray paint the costumes using multiple light coats. Or a safer option is to use non-toxic paint to brush on the cardboard.
If you want, you can wear clothes that are the same color as your "Lego" block.
To make this costume easier to see at night, tape glowsticks/glow necklaces/ glow bracelets around the block itself, or around the small circles.
Rubix Cube
Items you will need:
Large square cardboard box from home (you can cut 5 squares of cardboard with 24" sides, and tape them together. Or purchase from a store)
Non-toxic black paint
9 pieces of colored card stock in 5 different colors, or 5 different colors non-toxic paints
Hot glue gun or glue
Scissors or box cutter
Make your box (if you didn't buy one) about 24"x24"x24."
Cut out a hole for the head and for the arms. Try it on to ensure it fits correctly. If not, cut the holes bigger.
Using black non-toxic paint, paint the entire box.
Using non-toxic paint, paint 5 different color 7.5" x 7.5" squares or whatever size will fit on your box arranging them in a 3x3 pattern OR cut cardstock or construction paper in 7.5" x 7.5" squares and round the corners. (You can mix the colors up, or do one color per side like when you first buy a Rubix cube.)
Sensory friendly costumes
Mr. Potato Head
Items you will need:
Comfortable sweatshirt (preferably brown) or an oversized brown t-shirt
Foam, felt, cardstock or construction paper in white, black, red and any other color you choose
Scissors
Glue, tape, Velcro or needle and thread
If using an oversized brown t-shirt, cut off the neck, back and sleeves so it looks more like a vest than a shirt.
Cut out eyes, nose, mouth, ears and mustache (if you want) out of foam, felt, cardstock or construction paper.
Attach them to the sweatshirt or oversized t-shirt with glue, tape, Velcro or sew it.
For fun, you can make extra eyes, noses, mouths and ears and use sticky Velcro to attach them to the shirt. Then your child can switch them out during the night.
To make it easier to see at night, add reflective strips to the front and back of the costume.
Jellyfish
Items you will need:
Umbrella
Wired ribbon
Curling ribbon
Black and white construction paper
Glue gun or clear packing tape
Iridescent jewel stickers (optional)
Bling on a string (optional)
22" glow sticks (optional)
Use an umbrella you already own or purchase a child sized clear umbrella.
Hot glue or use clear packing tape tp attach wired ribbon and curling ribbon around the bottom of the umbrella.
Twist the wire ribbon to look like a curl. Use scissors to curl the curling ribbon.
Add iridescent jewel stickers to the umbrella (or any stickers you want).
Cut big eyes out of white construction paper and pupils out of black construction paper.
Glue them together and tape or glue to the front of the umbrella.
To make this costume easier to see at night, tape glue sticks to the wire portions of the umbrella or secure a small flashlight around the pole of them umbrella, facing up.
If you want to add more, you could add bling on a string or undo a loofa and cut in strips and glue or tape to the bottom of the umbrella.
Trick-or-treating is a great way to make memories this fall, when making your costumes this year, keep these safety reminders in mind.
Avoid capes to prevent choking.
Avoid long swords, canes and sticks as accessories. These accessories can easily cause a child to get hurt if he/she stumbles or trips into it.
Make sure costumes are short enough so they don't drag on the floor. This will help avoid any tripping.
When crafting your costume, be cautious of the materials you use. Look for "flame resistant" on labels. The same goes for if you are buying a costume, look for "flame resistant" on the tag.
Try to wear a costume that doesn't include a mask. A mask can limit vision. Consider using non-toxic face paint/makeup or a hat.
Add reflective tape or glowsticks to any costumes that do not already have it incorporated.
---