December 17, 2019
5 Ways to Make Magical Memories this Holiday Season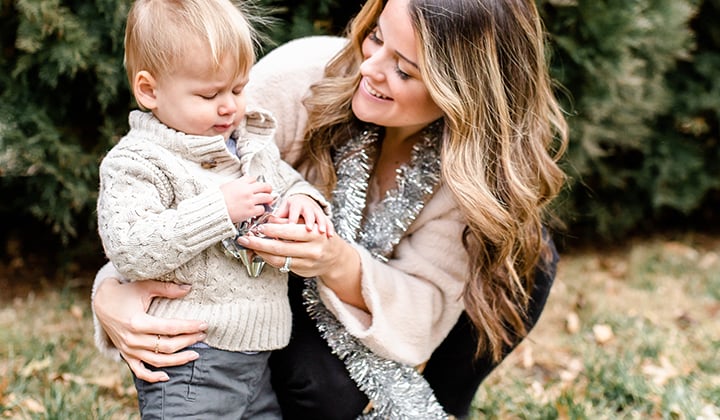 I can't remember the gifts I received on Christmas morning. But I remember how I felt. A mix of excitement, pure joy and anticipation for a day spent together as a family. I remember waking up way too early and climbing into bed with my sister on Christmas morning until everyone else was awake. I remember walking down the stairs to see the Christmas tree glowing and checking to see if Santa and his reindeer ate the treats we left out. And let's not forget the warm cinnamon rolls we would enjoy together in our pajamas that morning! If I could bottle up that feeling to sell it, I would be a millionaire.
As a mom, it can feel super overwhelming this time of year. The pressure to do all the holiday traditions. The pressure to go to all the holiday events. The pressure to find the best gifts. To display the best decor and twinkling lights. To bake the best cookies. The list goes on...
It's easy to get caught up in the game of curating the perfect holiday instead of focusing on creating memories.
You can easily watch others share their perfect holiday traditions, decor, outfits and gifts on social media...and ask yourself if you are doing enough. Let's not forget how easy it is to click 'Buy Now' for instant gratification to fit in.
But the number of gifts under the tree or activities you check off your to-do list is not what will create magic.
So, I am making the reason for the holiday season about giving and the experiences we can share together as a family. Here are a few ways I plan to re-think our holiday traditions to be less about "things" and more about creating memories.
Create a holiday gifting plan. It's easy to go overboard and overspend for those you love. To make the holiday less about the gifts opened on Christmas, I am sticking to a plan of only giving "something you want, something you need, something to wear something to read" from this season on. It helps keep my shopping list manageable and hopefully will set the tone for a tradition that my son will remember. It also opens up room to make the day-of traditions just as special.
Find a way to give back as a family. It doesn't have to be a big donation or gesture. Even small actions can make someone's holiday season brighter and I am excited to make giving back a part of my holiday season by including my son in the process. From preparing a holiday meal to drop-off at a homeless shelter to adopting a child's Christmas list or even creating small kits from household items you already have, there are so many ways to make an impact and that your kids can help you with. Make it a fun family activity and explain WHY you are giving back. Better yet, have them come up with a plan to give back with you!
Create something together. Baking cookies is always a fun choice, but I also like the idea of creating something that my son can keep from years to come. This year, we made an ornament together out of a kit I found in the Target dollar section. It's nothing fancy, just his handprint in a foam mold that we painted together. But the best part is that it's his favorite ornament to find and point to on our Christmas tree. I hope one day he will treasure these little crafts we did and remember the time spent together - even if it means making a mess in the kitchen.
Find the magic in everyday places. There are so many free and fun things to explore as a family! Seeing the holiday lights is always exciting for kids and adults and can be turned into a tradition. Put on your pajamas and drive around (or even go on an evening stroll) with hot cocoa in tow. Get with neighbors to sing carols or set a date for a holiday movie marathon of your favorites!
Declutter and donate what you don't need. You don't realize how fortunate you are until you see the lists of everyday items from families in need this season. We have baby clothes that my son never wore - tags still intact. I am going to be taking time this holiday to declutter our closets and collect new or gently used clothing and baby gear to give back. Once my son is older, I will task him with picking a few items that he wants to give to a child in need. I think this is a great way to show appreciation for what you have and how easy it is to help someone else.
We might not send out holiday cards this year. We likely won't wear matching pajamas on Christmas morning. And I definitely won't have time to curate the Advent Calendar in time. But I will make a point to not get wrapped up in the pressure to do everything and to instead make it a season filled with joy and appreciation in the little things.
Remember, whatever you can do - do it with joy and excitement and I promise you will create magic this holiday season!
---