Help Our Kids: Pat and Amy Give Back
Two community members give back

"We make a living by what we do, but we make a life by what we give." These are the words of Winston Churchill – ringing true for volunteers who give their time and talents to Children's Mercy. Each year, hundreds of volunteers donate more than 75,000 hours of their time to Children's Mercy. "Our volunteers are committed, dedicated and mission-driven," said Stacey Koenig, Senior Director of Volunteer and Guest Services. "They provide high-quality patient, family and staff experiences. They help make Children's Mercy the special place it is today."
Amy Wurst and Pat Erwin are two of those selfless volunteers.
Every Thursday, you can find Amy in the hospital Community Room with her therapy dogs: Allie, a Collie, and Caymus, a Husky mix. She's been a part of the Pet Pals program for 13 years, witnessing the powerful impact a dog can make on a kid receiving care. "I believe particular dogs understand what they need to do in certain circumstances for each patient," she said. From stopping the tears of a child in pain, to helping a little girl or boy during their therapy sessions, Amy sees the special bond between kids and pets.
Pat was a nurse at Children's Mercy for an incredible 27 years! While she retired in 2005, she came back just six months later to continue her service as a volunteer. Every week, she rocks babies in the NICU in the morning and works in the volunteer office in the afternoon. "It makes my heart happy to help a child," she said. "I'm sure those parents find comfort in knowing their babies are being taken care of." Pat's dedication to her role as a volunteer is truly inspiring. "I love [volunteering]!" she exclaimed. "I will continue to volunteer until I'm no longer able to do so."
The generosity of volunteers like Pat and Amy ensure Children's Mercy can continue to provide the best care to all families in need.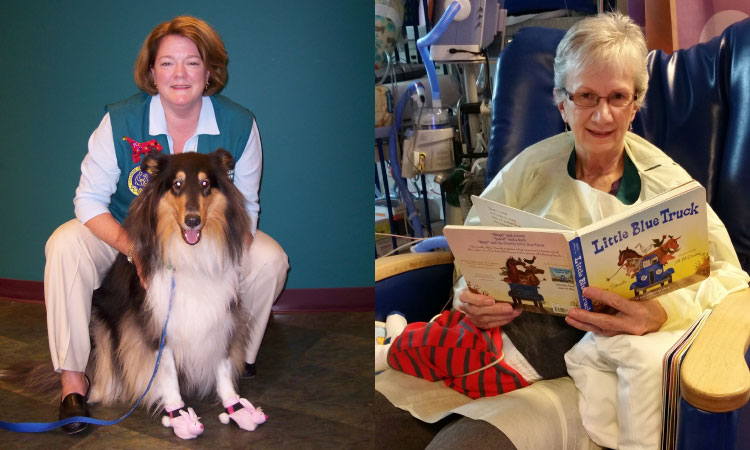 See Why Your Support Matters Menu