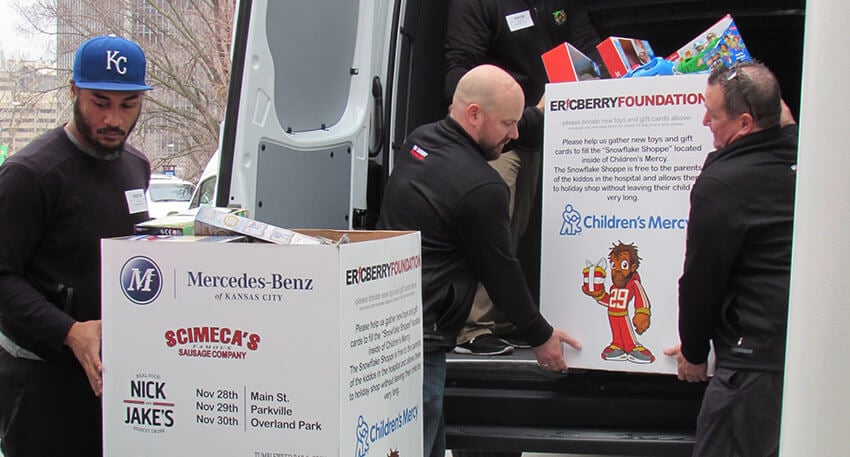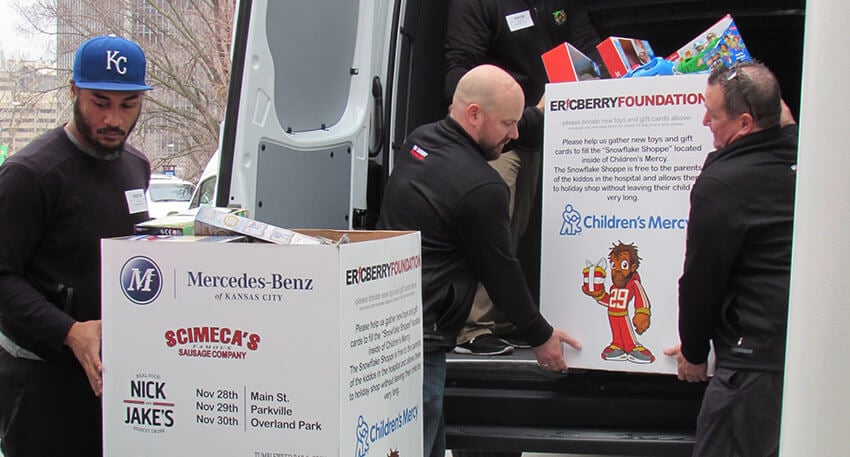 ---
Our LOVE WILL Make a Difference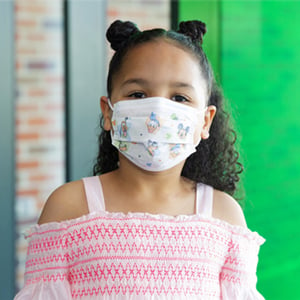 Donating and making masks
We're requiring all patients, visitors, and employees to wear masks while at Children's Mercy, including children 2 years of age and older.
We will supply masks for visitors who need them, but we are running low on handmade masks — especially child-sized ones — and need more!
If you have handmade masks, or new or unopened N95 or surgical masks, you can sign up to schedule a donation drop-off.
If you are looking for instructions on how to sew child size masks, here is a template and video tutorial.
Personal Protective Equipment (PPE)
Schedule a donation drop-off if you have any of the following new and unopened items:
Non-latex gloves
Disposable hospital gowns
Protective eyewear/safety goggles
Sanitizing wipes, pre-packaged hand sanitizer and liquid hand soap
Current donation needs
For our most needed in-kind items beyond PPE, please view our current donation needs. If you have any questions about additional in-kind donations (snacks, meals, toys, books, etc.) please email our donation staff directly at donategoods@cmh.edu.
Happy Kits
Help make a child or parent's day by assembling a Happy Kit! Kits are used in a variety of areas throughout the hospital and clinics to make our patients and families feel welcome and happy during their visit with us.
Become a Children's Mercy Junior Champion
Whether starting a toy drive or selling lemonade on the corner, kids and families have been rallying together to help other kids since the hospital's earliest days.
When your child donates to the hospital, they have the opportunity to participate in the Junior Champions charm program. This program recognizes their generosity and provides positive reinforcement for their act of kindness.
Give wisely: safe donation guidelines

To protect the health and safety of all those in our facilities — kids, parents and care providers — there are a few guidelines you should know about before dropping off your generous donations:
Distribution: Donations will be distributed by hospital staff and volunteers; donors may not give out their own items.

Safety: Help us keep our patients safe by only donating items that are non-toxic, non-violent and do not contain latex.

Condition: Donations must be brand new, in original packaging, with tags attached and odor-free.

Affiliation: Because Children's Mercy is non-denominational, we ask all donors to respect the beliefs of our patients by not including religious gifts.

Toys: All stuffed animal donations must be new with tags attached and never have been stored or displayed for any length of time. We cannot accept Nerf guns, spray guns, water guns, pop ball guns, swords, bows and arrows or toy knives.

Clothing: Clothing donations must be new with tags still in place.

Reading Materials: Reading materials must be new and in good condition. We are unable to accept any textbooks, encyclopedias, dictionaries and used activity books.

Thank you for your help keeping our patients and families safe!
Your impact
Kids helping kids
After a lengthy stay in the Burn Unit at Children's Mercy when he was a small child, Eli wanted to give back to kids going through the same thing. He organized a sidewalk sale and used the money to buy loose-fitting clothes and new toys for kids being treated at the same Burn Unit he was treated in all those years ago.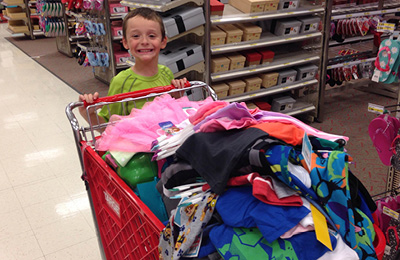 Have questions about donating goods to Children's Mercy?
Visit the Frequently Asked Questions page for more information.