Help Our Kids: HR Team Gives Back
Connecting with the kids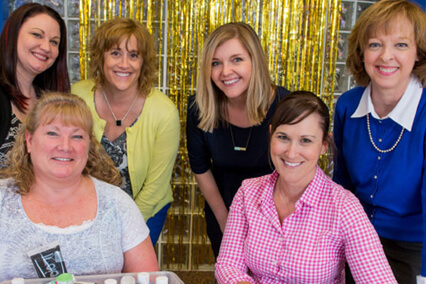 Recently, about 40 employees in our very own Children's Mercy Human Resources department stepped out of their offices and into the hospital to spend time with some of the children in our care. The goal: to make our mission to serve all children come to life for Children's Mercy employees who otherwise don't often come face-to-face with patients.

"Everything we do is about the kids, but for those of us whose work is not in a patient care area, it can be difficult to see the tie back to them," said Robin Faulk, Vice President, Human Resources. "When we can be involved in some way with the kids — see their little eyes, their little faces, how brave they are — it can remind us that what we do makes a difference."

Working with Missy Stover, Manager, Child Life Volunteers and Therapeutic Programs, and Trista Williams, Child Life Program Coordinator, Robin found the answer she sought: two existing volunteer programs, Partners in Play and Gifts of Love, just waiting for a ready source of hands-on help.

Those hands were indeed ready. "We don't get exposure to the kiddos like hospital staff do, so when Robin presented this idea to our group, we were excited about the opportunity," said Nikki Esser, Talent Acquisition Coordinator and one of the participating Human Resources employees.
See Why Your Support Matters Menu