Hattie's Family Gives Back
Hattie's Hope: a little girl's lasting legacy
Hattie was born May 12, 2015, with a condition so rare it had never even been documented and had no name. Her parents brought her to Children's Mercy when Hattie was 3 weeks old seeking second opinions and advanced care.

There was little Hattie's family could do to help her during her treatment, which left her mom, Ambria, feeling helpless. She found comfort each night in giving her daughter a bath and dressing her up in a cute outfit with a matching bow. It was the only sense of normalcy she could find during truly extraordinary circumstances.

Everyone would stop by to see what Hattie was wearing … like a little fashionista. "It lightened my mood and made me feel good to see her dressed like a normal baby," Ambria recalls.
While there were periods of small wins and progress, Hattie's family came to understand she would never breathe on her own and her quality of life was not going to get better. "It's the most difficult thing in the world to come to grips with," Ambria said, "but we had to." Hattie passed when she was 10 weeks old.

Now, an organization created by Ambria in honor of her daughter – Hattie's Hope – donates hair bows and blankets to NICU families so they, too, can feel the small sense of normalcy and comfort Ambria felt when she dressed Hattie up each night after her bath. It is Ambria's way of giving back to the hospital that has given her family so much.

"It's a simple gesture that makes a difference to other families facing difficult circumstances," said Ambria. All bows are hand-made with love. New receiving blankets go to hospitals and crocheted, hand-made blankets go to the Ronald McDonald House.

You can find Hattie's Hope and see more pictures of these adorable fashionistas at facebook.com/hattieshope.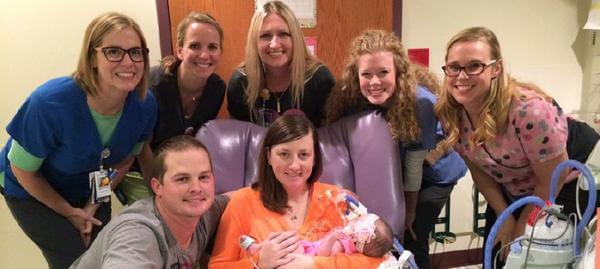 See Why Your Support Matters Menu