Help Our Kids: Callyn Gives Back
The spirit of a fighter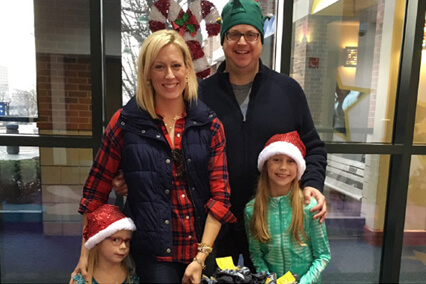 It was pure luck, or perhaps divine intervention, that allowed Kim to look into her daughter's eyes and detect a tumor while the family was attending a wedding when Callyn was just 2 years old.
Callyn had retinoblastoma, a rare cancer with only 300 cases diagnosed each year, and the tumor was covering the bottom 40 percent of her eye. They feel lucky to have caught it when they did, and feel blessed it hadn't spread further than it did.

Their goal was to save her life, save her eye and salvage as much vision as possible. Thankfully, in March 2014, Callyn was declared disease-free. "We feel fortunate that her eye was saved and her vision continues to dramatically improve," Kim said.

"When cancer invades your family, especially when it happens to your child, you're automatically inducted into this cancer club," Kim said. "No one wants it, but when it affects your family, you're compelled to give back to other families who are suffering. We're all on the same rollercoaster of ups and downs with so many strong emotions."

Now, the Stanleys are helping other families facing the same battle they faced. On Christmas day, they came to Children's Mercy and donated T-shirts that say, "You can never break the spirit of a fighter" to other families battling cancers of the eye. They included a handwritten note with each shirt that read: "Be brave and fight on."

After all, they know better than anyone that even the littlest fighters can win.

Lift the spirits of kids receiving care.
See Why Your Support Matters Menu