Critical Care Transport: Xavier 's Story
Tuesday, June 22, 2021, started out just like any other day for 17-year-old Xavier Mitchem Scruggs.
He worked at summer camp at Summit Christian Academy, Lee's Summit, Mo., then headed for soccer practice at 4 p.m.
"I work at the school, and had left around 3 p.m. to go home," said Stephanie King, Xavier's grandmother.
At 4:58 p.m., Stephanie got a phone call from the lead at the camp asking if she knew Xavier had passed out. While on the phone with her, the soccer team mom called to tell her chest compressions were being performed on Xavier. Then, the coach called to say they were transporting him to Lee's Summit Medical Center.
"At first, I don't think it sunk in how serious the situation was," Stephanie admitted. "I thought maybe he was just dehydrated and I would go pick him up and bring him home to rest."
When she arrived at the hospital, Xavier was disoriented, confused and smacking his lips. Even after a CT scan, everything looked fine, but doctors weren't sure what had happened, so they contacted the Children's Mercy Critical Care Transport team.
Amy Leonard, RT, Brittney Hallet, RN, and Tod Nobel, EMT, took Xavier to the Children's Mercy Pediatric Intensive Care Unit.
"The Transport team was very professional and friendly," Stephanie said. "I could see something was wrong with Xavier and they had to move quickly. I knew he was in good hands."
After arriving at the hospital, doctors performed CT and MRI scans on their patient, as well as several other tests, but Xavier's results were normal.
On Xavier's final day at Children's Mercy, Brittany and Amy came to the unit and introduced themselves to Stephanie and Xavier.
"They were kind enough to come see him the day he was released," Stephanie said. "They said in the ambulance that Xavier kept talking about his plans to attend college and major in business."
Though Xavier was released after being hospitalized for six days, the reason he collapsed on the soccer field remains a mystery. To aid in diagnosing the problem, he's wearing a CardioVest, a device to monitor his heart rhythms.
"God put everyone in just the right place at the right time that day," Stephanie said. "His teammate, Tate, who did CPR, wasn't supposed to be at practice that day, he was supposed to be working. The paramedics told me he saved Xavier's life."
And the Critical Care Transport team took him to Children's Mercy where he was stabilized and recovered from the incident. "Thank you for taking care of Xavier," Stephanie said. "We're thankful for all you did for him."
Stories
Critical Care Transport: Owen's story
As a 2-year-old, Owen Sheeley had an unexplained seizure. Testing showed nothing remarkable but after a few seizure-free months, Owen had another major seizure. He was taken to the nearest hospital where Children's Mercy Critical Care Transport was contacted. Upon arrival, the team prepared Owen for a flight to Kansas City.
Meet Owen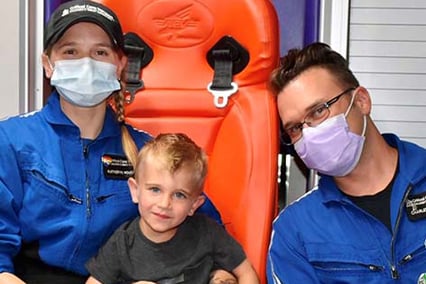 Critical Care Transport: Willow's story
A low heart rate led to Willow Noud being delivered by C-section at a local hospital. Trouble breathing and undetectable blood sugars after birth initiated a call to the Children's Mercy Critical Care Transport team to take Willow to the Level IV nursery at Children's Mercy Kansas City.
Meet Willow