Critical Care Transport: Owen's Story
After 2-year-old Owen Sheeley had a seizure in April 2021, his parents, Kara and Lucas Sheeley, were understandably hesitant to leave him overnight, even with his grandparents.
"Owen was seen by the Children's Mercy Kansas City Neurology Clinic and had an unremarkable MRI and EEG, but he had only had one seizure," Kara said. "Our hope was that it was a fluke and that he wouldn't have any more."
After a few seizure-free months went by, Kara's parents volunteered to watch Owen and his 9-year-old sister Mya for the weekend, so the Sheeleys decided to go camping.
The family left their Sedalia, Mo., home, dropping Owen and Mya off with their grandparents in Osage Beach, Mo., and then heading to their destination.
Unfortunately, Owen had a major seizure that morning, waking Mya who alerted her grandparents.
"We didn't have cell service where we were camping, so my parents called my sister, who is a nurse anesthetist, and she advised them to take Owen to Lake Regional Hospital."
As soon as the Sheeleys were located, they rushed to the hospital to be by Owen's side.
Once Kara was able to call the hospital, she requested the doctors at Lake Regional contact Children's Mercy to see how to handle Owen's case. "Children's Mercy wanted Owen to come to Kansas City immediately, so they sent the Critical Care Transport team to pick him up in their plane," Kara said.
Shortly after the crew arrived, they prepared Owen for the flight, and filled his parents in on what to expect.
Owen's team included Rhonda Truschinger, RN, Alex Keevan, RT, and Kevin Cowick, EMT.
"Rhonda was like my co-mama bear. She understood and empathized with me," Kara said. "Alex was incredibly informative and personable and Kevin was calm and steady. Together, they were a true dream team who made things happen."
They also helped Kara cope with her fears that Owen would be flying to Kansas City.
"They assured me he would be safe. I trusted them to take care of my baby."
As they loaded Owen into the plane, they gave him the royal treatment, helping him relax and finding some episodes of Paw Patrol to watch. Once they arrived, the Children's Mercy Neurology team evaluated Owen and ordered additional testing. The next day, Owen was diagnosed with epilepsy, and placed on anti-seizure medicine before the family headed home.
"Everyone on the transport team was heartfelt in their interactions and conversations with us," Kara added. "I just want to express our gratitude for helping us through this stressful time."
Stories
Critical Care Transport: Willow's story
A low heart rate led to Willow Noud being delivered by C-section at a local hospital. Trouble breathing and undetectable blood sugars after birth initiated a call to the Children's Mercy Critical Care Transport team to take Willow to the Level IV nursery at Children's Mercy Kansas City.
Meet Willow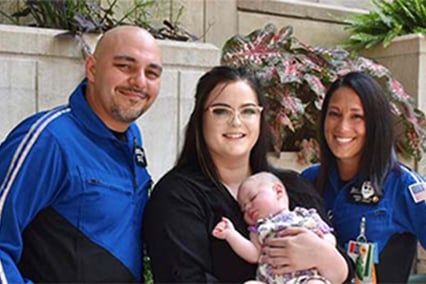 Critical Care Transport: Xavier 's story
What started as a normal school day for Xavier Scruggs, 17, quickly changed when he passed out at soccer practice. Revived by CPR, Xavier was taken to a local hospital. Unable to explain what had happened, the Children's Mercy Critical Care Transport team was called to take Xavier to the Children's Mercy Pediatric Intensive Care Unit.
Meet Xavier