Upper Arm (Humerus) Fractures
Fracture Treatment at Children's Mercy
The humerus is the upper bone in the arm that extends from the shoulder to the elbow. Any portion of the bone can become broken, but typically a humerus fracture occurs at either end of the bone, near the shoulder or the elbow.
Types of humerus fractures

Proximal humerus fractures – Proximal humerus fractures occur near the shoulder and can involve the growth plate. Most of the time, we can reshape this portion of the bone so surgery is rarely needed. Since a cast is not able to cover across the shoulder, these fractures are typically treated with shoulder slings or shoulder immobilizers for anywhere from four to six weeks. After that, normal range of motion is allowed, but it may take longer before your child can return to full activities.
Humeral shaft fractures – Fractures of the shaft, or midportion, of the humerus typically occur as the result of a direct blow to the side of the arm. They can occur through a previously unknown cyst that has weakened the bone in this area. If alignment is acceptable, these can be treated in long-arm casts and then further protected with certain types of braces (such as a Sarmiento brace) to allow some range of motion but still protect the fracture as it finishes healing.
Examples of humerus fractures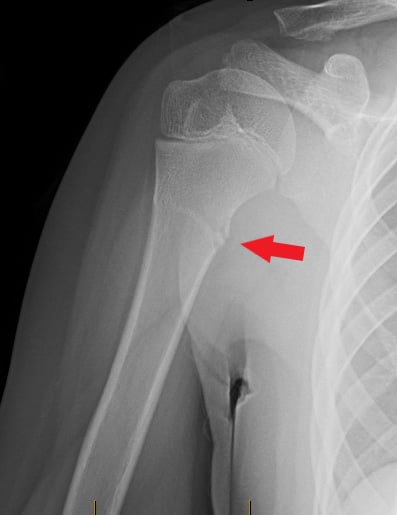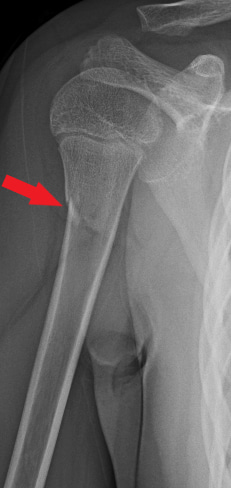 X-rays of the right upper arm bone (humerus). Image A shows the front view (anteroposterior); image B shows the side view (lateral). The red arrows show a fracture of the upper arm bone near the shoulder (proximal humerus).