What is pectus excavatum?

If your child develops a sunken chest — referred to as pectus excavatum — chances are that another family member has had the congenital condition too. While pectus excavatum causes are unknown, the condition tends to run in families; 25 percent of patients discover a family history of others with "funnel chest" (also known as caved-in chest).
The surgical experts at Children's Mercy are recognized leaders in repairing pectus excavatum. Our surgery success rate is 99 percent.
The condition is the most common deformity in children's chest walls and can become visible (the only actual pectus excavatum symptoms) anytime from infancy through puberty. It occurs when several ribs and the sternum (breastbone) don't grow normally, causing the sternum to be pressed inward and resulting in a depression that is visible when looking at your child's chest. The depression can range in size and depth, being deeper on one side, causing the breastbone to be curved and, in severe cases, pushing the sternum to nearly touch the spine.
Most kids aren't bothered by having a concave chest until they begin their growth spurt. At that point, severe cases of pectus excavatum deformity may require minimally invasive surgery. Mild pectus excavatum often can be improved with exercises to increase upper-body strength and improve posture.
Pectus excavatum surgery
Doctors began using open surgery to correct the condition in the early 1900s. Eighty years later, Donald Nuss, MD, a Norfolk, Va., doctor, devised an approach that was less invasive. Since then, the general surgeons at Children's Mercy have modified the Nuss procedure.


Using cryoablation to reduce pain after surgery
In 1999, they began using a procedure that involves small incisions—only 1.5 inches long—on each side of a child's chest. The newest innovation is using cryoablation to dramatically reduce pain after surgery.
The surgeon will freeze 4 intercostal nerves on each side, this will temporarily decrease pain transmission through these nerves for 2 – 3 months. The decision to use cryoablation was based on extensively investigating patient outcomes which revealed that cryoablation improved pain control and shortened the hospital stay.
After cryoablation is performed, the surgeon then inserts a steel bar that has been curved to fit under the concave sternum and around the front of the chest. The bar helps reshape the chest as the child grows.
After about three years, the bar is removed in a same-day procedure. This pectus excavatum treatment is highly effective. Less than 1 percent of children will develop the condition again.


We know that surgery can be a stressful time for families. Learn how to prepare for your appointment at Children's Mercy and what to expect after surgery.
Stories
Inside Pediatrics: Jacob's story
Revolutionary cryoablation procedures pioneered at Children's Mercy allow Jacob to recover with almost no discomfort from a chest repair that used to cause months of pain.
Pectus excavatum: Sophie's story
When Sophie Penland needed surgery to correct pectus excavatum, a chest wall deformity, her mom brought her to the experts at Children's Mercy. Now the teenager is dancing to her heart's content.
Meet Sophie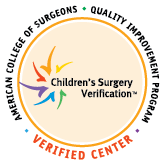 Highest level of surgical care
Children's Mercy is one of only 30 locations in the nation to be verified by the American College of Surgeons as a Level 1 Children's Surgery Center.
Planning for surgery
From free valet parking at the front door to personalized follow-up care during your child's recovery, we want every aspect of your experience at Children's Mercy to be beyond your expectations.
Read about how to prepare your child for scheduled surgery, what to expect when you arrive, and resources available while you're here.
Pediatric anesthesia at Children's Mercy
At Children's Mercy, a pediatric anesthesiologist is an active member of your child's care team before, during and after their surgery or procedure.
We administer anesthesia for more than 27,000 kids per year—that's 74 per day—so our team is experienced at finding just-right doses of medication for kids of all sizes.
Center for Pectus Excavatum and Carinatum Menu