Sports Performance Training
Nationally ranked by U.S. News & World Report
Coaching, strength training, performance

The Sports Performance Training program at the Children's Mercy Sports Medicine Center is designed to help adolescents become stronger, more well-rounded athletes. This program pairs your student-athlete with an experienced coach to create a tailored program best suited for their goals.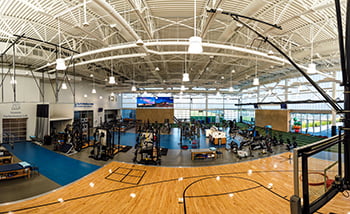 Sign up for a session
Available classes
Our coaches are knowledgeable in human movement, technique, form and the unique needs of young athletes, no matter what sport they play. Together, your student-athlete and their performance coach will identify training goals and create a personalized plan to work toward those goals.
The Sports Performance Training program takes a proactive approach to avoiding injury and improving your child's skills in their sport. Our goal is to help kids stay healthy and learn optimal training techniques from a Children's Mercy Sports Medicine Center coach. Our coaches are specially trained to understand the specific needs of young athletes who are still growing physically, mentally and emotionally.
What to expect at your training sessions

During your first session, your coach will do an initial assessment and screening to establish a baseline of your athlete's current status. They will talk with your student-athlete about their strengths, growth areas and goals. Your coach may use some of the specialized equipment at Village West to gain a better understanding of your child's movement patterns as they relate to their sport.
Take a 360-degree tour of our Village West facility.
Once your coach has a detailed understanding of your athlete's needs and goals, they will work with your family to create a personalized training plan. Every plan will take into account the specific needs of adolescent athletes. Our goal is to make your athlete's next game their best game.
At the end of your first session, your coach will work with you to schedule future sessions based on your student-athlete's needs.
Who can sign up?

The Sports Performance Training program is open to healthy adolescent athletes ages 12 and up. Please note that this program is self-pay and Children's Mercy will not process it through your medical insurer.
For questions or to make an appointment, sign up or call (913) 264-3025.