October 19, 2023
BEWARE! Or Be Aware of these Halloween safety tips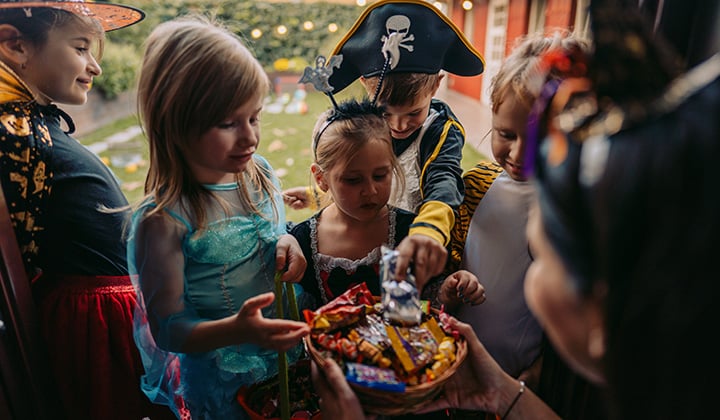 Keep kids safe this Halloween by avoiding the most common injuries that bring little ones to the emergency departments: falls, burns from flammable costumes, injuries from collisions with vehicles and eye injuries from sharp objects. Follow the tips below for a Halloween of all treats - no tricks!
See and be seen
Trick-or-treat in well-lit familiar areas with sidewalks.
The American Academy of Pediatrics (AAP) recommends all children 12 and younger be accompanied by an adult while walking door-to-door.
Masks impair vision. Consider using a properly fitted hat with nontoxic makeup as an alternative.
Use flashlights, headlamps, costumes with reflective tape and reflective bracelets to ensure visibility to drivers.
Always look both ways before crossing a street, alleyway or driveway.
Consider trick-or-treating in a group and before dark.
Never enter a home or care for a treat. Only visit homes with a porch light on.
Cross streets at corners, using crosswalks. Avoid darting between or behind parked cars.
Safe spooking
Select soft, flexible props whenever possible. Avoid sharp objects.
Never allow small children to carve pumpkins. Consider drawing on pumpkins with markers or using festive stickers as a fun alternative.
Ensure costumes and shoes fit comfortably to avoid a tripping hazard.
Choose flame-resistant fabrics, wigs and accessories. Candles and jack-o-lanterns on porches and walkways can ignite flammable costumes.
Sort and inspect candy. Some may cause an allergic reaction due to certain ingredients or pose choking hazards for young children. Discard any spoiled, unwrapped or suspicious items.
Tips for older trick or treaters
Plan and review an approved route prior to departure.
Agree on a specific time for them to return home.
Have them carry a cell phone for quick communication.
Review how to call 9-1-1 if they have an emergency or become lost.
---