Community Garden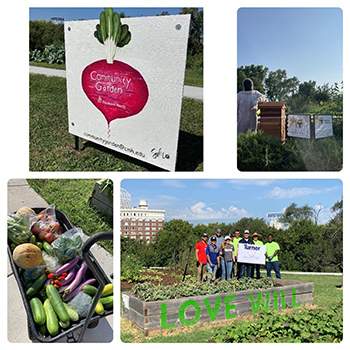 In March of 2018, Children's Mercy established a community garden to improve the health and well-being of our patients and community by increasing access to fruits and vegetables, and to provide opportunities to engage with nature.
The garden is located on what was once a vacant lot at the northeast corner of 22nd and Gillham Road. The garden is made up of 6 raised beds, a 30x40 in-ground bed, a supply shed, a paved path on the perimeter of the garden and a concrete slab to hold a future shade structure. From March to November, volunteers can be found watering, harvesting, pulling weeds and improving the soil.
Our community garden is an approved partnership garden for the University of Missouri Master Gardener Extension Program. Master Gardeners bring additional expertise in evidenced-based garden maintenance and community education.
Our garden during COVID-19

Garden maintenance looked different during the COVID-19 pandemic but thanks to our small but mighty, internal garden team and partners at UMKC, we were able to transition into a work plan that met our garden needs and the safety of our volunteers.
In 2020, MO Hives KC was able to add a beehive to support pollination of garden plants. We also installed a drip irrigation system.
In 2021, our volunteers dedicated over 280 hours and almost doubled our harvest from 2020 at 650 pounds of produce! To date, volunteers from Children's Mercy, University Health, the UMKC School of Medicine and other Kansas City businesses and organizations have invested thousands of hours to harvest a total of 1500 pounds of fruits and vegetables.
We continue to distribute produce to Children's Mercy patients and families and to local community partners. With the COVID-19 pandemic and reduction of the number of patients and families seen in person, we were able to expand to give produce to new groups to ensure the garden produce was available to those most in need. These groups include the UMKC Kangaroo Pantry, the Kansas City Missouri Health Department pop-up food pantries and soon, Kanbe's Markets.
Ever-changing garden

Like all gardens, this one is ever-changing as the plantings change from season to season and new opportunities arise. We look forward to each season as beds are expanded, new fruits, vegetables and flowers are planted, and additional infrastructure is added to better meet the needs of the people we serve.
Work in progress includes increasing the accessibility of the garden to people of all abilities and planning the planting of a diversity of fruit and nut trees in partnership with Giving Grove, Kansas City Community Gardens.
In addition, we plan to build on a successful pilot project launched by Laura Plencner, MD, which delivered fresh produce from our garden directly to the homes of 25 families with young children.
Motivating comments

Comments from our families is what keeps us motivated to continue to expand our garden and look for opportunities to extend the reach of our harvest. Below are comments from one family who was asked about their experience trying okra for the first time from our garden:
"My husband has bought it more frequently […] and he actually planted one!"
"I know my kids were excited […] about going out there and picking something."
We've received numerous comments about the garden both from volunteers as well as staff who have given produce to patients and families. Below are some of their comments:
"It was nice to spend some time outside with a friend and do good for the community at the same time!"
"Loved seeing the bees and all of the changes in the garden throughout the growing season!"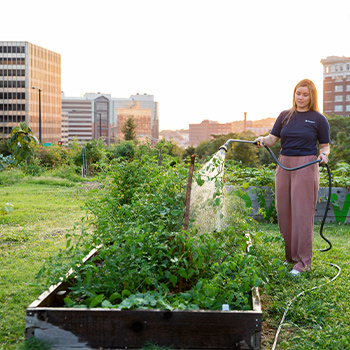 Interested in getting involved?
For more information about volunteer opportunities or produce distribution, email communitygarden@cmh.edu.
If you have volunteered in our community garden, we'd like to get your feedback. Please fill out our volunteer survey.