Community Garden
In March of 2018, a community garden was established at Children's Mercy. Started in conjunction with the Hunger Free Hospital Council and led by Shelly Summar, program manager with the Kansas City Healthy Lifestyles Collaborative in the Center for Children's Healthy Lifestyles & Nutrition, the garden was started to improve the health and wellbeing of our patients and community. The purpose was to increase access to fruits and vegetables, offer education, and to provide opportunities to garden and engage with nature.
The garden is located on what was once a vacant lot at the northeast corner of 22nd and Gillham Road. The garden is made up of eight raised beds, a 30'x40' in-ground bed, a 17-fruit tree orchard, a supply shed, a beehive, an irrigation system, and a paved path around the perimeter of the garden. Most recently, a shelter was added to provide volunteers and visitors a space for rest on hot or rainy days and a place to gather for education. From March to November, volunteers can be found watering, harvesting, pulling weeds, and improving the soil.
Our community garden is an approved partnership garden for the Master Gardener program of the University of Missouri Extension. Master Gardeners bring additional expertise in evidenced-based garden maintenance and community education. We are also in partnership with Kansas City Community Gardens and their affiliate, Giving Grove. Both have been instrumental in the planning and planting of our garden since 2018.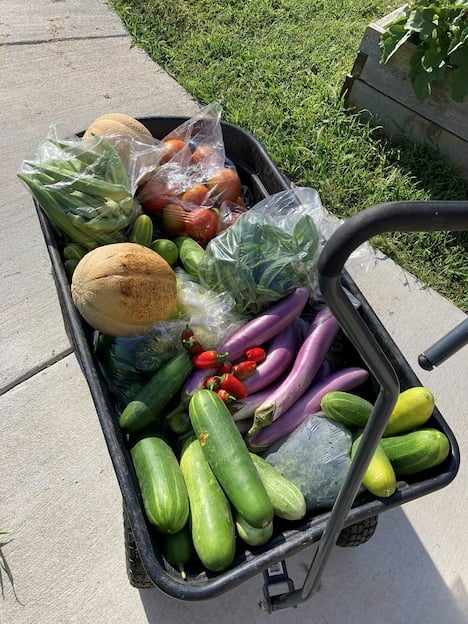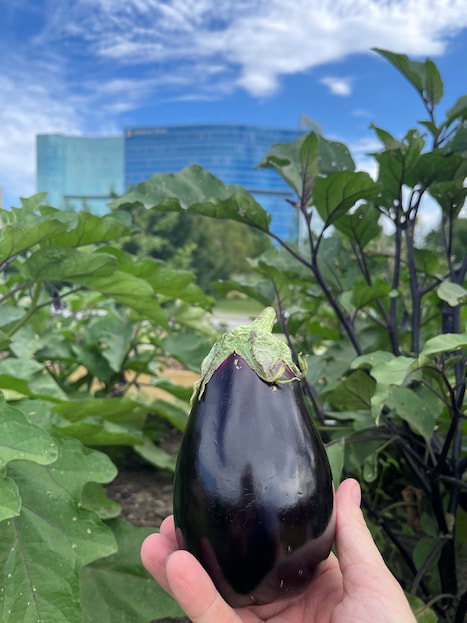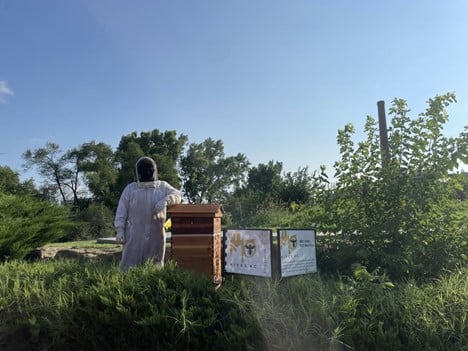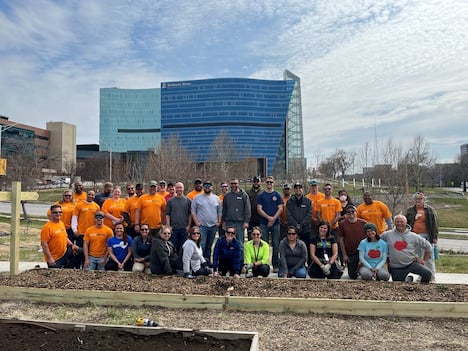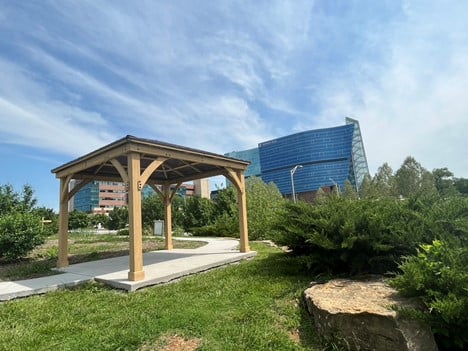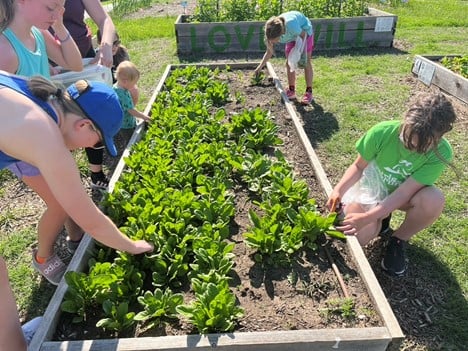 Our garden during COVID-19

Garden maintenance looked different during the COVID-19 pandemic but thanks to our small but mighty, internal garden team and partners at UMKC, we met the garden's needs and maintained the safety of our volunteers.
In 2020, MO Hives KC was able to add a beehive to support pollination of garden plants. We also installed a drip irrigation system.
To date, volunteers from Children's Mercy, University Health Truman Medical Center, the UMKC School of Medicine and other Kansas City businesses and organizations have invested thousands of hours to harvest over 1600 pounds of fruits and vegetables.
We continue to distribute produce to Children's Mercy patients and families and to local community partners. New groups reached during the pandemic and beyond include: the UMKC Health Science Kangaroo Pantry and the Kansas City Missouri Health Department pop-up food pantries. The Children's Mercy Weight Management clinic also distributes the produce to patients and families along with healthy cooking instruction.
Ever-changing garden

Like all gardens, this one is ever-changing as the plantings change from season to season and new opportunities arise. We look forward to each season as beds are expanded, new fruits, vegetables and flowers are planted, and additional infrastructure is added to better meet the needs of the people we serve.
Work in progress includes increasing the accessibility of the garden to people of all abilities and planning the planting of an insectary garden. This insectary garden will provide a habitat for bees and other pollinators while providing learning opportunities to the community we serve.
Over the past couple of summers, we partnered with Kanbe's Markets to support the expansion of a pilot project, that delivers produce from the garden to the homes of families with young children through a home visiting program. Kanbe's packaged and supplemented the garden produce that was delivered in our 8-week program. Their help enabled us to reach 50 families last growing season!
Our garden team
Bethany Baker, PharmD, MSHA – Director, Pharmacy
Stefanie Ellison, MD – Associate Dean of Learning Initiatives and Professor of Emergency Medicine at UMKC School of Medicine
Rachel Epler, MPA – Manager, Strategy and Analytics, Care Management and Patient & Family Services, Master Gardener
Molly Krager, MD – Pediatric Hospitalist, Pediatric Hospital Medicine, Hunger Free Hospital Council co-lead
Mallory Moon, MPH – Research Associate, Center for Children's Healthy Lifestyles and Nutrition
Laura Plencner, MD – Pediatric Hospitalist, Pediatric Hospital Medicine, Director of Kids Eat Free, Hunger Free Hospital Council co-lead
Ricole Shafer, COTA/L – Occupational Therapy Assistant, Rehabilitation for Amplified Pain Syndrome (RAPS) Program
Shelly Summar, MSEd, RD, LD, FAND – Program Manager, KC Healthy Lifestyles Collaborative, Center for Children's Healthy Lifestyles and Nutrition
Interested in learning more?
For more information about volunteer opportunities, produce distribution, or general questions about the garden, email communitygarden@cmh.edu.
Subscribe to our monthly newsletter.