Child Adversity and Resilience
Child Adversity and Resilience
The mission of the Division of Child Adversity and Resilience is to improve the lives of at-risk children, families, and communities through clinical care, community-based intervention, research, and advocacy.


Community programs

We collaborate with other local and national organizations to help implement community programs, such as:
ACT – Raising Safe Kids – a positive parenting program delivered in community settings around the Kansas City area

Promise 1000 – a home visiting collaborative serving nearly 1000 children annually in the Kansas City metropolitan region

Missouri SAFE CARE Network Resource Center – providing medical-forensic training and mentoring throughout Missouri and reviewing Missouri Children's Division investigations in children under four years of age

Safe Sleep Initiatives – collaborations with local, regional and state stakeholders to reduce deaths due to unsafe sleep

Child Fatality Prevention – a collaboration with the Children's Trust Fund of Missouri to prevent sleep related deaths and reduce all causes of preventable child fatalities
Clinical Services
The Safety, Care & Nurturing (SCAN) clinic works with nearly 3,000 children by identifying, preventing and treating all forms of child abuse. We collaborate with social workers and governmental agencies throughout Kansas and Missouri to develop appropriate state responses to child maltreatment.
The Foundations Foster Care Clinic at Children's Mercy believes in building a healthy foundation for children in foster care. We provide screenings and evaluations for any child who has been placed in foster care in Missouri or Kansas.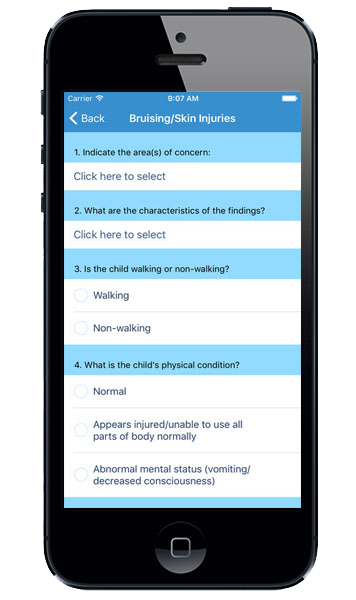 Child Protector App
Child Protector assists Children's Protective Services, law enforcement, attorneys and medical personnel when evaluating children who may have been physically abused. The free app was developed by Children's Mercy and the University of Texas Health Science Center (San Antonio) through Children's Justice Act Funding from Texas and Missouri.


Child Adversity and Resilience Menu