Referring Patients to Children's Mercy
Pleased to be partnering with community providers for more than 120 years
Referring Patients to Children's Mercy
Pleased to be partnering with community providers for more than 120 years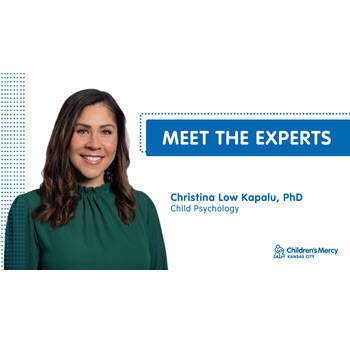 Meet Christina Low Kapalu, PhD
Christina Low Kapalu, PhD, is a child psychologist in the Division of Gastroenterology, Hepatology and Nutrition at Children's Mercy Kansas City. Her main focus is helping kids with motility disorders by connecting the psychosocial side of care with the medical components of treatment.
Whether she's helping kids have reductions in toileting accidents or feel more comfortable in social situations, Dr. Low Kapalu hopes they will have improved quality of life and get to do the things they love.
Join us for these events!
Join us the first Thursday of each month from 8-9 a.m. for Grand Rounds. If you can't make it, presentations are posted on our Grand Rounds Online site.