Referring Patients to Children's Mercy
Pleased to be partnering with community providers for more than 120 years
Referring Patients to Children's Mercy
Pleased to be partnering with community providers for more than 120 years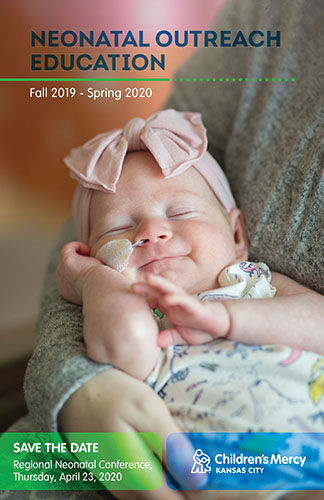 Neonatal Outreach Education April 23, 2020
The Neonatal Outreach Education Program at Children's Mercy is designed to promote the education of the region's health care professionals and the public about neonatal and perinatal care.
We offer both didactic and clinical skills programs. Course options include: Neonatal Resuscitation Program (NRP) provider courses, S.T.A.B.L.E. program learner course, simulation with neonatal stabilization scenarios, cardiac module, physical and gestational age assessment of the newborn, lactation conference, and fetal monitoring courses. Immediate consultation with Children's Mercy physicians, nurses, nutritionists, respiratory therapists, pharmacists, social workers, and other staff is available on an ongoing basis.
Join us for these events!
Join us the first Thursday of each month from 8-9 a.m. for Grand Rounds. If you can't make it, presentations are posted on our Grand Rounds Online site.
Meet Ahmed Abdelmoity, MD
Dr Abdelmoity is Chief of the Section of Epilepsy and Clinical Neurophysiology at Children's Mercy and Professor of Child Neurology at the University of Missouri at Kansas City.
Dr. Abdelmoity is one of the few triple board certified epileptologists in the country. He is an expert in epilepsy, presenting internationally on neuromodulation, VNS surgery, ketogenic diet for intractable epilepsy and other epilepsy specific topics. He leads a multidisciplinary neurology team at one of the only Level IV pediatric epilepsy centers in the country, and has spearheaded one the largest ketogenic diet programs in the U.S. to treat epilepsy.
See Dr. Abdelmoity's experience