Referring Patients to Children's Mercy
Pleased to be partnering with community providers for more than 120 years
Referring Patients to Children's Mercy
Pleased to be partnering with community providers for more than 120 years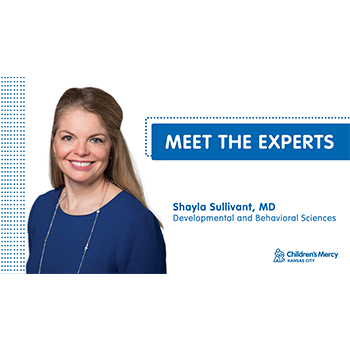 Meet Shayla Sullivant, MD
Shayla Sullivant, MD, is a child and adolescent psychiatrist at Children's Mercy Kansas City. Her work focuses on many areas, including suicide prevention, ADHD, anxiety, depression, eating disorders and more.
Dr. Sullivant's approach to patient care is first to listen and to try to understand each patient and family's situation. Use the button below to hear more about Dr. Sullivant's past experiences which have fueled her passion for improving the lives of patients.
Join us for these events!
Join us the first Thursday of each month from 8-9 a.m. for Grand Rounds. If you can't make it, presentations are posted on our Grand Rounds Online site.