1-On-1 Coaching
Culture and Language Coaching Program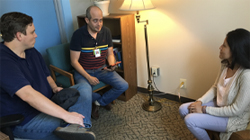 Our culture and language coaches (CLCs) provide 1-on-1, personalized attention to bilingual health care providers in multiple areas of health care.
In partnering with providers, CLCs play two roles:
Communication safety net
Culture and language educator
Coaches provide a communication safety net by accompanying providers during Spanish-language visits, where the CLC assures the accuracy of communication and provides help with expression and comprehension to either the provider or the patient/client upon request. Culture and language education begins during the visit, where in-the-moment teaching can occur, but mostly occurs outside of the visit setting.
After a visit or at the end of an observation day, the CLC shares individual feedback notes with the provider to improve language skills and cultural awareness. CLCs also provide suggestions related to cultural practices, traditional beliefs, and regional language variations. Learners supplement their in-person coaching experience by reviewing cultural and linguistic topics assigned by their coaches, participating in simulations, and engaging in peer-to-peer communication with other bilingual providers.
With the support of the CLC, all learners prepare to take a validated test of their professional Spanish, with the ultimate goal of becoming qualified to give culturally and linguistically appropriate care without the need of an interpreter or coach.
Providers must have at least an intermediate level of conversational Spanish for the 1-on-1 coaching model to work well. Proficiency level is determined by CLCs through testing and observation before a coaching partnership is formed.
Culture and Language Coaching Program