What to Expect During Your Visit
Updated: August 9, 2021
Your child's vaccination record
It is important to bring your child's vaccination (immunization) record to all their Children's Mercy visits and appointments. This includes your child's COVID-19 vaccine card if they have received it.
We understand your next visit to Children's Mercy may look a little different than the last time you were here. From new safety measures to social distancing. We hope this information will help you and your family understand what to expect.
Your safety is our top priority

When you come into our doors, we want you to feel safe and comfortable. Here are the safety measures you can expect during your visit.
Thank you for putting your trust in our care.

Masks are required for everyone
Following CDC guidance, masks are still required for all visitors 2 years of age and older. Masks with filters/exhalation valves are not permitted.
We will continue to monitor CDC guidance regarding masking at health care facilities and communicate changes as needed.

Health screening
Everyone who enters is screened each time including patients, family, visitors and staff. Screening includes asking several questions and a temperature check.

Visitor restrictions
We are taking steps to protect our patients and their families, staff, visitors and the community. We are strictly limiting visitors to Children's Mercy until the spread of COVID-19 is no longer a threat.
Important note: If your child or the adult joining for the appointment have fever, cough or other COVID-19 symptoms, please do not come to your appointment. Instead, reschedule by calling (816) 234-3700.

Social distancing
We've rearranged waiting rooms, limited the number of people in exam rooms, work areas and elevators. We've marked the floor to show where people should stand wherever a line may form.

Deep and frequent cleaning
Each day, we are performing deep cleanings, especially in high-touch areas like waiting rooms, doors and elevators. Rooms and equipment are cleaned between patients. Playgrounds are closed and we've removed toys, magazines and other shared items from waiting areas and exam rooms.
Have questions? We can help!

We are available to answer questions about your upcoming appointment. Call our Pre-Registration team at (913) 696-5003. If you have concerns about paying for your visit, please call Financial Assistance at (816) 234-3567.
Find more information to help you prepare for your visit including information about the patient portal, guest services and more. Information about your visit.
COVID-19 testing before a procedure or surgery
Children having anesthesia at Children's Mercy for either surgery or other procedures are required to have COVID-19 PCR testing within 72 hours prior to anesthesia.
A nurse from the surgery or radiology department will contact you to arrange testing.
For more information, use these links:
Explaining changes to children

The child life specialists at Children's Mercy help children cope with the feelings they may have about their illness, injury, disability, or hospitalization. They have created the guide below to help your child understand the changes they may see. If you have any questions or need more support, please message "child life messages" on the MyChildrensMercy patient portal or call the Child Life support and education phone at (816) 983-6870.
What happens when you come to an appointment?
When you come to the hospital, only one adult will be able to come with you. This is to help people share less germs. All people in the hospital will be wearing masks and some with face shields or goggles. You will not be able to see their nose or mouth. They can still talk to you and you can still talk to them.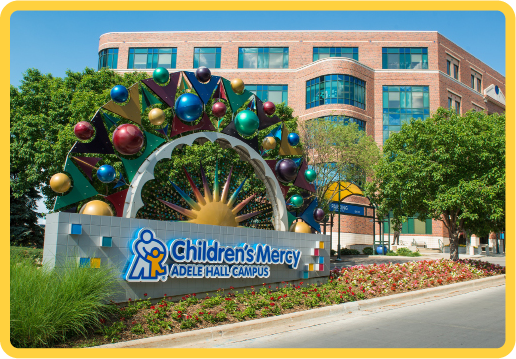 When you come inside, there will be a person who asks where you are going. They will send you to a desk to get checked in. The adult who comes with you may need to check in at Security and show their picture ID.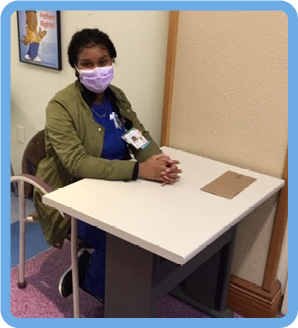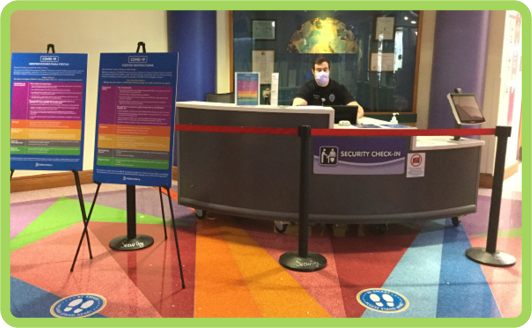 The person at the check-in desk will ask you and the adult who came with you if you have had a fever, had a cough or been sick. You will have your temperature taken either by a person at the check-in desk or by a thermometer on a stand. The thermometer will not touch your head or hurt you. You and the adult who came with you will each get a sticker to wear.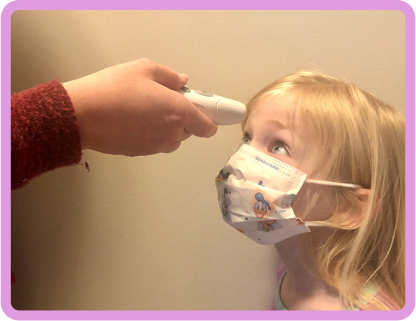 Both of you will also get a mask to wear if you don't already have one. You will need to wear a mask the whole time you are in the hospital. This will help you not get germs and not share germs with others.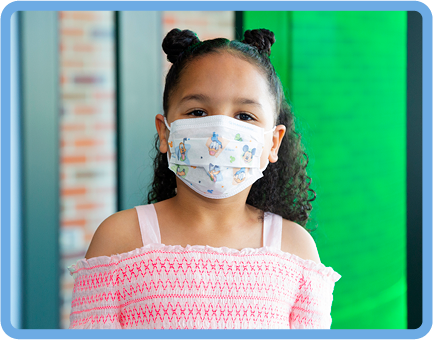 The mask will need to go over your nose and mouth and you need to make sure you wear it until you leave the hospital. You can still smile, play and talk to people while you wear it.
You may notice signs and stickers in a lot of places in the hospital. These are to remind us that we need to keep space between ourselves and other people. This helps us not share germs, too.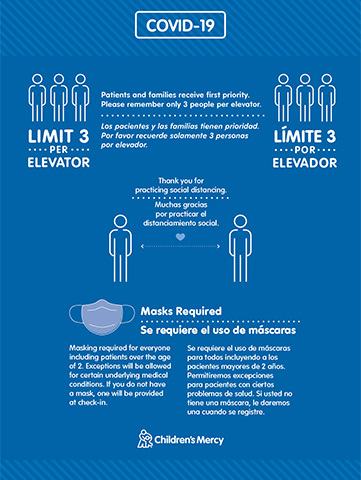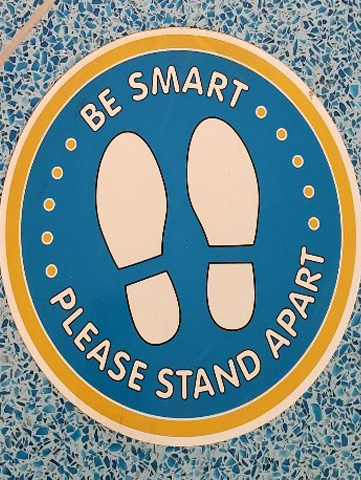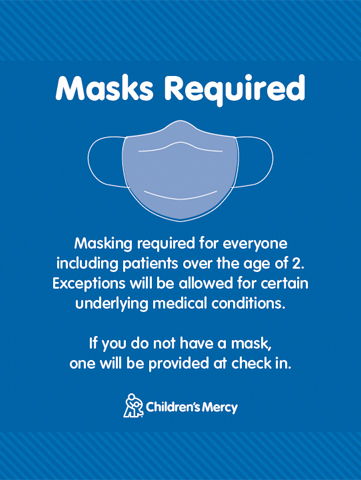 You may ride an elevator to get to your appointment. Only 3 people or less should ride together on the elevator.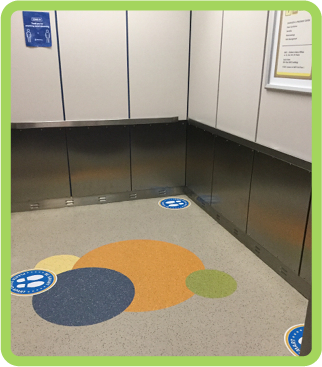 When you get to the waiting room, you and the adult who came with you can sit together. There will be signs to remind you not to sit too close to other kids and their families. In some clinics, you may go right back to the exam room to see your doctor and not wait in the waiting room.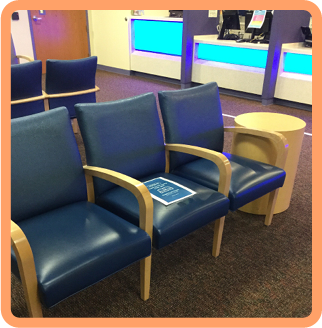 The person at the front desk will have a clear board in front of them. This is to help not share germs with each other.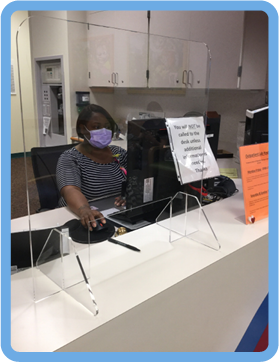 There will be no toys or books out to play with in the waiting room. But you can bring something from home to play with while you are at your appointment.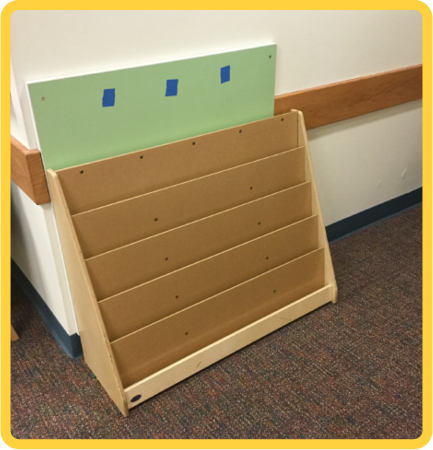 Hospital staff may also wear a gown, gloves or eye shield. Just like masks, these help us not share germs.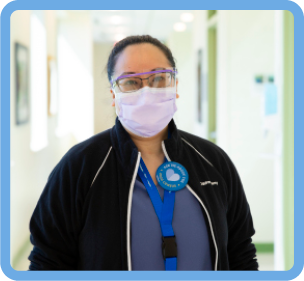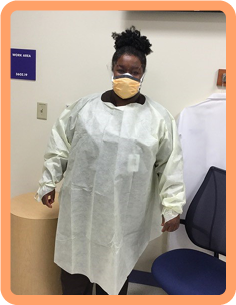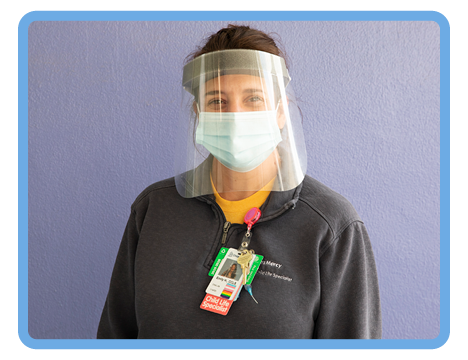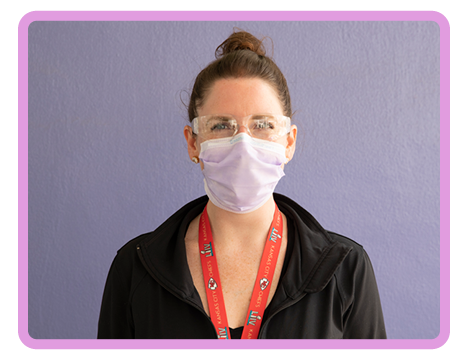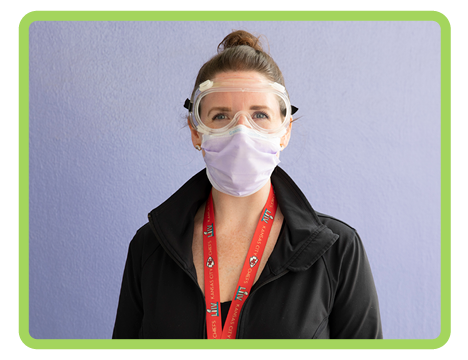 You will leave the hospital when your appointment is over. You can take off your mask when you are in your car or away from other people.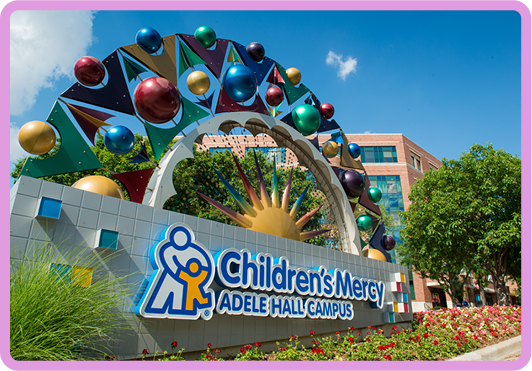 Thank you for doing everything you can to help us keep each other safe while at the hospital!