Liver Transplant: Marissa's Story
Meet Marissa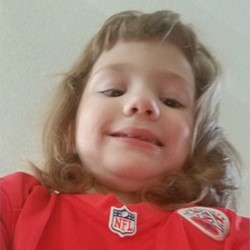 Born at 25 weeks' gestation and weighing just 1 lb. 8 oz., Marissa Ebbing has always been a tiny child who's had a big fight on her hands. Her first struggles involved breathing issues related to prematurity and surgery at 18 months old to repair a heart defect. But once she cleared those hurdles, she seemed to be doing well.
Then at 4 years old, she suddenly started to complain about stomach discomfort, and her abdomen looked swollen. When Marissa's parents, Mike and Chandra Ebbing, took her to the pediatrician, the doctor could feel a mass in her abdomen, and sent her to Children's Mercy Kansas City right away for further evaluation.
At the hospital's Emergency Department, testing confirmed that Marissa had a grapefruit-sized tumor in her liver, but more exams were needed to confirm the diagnosis.
"They admitted Marissa to the hospital on Sept. 25, 2018," said her dad, Mike. "The next day they told us she had a rare liver tumor called a hepatoblastoma."
According to the American Childhood Cancer Organization, a hepatoblastoma is very rare. Only 50 to 70 new cases are diagnosed in the United States each year. Children's Mercy doctors just see one or two cases each year.
This type of tumor usually is found in preschool-aged children and though the cause is unknown, prematurity and a very low birth weight are risk factors.
Maxine Hetherington, MD, Pediatric Oncologist, said when she first met Marissa, she only weighed about 30 pounds.
"Marissa is a very petite child who had a tumor that was taking up about half of her abdomen," she said. "The tumor was pushing on her lungs and her diaphragm, interfering with Marissa's breathing, and making her very uncomfortable."
Dr. Hetherington added that this type of tumor often isn't found until it's more advanced and causing symptoms. "This is what we typically see with hepatoblastoma because it's usually hiding under the child's rib cage, and that was the case for Marissa."
Rallying the team

Dr. Hetherington and Marissa's oncology team, which included Ashley Flynn, APRN, immediately went into action, putting a treatment plan together for their patient.
"With liver tumors, we have an assessment tool called PRETEXT (PRE-Treatment EXTent of tumor) that helps us determine the stage of the tumor and how much of the liver is involved," Dr. Hetherington explained. "This system helps us predict whether it's possible to shrink the tumor with chemotherapy then surgically remove it, or if a transplant might be needed."
Unfortunately, imaging showed that the tumor had invaded almost all of Marissa's liver.
"Based on Marissa's imaging results and this system, we knew from the start that she was going to need a liver transplant. That helped us focus not only on shrinking the tumor, but we were able to connect with our liver transplant team from the time of diagnosis to get them involved in her care," Dr. Hetherington said.
"We team with Dr. Hetherington and the oncology staff to provide an excellent coordinated approach to managing liver tumors in children," said Ryan Fischer, MD, Pediatric Hepatologist.
"The recommended pathway for best results with hepatoblastoma is to give chemotherapy to shrink the tumor and help treat it, then pause the chemo and list the child at the top of the transplant list so they can get the organ quickly," Dr. Fischer said. "Once the child has received their transplant and they are healthy enough, they get two more rounds of chemo to help control any residual cancer that could have been left behind."
From the outset, Dr. Fischer and Dr. Hetherington involved Marissa's parents in each decision regarding her care.
"When you have so many complex choices that go into how to best manage a child's health, including chemotherapy, surgery and transplant, having a coordinated team approach between oncology, the transplant team and the family is essential," Dr. Fischer said.
Dr. Hetherington agreed. "By working together, we were able to anticipate when in Marissa's therapy it might be possible for her to get that lifesaving liver transplant, and plan accordingly."
"A coordinated approach also helped Marissa's parents understand up front that a liver transplant was going to be needed," Ashley said. "It allowed us to educate and prepare them for the complex road ahead."
Mike, who is an attorney, admitted he had a lot of questions for the oncology and liver transplant teams about the complexities of his daughter's care plan. "They did a great job of answering them," he said.
"Working through the family's questions helped us determine what we might do to help Marissa thrive later on," Dr. Fischer added. "I think the family's advocacy combined with our team's desire to do all we could meant no detail was too small when deciding what was best for Marissa."
Tough treatment

Marissa's chemotherapy treatments included medications that not only destroyed the liver tumor, but also were tough on her tiny body, requiring her to remain hospitalized during chemotherapy.
"Marissa had a couple of infections, had difficulty tolerating feedings and needed to be on IV nutrition, and had some breathing problems while on treatment," Ashley said, "but she pushed though."
After four cycles of chemotherapy, Marissa's tumor was under control. It was time to hit the "pause" button on chemo to prepare her for the next stage of her treatment, a liver transplant.
"Marissa was released from the hospital on Nov. 5, and shortly after that was placed on the waiting list for a liver transplant," Ashley said. "We had to carefully time her transplant between treatments. It's a balancing act. That's where communication between the hematology and transplant teams is critical."
Santa delivers!

With Marissa out of the hospital, Mike said the family enjoyed Thanksgiving 2018 together, then began waiting for the call that the team had a new liver for his daughter.
"I had taken some time off work to be with Marissa during the transplant, but we didn't hear anything those first few weeks she was on the list, and the clock was ticking," Mike said.
Then, the week before Christmas, Mike volunteered at the Ronald McDonald House near Children's Mercy. While helping with holiday preparations on Thursday, Dec. 20, he heard Santa would be there the next day for a visit.
"I told Marissa I was going to see Santa. She wanted me to ask him for a new liver for Christmas," Mike said.
The next day was Friday, Dec. 21. As Mike helped Santa unload his sleigh, Santa asked Mike why he was there. "I told him about Marissa and he asked what she wanted for Christmas," Mike said.
"When I told him she wanted a new liver for Christmas, he said, 'I haven't ever had that request before, but I'll see what I can do.'"
Whatever Santa did must have worked. The next day the phone rang with the news the Ebbings had hoped for—the team had a liver for Marissa.
Several hours later, the Liver Transplant team had replaced Marissa's old liver with a healthy new one and she was on the road to recovery.
Final stretch

After spending nearly two weeks in the hospital, Marissa headed home just after the New Year to continue her recovery and prepare for the final leg of her treatment.
"Marissa did exceptionally well with her transplant," Dr. Fischer said. "She was tough as nails."
And her last two cycles of chemotherapy went well, too.
"We know cancer cells are microscopic and we can't see them with the naked eye, so those last two cycles of chemotherapy ensure any leftover cancer cells are cleaned up," Ashley said.
At the end of February 2019, Marissa was finished with treatment and headed back home. "We did have challenges to overcome," Dr. Fischer said. "But by the end of May 2019, she was doing well and thriving on her own."
To be certain Marissa continues to thrive, remain cancer-free and that her new liver stays healthy, she'll require ongoing follow-up care with the Oncology and Liver Care Center teams until she reaches adulthood.
Plus, because the chemotherapy medicines she took for treatment have affected her hearing, she now wears hearing aids, and she'll be followed for any long-term heart complications in the hospital's Cardio-Oncology Clinic.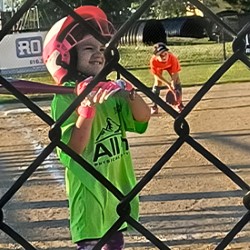 Now 2 ½ years later, Marissa is going strong. A first-grader, she loves her American Girl dolls, Peppa Pig and of course, the Kansas City Chiefs. "Marissa is a very bright, active, independent and caring child," Mike said.
"When Marissa was going through treatment, you could just tell she felt terrible," Ashley added. "But she has been incredibly resilient. Now, every time Marissa comes to clinic, she is smiling, happy and talkative. She always has on the cutest, brightest girlie clothes and she never misses an appointment."
Dr. Fischer added, "Marissa is independent and showed us quickly after transplant that she was going to do this and do it well. Her spirit was indomitable. She powers through everything and constantly leaves us all in awe. Her new liver looks amazing and she's doing well!"
"No one knows when or why cancer happens," Mike added. "But everyone at Children's Mercy was great. They made sure we understood what was going on when something happened, took wonderful care of Marissa and answered all my questions."
Stories
Liver transplant: Brendan's story
Diagnosed with alpha-1 antitrypsin deficiency as an infant, Brendan Elam's condition was stable until he was about 7 years old. That's when his liver began to fail, eventually leading to the need for a liver transplant at Children's Mercy. Brendan's transplant and recovery went well, and today he's an active college student pursuing a degree in music education.
Meet Brendan
Liver transplants: Cambree's story
Born with a rare liver disorder called biliary atresia, Cambree Alvarez required not one, but two liver transplants at Children's Mercy before her second birthday. Today, she's the "cutest Little Miss Sassy Pants," enjoying life to its fullest.
Meet Cambree
Pediatric Hematology/Oncology
Associate Professor of Pediatrics, University of Missouri-Kansas City School of Medicine
Transplant Hepatology, Telemedicine
Medical Director, Liver Transplant Program; Chief, Section of Hepatology & Transplantation; Director, Liver Care Center; Professor of Pediatrics, University of Missouri-Kansas City School of Medicine; Clinical Assistant Professor of Pediatrics, University of Kansas School of Medicine