Biliary Atresia and Liver Transplant: Lacie's Story
Meet Lacie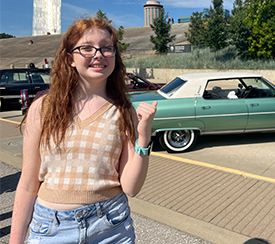 Lacie's Children's Mercy story began in late November 2007 when she was only three days old. Lacie's parents, Sarah and Corey, had known that Lacie's birth was going to be challenging: At 38 weeks, an ultrasound showed a cyst. Labor was induced early, and Lacie was born severely jaundiced. She came to the NICU at Children's Mercy, where the physicians stabilized her liver numbers and removed a hamartoma cyst on her liver. When they decided to operate to make sure the cyst didn't regrow, the surgeons discovered Lacie had biliary atresia.
Only 1 in every 20,000 infants are born with biliary atresia each year. In this rare disease, the liver's bile ducts are damaged. Bile can't leave; instead, it builds up, causing jaundice, liver scarring and possible eventual failure. At 7 weeks old, Lacie underwent a Kasai Procedure at Children's Mercy. The surgery used a loop of Lacie's own small intestine to replace her damaged bile ducts. The procedure can help babies born with biliary atresia live healthily for years without needing a liver transplant—and a percentage of patients never do.
"For 14 years, we just went to liver appointments, and it was normal as it could be," said Corey. "All of her liver numbers were stable, and everything was in good shape."
"Unless you saw her lab work or examined her belly, you wouldn't really know that anything was wrong," said Voytek Slowik, MD, who became Lacie's hepatologist three years ago. "She was living a normal life."


Out of breath: a warning sign
Everything was normal...until it wasn't. When Lacie came in for a routine procedure in December 2021, her blood oxygen levels were low.
"I was notified by the anesthesiologist that they weren't sure that it was safe to do the procedure because they didn't know why her oxygen levels were low," said Dr. Slowik. "It wasn't an asthma attack or a viral infection...she was totally fine."
When Lacie thought about it, she could say she had been a little short of breath recently, whether she was running or playing the flute or oboe. But she thought that she was just out of shape and needed to practice her instruments more.
"I never really thought anything of it, because I've always had asthma," Lacie said. "I thought it was normal to be out of breath."
The Liver Care Center began solving the mystery. With a few more tests, they had their answer: Hepatopulmonary Syndrome, or HPS for short.
"[The liver] cleans up different signals that your body makes—different hormones and enzymes and proteins," explained Dr. Slowik. "And when you have chronic liver disease, it's not doing that normally. Some patients get these abnormal signals that go to the lungs and alter the blood vessels there, and that's what causes these low oxygen levels."
"It was really weird," said Lacie, about getting her diagnosis, especially because she knew what it might mean: a liver transplant. "I had thought about what it might be like getting a transplant, but it was always a really scary thought."
"The only cure for HPS is a liver transplant," affirmed Bhargava Mullapudi, MD, Chief, Division of Transplant Surgery and Co-Director of the Brendan Tripp Elam Transplant Center. "Once you have that syndrome, it can keep worsening...your lungs will deteriorate, and you'll end up on oxygen. She was in the mild symptoms stage. Once you get to moderate and severe, the complications go way higher."
Lacie and her family had known for years that a liver transplant was a possibility, but finding out she needed one now, while she felt relatively healthy, was surreal.
"For her, being 14 and feeling perfectly fine, and now you're telling her she has to go get a liver transplant?" remembered Corey. "It's hard to not feel sick, when you are sick."


A transplant is a true team effort
Fortunately, Lacie and her family had a whole team to help them process the news, understand what was ahead, and prepare for the big day. Lacie was assigned two transplant coordinators, first Molly Hufferd, RN, CPN, VA-BC, and then Misty Uhl, RN, CPN, who helped her through the transplant evaluation process.
"We carry their whole story," said Misty of the coordinators' role. "We put all the pieces together."
Lacie went through a slate of medical tests and met with the entire multidisciplinary transplant team, including Dr. Mullapudi and Transplant Surgical Director Richard Hendrickson, MD, FACS, FAAP, and hepatologists Dr. Slowik and Liver Transplant Program Medical Director Ryan Fischer, MD. Lacie's family also met with transplant experts in nutrition, pharmacy, social work and more.
The timing of Lacie's transplant needs couldn't be better: Children's Mercy recently rebooted its liver transplant program with the arrival of Dr. Mullapudi. The multidisciplinary all-pediatric team began doing transplants again in January 2022 with a full schedule and perfect success rates.
"Kids in this community needed [our center] so much," said Dr. Mullapudi. "There were so many kids who were traveling to other places to get transplants. This is closer to home and a center of excellence when it comes to all kinds of complex liver transplants and oncologic cases."
In early March, the transplant team met to evaluate all their findings, concur that Lacie needed a transplant, and officially place her on the liver transplant list.
Lacie's relatively stable liver numbers put her behind others in more critical conditions on the list. But her current health also gave her surgeons the luxury of being picky.
"One of the things Dr. Mullapudi told us was that if it's not a great opportunity, he might turn down an organ," said Corey. "You don't want to do the transplant until you really have the right opportunity."
Lacie and her family settled in to wait. "We were expecting months," said Sarah, "because she was in such good health."
They didn't have to wait long.


An unexpected gift
On March 18, at 5:30 p.m., Molly called Sarah and Corey to tell them there was a potential donor liver available.
"You can never anticipate when you're going to get that offer," said Misty. "We did anticipate it would be a little bit longer than it was!"
Sarah and Corey were shocked. They immediately thought of everything they hadn't figured out yet: who would take care of their pets, how their older daughter was going to get to work while they were at the hospital, and all the family members they hadn't told yet.
"Dr. Mullapudi said we could wait forever, and there would never be an opportunity that will match this," said Corey. "This is the liver we need."
"When I evaluate livers, we see the donor's labs, how young the organ is, if it's all going to be a good fit for our recipient," explained Dr. Mullapudi, saying this was a "terrific" liver. "After it looks good on paper, then I have my own personal second filter: Would this organ be good for my own kid? And if it is, then it's great for Lacie. That organ passed through those filters with flying colors."
They told Lacie that night.
"I remember I was already really anxious about something, and I went and laid next to my mom, and then she told me," Lacie said. "That made it ten times worse...She told me that night at 7 p.m., and then we left for the hospital at 9 in the morning on Saturday."
Lacie managed to sleep just fine the night before, but her parents had their own worries. Even when the liver is a great match for its recipient, in a very small number of cases, it doesn't "wake up." Then the patient needs to be retransplanted right away. "That was my biggest fear," shared Corey.
Lacie and her family spent the day at Children's Mercy, waiting for the team to verify the liver was a good fit for Lacie.
"There were a lot of nerves," said Corey. "You don't want to go through this twice. But you also don't want to rush it if it's not right."
Lacie was a bit less phased than her parents and just wanted to get on with the procedure. "It was annoying for me because I had nothing to do but wait," laughed Lacie.


A textbook — and "fun" — liver transplant
Finally, it was time to take Lacie into surgery.
"That was the hardest thing I've ever had to do in my life," said Corey. "Walking away from my daughter. I trusted the hands I was putting her into, but it was still out of my control."
"The outcome was painfully unknown," agreed Sarah.
Nurses began wheeling Lacie to the OR right as shifts were changing. Children's Mercy staff lined the hallway and cheered her on.
"When they were rolling me [to the OR], everyone was clapping, which was sweet," said Lacie. "It was a little bit weird, but it was sweet."
"It was such an incredible exit," said Sarah. "It was one of those very touching moments that added that much more anticipation for what was about to happen."
"It probably embarrassed her a little bit, but it made us feel good," Corey laughed.
Inside the OR, the surgery team began their work. Drs. Mullapudi and Hendrickson were joined by anesthesiologists Nate Lata, MD, and Neal Campbell, MD, and scrub nurses Kara Mason, RN, and Vanessa Schulte.
"The OR was a fantastic, happy place because we had our core team," said Dr. Mullapudi. "We had a lot of fun doing that transplant."
Molly was giving Sarah and Corey regular updates and assuring them music was playing and the mood was good in the OR. Around 3 a.m. Sarah and Corey were told that Lacie's new liver was tied in and producing bile right on schedule. Knowing they were past their worst transplant worry, Lacie's parents were able to rest a little easier as they waited. By 7 a.m., they were able to visit Lacie. The relief flooded in when they saw their child safe on the other side of surgery.
"That's when it was time to break a little bit," said Sarah.


A smooth recovery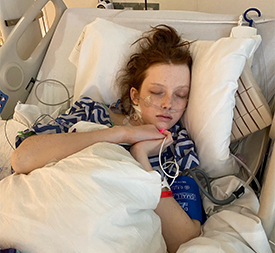 Lacie's post-operative recovery went as smoothly as her surgery, as she hit all her healing goals (extubation, drinking liquid, eating food, walking around) in record time. She continued receiving oxygen for her HPS.
"We didn't have any problems with bleeding. We didn't have any return trips back to the OR, which are common with liver transplants," said Dr. Mullapudi. "So she flew through recovery."
Lacie's doctors began dialing in her correct dose of tacrolimus, an immunosuppressant that prevents organ rejection, as she built up her strength.
"I worked really hard to walk a lot," said Lacie of her post-op strategy. "I didn't have much of an appetite, but I was trying to eat."
Lacie's parents were proud of her determination. "If they told her she needed to do something, she did it," Corey recalled, "because she wanted to go home!"
Lacie said she began to feel like herself again by her last day in the hospital. She and her parents went home with an oxygen tank, a strict medication regimen (Lacie, Sarah and Corey all have phone reminders set twice a day so no doses are missed), social distancing instructions, and a lot of hope.


Living with a new liver
For the first month after her transplant, Lacie returned to Children's Mercy for lab checks and physician visits twice a week; the frequency of those appointments will taper off as she continues to recover.
"The most important things are: How is Lacie generally doing? Is she feeling well?" said Dr. Slowik. "Her lab tests are important because they can show us if the liver is in good health. At home, she's slowly coming off oxygen, which tells us that the new liver is fixing the abnormal blood vessels in her lungs."
Lacie focused on getting stronger at home, as she practiced making the trip to her grandparents' house down the block and back with her oxygen tank. One day, Lacie and Corey even put the tank in a backpack and went on a short bike ride. By May, Lacie was able to attend half-days of school for the last week of the school year, and she is looking forward to starting high school next fall.
Her main goal? Being able to play the flute in the marching band alongside her older sister, Lillian. They have been talking about this forever: Lacie will be a freshman while Lillian will be a senior. It's their one chance to attend the same school and be able to share time on the field.
"I didn't think I was going to get to do that when this all happened," said Lacie, remembering that her family thought her wait for a liver would be much longer. "But I most likely will get to now."
Lacie continues to impress her Children's Mercy team with her positivity and work ethic.
"Lacie is a real go-getter," said Misty. "She's very active, and she doesn't let anything hold her down."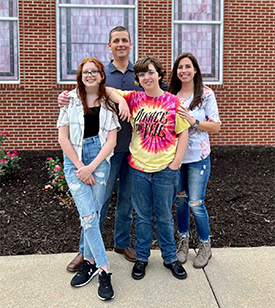 Her family is still in awe of how well the transplant went, from catching HPS early to receiving a well-matched donor liver much sooner than expected.
"I can't believe how well everything has gone," said Sarah. "We're very fortunate and blessed. We're so thankful that Lacie has been gifted this second chance."
Lacie has encouragement for other young people facing liver transplants. "It's not something to worry about and dread," she shared. "It's a good thing...you'll feel better. It may not be perfect. I know I was lucky, and a lot of things worked out. There's always going to be something, but it will be okay. The transplant team is definitely good at their jobs!"
Stories
Liver transplant: Brendan's story
Diagnosed with alpha-1 antitrypsin deficiency as an infant, Brendan Elam's condition was stable until he was about 7 years old. That's when his liver began to fail, eventually leading to the need for a liver transplant at Children's Mercy. Brendan's transplant and recovery went well, and today he's an active college student pursuing a degree in music education.
Meet Brendan
Liver transplant: Gable's story
At 22 years old, Gable Dull is living his best life, recently married, studying law and enjoying hunting and fishing. But nearly a decade ago, his future was uncertain. He was diagnosed with Wilson's disease, a rare inherited condition. A liver transplant at Children's Mercy Kansas City has helped him get healthy and stay that way.
Meet Gable