Liver Transplant: Brendan's Story
Meet Brendan

Brendan Elam is a typical college student. He loves spending time with friends, is majoring in music education and says the song, "Young and Unafraid," is one of his favorites.

But this 19-year-old's first decade of life was anything but typical.

Just after he was born, Stacy Elam, his mom, said Brendan looked jaundiced, a condition where his skin and the whites of his eyes were yellowish in color.
About half of all newborns develop mild jaundice in the first few days of life, so Stacy and Brendan's dad, Jason, weren't overly concerned.
Doctors sent the infant home on a bilirubin light, a type of light therapy used to treat newborn jaundice, but after a few days, Stacy and Jason said the light didn't seem to be helping.
Concerned, the new parents, who live in Kearney, Mo., took Brendan to a doctor who referred them to Children's Mercy Kansas City for more extensive testing.
Diagnosing alpha-1

Angela Tendick, RN, APRN, Hepatology Nurse Practitioner with the Children's Mercy Liver Care Center, met Brendan and his family when he was just a few weeks old. "I have pictures of that little peanut," Angela said. "He was stable, but there was an urgency to figure out what was going on with him."
Blood testing revealed an unexpected diagnosis, alpha-1 antitrypsin deficiency (A1AD). Alpha-1 is a rare hereditary disorder characterized by low levels of a protein called alpha-1 antitrypsin (A1AT) which is found in the blood. The deficiency may predispose an individual to several illnesses. In Brendan's case, it affected his liver.
According to James F. Daniel, MD, FAASLD, Pediatric Hepatologist, the condition usually can be managed medically.
For the first few years of his life, that was the case for Brendan. "We went to the Liver Care Center once or twice a year for blood tests and Brendan took a vitamin supplement," Jason said. "He did really well."
Angela agreed. "Brendan's condition was very stable. We followed him once or twice a year."
But when Brendan reached middle to late childhood, he started to develop some complications of the condition, including an abnormal accumulation of fluids within the abdominal cavity (ascites), feeding difficulties and poor growth.
"Only about 5% of kids with alpha-1 progress to needing a liver transplant," Dr. Daniel said. "But around 7 to 8 years old, Brendan started to get peritonitis, a potentially life-threatening infection."
"Brendan went from seeing us once or twice a year, to seeing us several times a month," Angela said. "That was really hard on the family."
"I definitely felt sick," Brendan said. "But to me it wasn't a big deal. It was just part of my everyday life to feel bad and be at the hospital all the time."
As Brendan's condition continued to decline, the Liver Care Center team's discussion began to focus more on transplantation, and in March 2012, his name was added to the waiting list for a new liver.
Waiting …

Dr. Daniel and Angela said that alpha-1 patients often don't seem as "sick on paper" as they really are, and Brendan's condition was deteriorating.
"I went to school every day, and I would feel fine the first couple days of the week," Brendan said. "But by Friday, I felt run down and didn't have any energy."
"You could definitely tell he didn't have the stamina that other kids his age had. He was having a little trouble cognitively and academically, which is common in kids with liver failure," Angela said.
Jason added that Brendan's appetite was poor, and he continued to battle peritonitis, frequently landing in the hospital and delaying a possible transplant.
"Brendan couldn't receive a transplant if he had an active infection," Jason said. "He had to be as healthy as possible."
After nine months on the transplant list, Brendan and his family received the call they had been waiting for on Dec. 19, 2012—there was a liver for Brendan.
An elementary school music teacher, Stacy was at lunch when she got the news. "Brendan was on his way to lunch too, so I found him and told him it was time to go," she said.
"I was nervous," Brendan said. "But at 10 years old, I didn't fully understand the risks going into the surgery, which was probably for the better. I just thought, 'I'll feel better eventually.'"
Though everyone necessary for the transplant arrived quickly at Children's Mercy, icy weather caused several false starts and stops in the organ retrieval process.
"The transplant finally began on Dec. 20, 2012 around 7 p.m.," Jason said. "Throughout the night, the team kept us updated every step of the way."
Textbook transplant

Ten hours later, Brendan's diseased liver had been removed, and his new one was in place, working well.
"Brendan's transplant was a textbook case of how you'd want a transplant to go if you had to have one," Dr. Daniel said. "Everything went extremely well."
Angela agreed and added, "Brendan did exactly as we would hope all kids do. His surgery and recovery were uncomplicated and cured the alpha-1."
A few days after receiving his new liver, Brendan was feeling better than ever, eating cheese ravioli, playing pranks on his nurses, and shooting hoops in his room.
Just nine days later, he was back home, only leaving for frequent doctor appointments at the hospital. "It was winter so I couldn't go to school. The doctors were afraid I might get sick," Brendan said.
"Brendan took 26 different pills each day, including immuno-suppressives, anti-virals and anti-fungals," Stacy said. "It was a lot to get used to."
But two months later, the fifth grader was in the classroom and has never looked back.
"I didn't realize how much healthier I looked after the transplant," Brendan said. "I even grew 9 inches in just one year!"
As time passed, Brendan's visits to the hospital became less frequent as his health became more stable and he became an active teen.
"In high school, I was a varsity athlete, running cross country and track," he said. "I did musicals, band and choir. I was an active kid."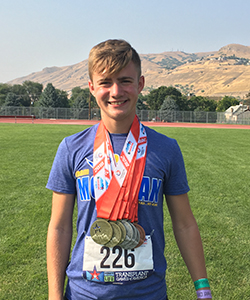 Brendan also enjoyed taking part in the annual Transplant Games, an international competition made up of athletes who have received transplants.
"The Transplant Games are humbling. It's not every day you meet someone else who has received an organ donation," he said. In his three seasons of competition, Brendan has medaled in many of the running events at the games, and he hopes to take part in them again.
Dr. Daniel said Brendan is a great example of what the transplant program was designed to do. "This will sound simplistic, but Brendan has basically been normal since his transplant. He's done extremely well. He should have a good long healthy life now. His transplant and follow-up care have gone wonderfully."
Teamwork makes the dream work

Today, Brendan said he's living a "normal" life, focusing on college at the University of Nebraska, Lincoln, and staying healthy. But he knows he wouldn't be where he is without his family, his donor and his Children's Mercy Liver Care Center team.
"I don't know anything about my donor, but I think about them all the time," Brendan said. "I'm planning to get the date of my transplant tattooed on my forearm—nothing too flashy—but I want people to ask me about it. That's the best way I can honor my donor."
Stacy and Jason added that the Liver Care Center team has been with them almost since Brendan was born. "We were treated like family at Children's Mercy. They were honest with us. They were always welcoming, inclusive and considerate. They have a world-class program. We can't say enough good things about them," Jason said.
"There was never a doubt in our minds that the team truly wanted to do what was best for Brendan," Stacy added.
In fact, Brendan's grandparents, Montie and Marjorie Tripp, were so grateful for the expert and compassionate care the team provided their grandson, they gave a generous gift to support the Children's Mercy transplant program, which was re-named the Brendan Tripp Elam Transplant Center.
"We are a grateful family, and we want the Children's Mercy team to be able to continue the quality of transplantation work happening at this special hospital," the Tripps said. "We give to Children's Mercy to help a program that has meant the world to our family. It is our hope that this gift will in some way help other families for many years to come."
Dr. Daniel said the Tripp's gift has helped Children's Mercy build a liver transplant team known for providing highly personalized care.
"Our program really is a team effort. The coordinators and nurse practitioners like Angela really play an important part in the success we have with our patients. It's not just me or the surgeon, it's a remarkable group of people who work together throughout this complex process. We're very fortunate to have such an excellent team."
Angela has been a key member of Brendan's transplant team. "I have a folder full of pictures of him from the time he was a baby to his high school graduation. You walk with these families during the most stressful, scariest times of their lives. We've become almost like family. It's so awesome to see him going off to college and getting ready to transition to adult care."
Brendan agreed. "I've known Angela since I was a baby and Megan Faseler, my transplant coordinator, since I had my transplant. All my liver doctors, Dr. Daniel and Ryan Fischer, MD, are very important to me. They're amazing people!
"My experience at Children's Mercy was incredible. My relationships with the people there are amazing. They quite literally saved my life. I'll always remember them and will stay in contact with them."
"You hate to have your child go through something like this," Stacy said. "But if he or she does, you want it to be in a place with caring people who do their best to help in whatever way possible. In our experience, Children's Mercy is that kind of place."
Stories
Liver transplant: Gable's story
At 22 years old, Gable Dull is living his best life, recently married, studying law and enjoying hunting and fishing. But nearly a decade ago, his future was uncertain. He was diagnosed with Wilson's disease, a rare inherited condition. A liver transplant at Children's Mercy Kansas City has helped him get healthy and stay that way.
Meet Gable
Liver transplant: Precious' story
At Children's Mercy, every child is precious. But in this story, you'll meet a young girl with chronic liver disease whose nickname really is "Precious." Watch as the physician who has taken care of her since the day she was born performs her intricate liver transplant.