Participating in Your Child's Health Care
Finding, using and understanding health information

Participating in Your Child's Health Care
Finding, using and understanding health information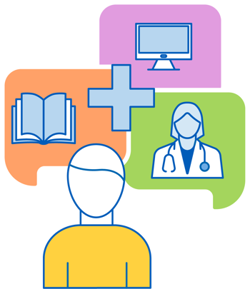 What is health literacy?

Children's Mercy Kansas City wants to make health information clear for you. You have the right to find, use and understand health information. This is called "health literacy." Better health literacy helps your child have better health.
We want you and your child to be active members of the health care team. It is our duty to help you get the health information you need and to understand it. We offer you things you can do.
Ask questions!

Writing your questions down before you speak with the medical team can help. Here are some examples:
What are the causes of my child's illness or medical condition?


What kinds of tests are needed for my child's condition?


Why do we need these medicines?


Do we need to come back? Why?
Here is a form that you may find helpful to write your questions: Write it down – join your child's health care team!


Tell us about your child's medicines

Be prepared to share a list (or pictures) of your child's medications, including vitamins and supplements. Consider bringing all the medications if possible.

If your child needs to take one of their medications during their visit, bring it with you.


Report changes

Tell the doctor about anything new or different about your child's health.


Make sure you understand what the doctor and health care team has told you

We want the health information we give you to be clear:
Don't leave until you understand.



Repeat what you heard to your health care provider, so they know you understood.


Don't feel embarrassed if you didn't understand something.



Include your child as much as possible. Check their understanding and ask their questions too.


Let your doctor know if you are worried about being able to follow their instructions.


If your doctor recommends a treatment, ask about options.


You can ask for resources, such as:



Written instructions
Brochures
Videos
Websites



Our What to Expect page has information to help you and your family understand and feel prepared for health care procedures and experiences.


KidsHealth gives you access to thousands of articles for information about your child's health.


Follow up

If you have any questions after you get home, call us!
As you think more about your child's illness or condition, be sure to ask questions of your child's medical team. It is fine, and important, to learn more information from other sources, too:
Health information is everywhere—in books, newspapers and magazines, and on the Internet, television and radio. However, not all information is good information.



"Evidence-based" information is based on a careful review of the latest scientific findings in medical journals. This type of information can help you make decisions about the best possible care for your child.


Your best bets for sources of evidence-based information include the federal government, your local public library, and national nonprofit organizations.


Additional resources
For more health literacy information and tips, visit the following links: