February 04, 2021
How new parents can avoid social isolation during the COVID-19 pandemic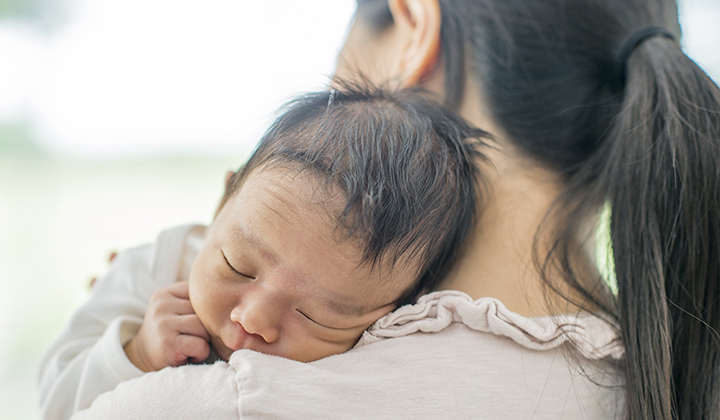 Bringing home a new baby can be stressful for parents at any time, but COVID-19 has added a new layer of complication. While families used to rely on a steady stream of visitors to help with a new baby, the pandemic has made it nearly impossible to do safely. But this doesn't mean parents are destined for social isolation. With a little creativity, parents can still stay connected to their "village," to each other and to themselves.
Stay safely connected with friends and family
Of course, everyone wants to meet your new bundle of joy—who wouldn't want to snuggle that little angel? For now, though, it's best to be safe and limit in-person visitors. Try some alternatives instead. Thinking through your postpartum plan can help.
You set the rules
Only you can make decisions about who sees your baby and how. Be clear and consistent so your loved ones know what to expect. Use our guidelines if you'd like.
Allows visits by video. Set appointments around baby's schedule. Let an appointment app like Calendly do the scheduling for you.
Meals and gifts can be dropped off contact-free.
If you have visitors, have them quarantine for 2 weeks beforehand.
All visitors should wear masks and practice social distancing and thorough hand washing. Have hand sanitizer handy throughout your home.
Let visitors know ahead they cannot hold the baby.
If the weather allows, meet visitors outside.
Keep it real
Ask your most trusted circle to check in with you regularly by phone, text or video chat. It's important to connect with people who will ask how you're really doing and will support you through the ups and the downs of new parenting. Find the night owls and morning people in your crew who you can call if you're having a new parent "moment."
Celebrations
Don't let a pandemic keep you from partying. A new baby is an excellent reason to celebrate! Let your closest friends or family throw you a virtual baby shower and have gifts delivered straight to you. If they live nearby, they could organize a drive-by shower and personally drop off gifts at your door. For something more low-key, host your own virtual sip n' see. Show off the baby and enjoy some time with friends near and far—win-win!
Baby-free connecting
At some point, you're going to crave conversation that doesn't revolve around diapers, feeding schedules and spit-up. That's when you should call on your pals to give you a little break from parenting.
Host a virtual or a socially-distant outdoor happy hour.
Get into a virtual game night.
Plan a virtual double date for dinner (no fancy menu or wardrobe needed).
Use an app like Netflix Party to have a virtual movie party.
Ask for help
Many new parents feel pressure to do it all on their own, but it's better for everyone—parents, baby, friends and family—if you can lean on your people through this life change. Folks want to help and, let's be honest, new parents can use all the help they can get.
Assign a point person (or people)
We all have at least one friend who is organized and on top of things, a good communicator who can rally the troops in no time. That friend can be a lifesaver for new parents. You have enough going on keeping baby fed, clothed and occasionally sleeping.
Let them handle communication with other friends and family—baby updates via social media, text or email.
Give them the go-ahead to organize a meal sign-up with a service like Meal Train, Care Calendar or Give In Kind.
Better yet, they can use one of those services to organize other kinds of help, too, like pet care, lawn and plant care or errand running.
Think beyond meals
Have some ideas ready if people ask what they can offer besides a home-cooked meal. We've started brainstorming for you.
Restaurant gift cards and food delivery gift cards
Grocery delivery
Memberships for free shipping services
Streaming services
Subscription boxes (for you or for baby)
Membership to wholesale store
Diaper fund
Date night fund
Self-care kit for parents: favorite snacks, bath products, gift card to a favorite store, a scented candle
Gift basket for siblings: Don't forget this is a big moment for them, too. Show them some love with favorite snacks and other age-appropriate gifts
Get support from other parents
Nothing calms new parent nerves like hearing from other parents, "We're dealing with that, too." Join a supportive group who knows what you're going through.
Connect with your partner
With so much focus on the new baby and so little sleep, it's understandable how parents lose touch with each other as partners. But with a little intention, you can connect with less stress and more understanding.
I've seen parents go home with their new baby and they don't realize that not only is the baby new, but both partners are coping with change. Try to ask for what you need, directly.
Make a plan together
Remember that you are on the same team. You both want what's best for your baby and want your family life to run smoothly. As much as you can, talk about hopes and expectations early and often.
Start a chore chart to share the household responsibility.
Lower the bar. With a new baby, your home may not be spotless and that's okay. Decide which chores matter most and which ones you can stop stressing about.
Set it and forget it. As much as possible, put bills on autopay and get essentials (diapers, wipes, etc.) delivered on a recurring schedule.
Cut yourselves and each other some slack with easy meal plans (Takeout Tuesday, Frozen Pizza Friday).
Spend some baby-free time
It's easy to be all about the baby all the time, but it's important to remember you are still unique individuals who share a connection outside of being parents.
Stay connected to your own wellbeing
With all the care you are showing your baby, don't forget to show yourself some love, too. It's good for you and good for baby.
Download a mindfulness app on your phone or device, such as Calm, Stop Breathe & Think, Insight Timer, Headspace or Relax Melodies.
Related articles:
---