December 07, 2020
7 ideas to host a rocking virtual holiday party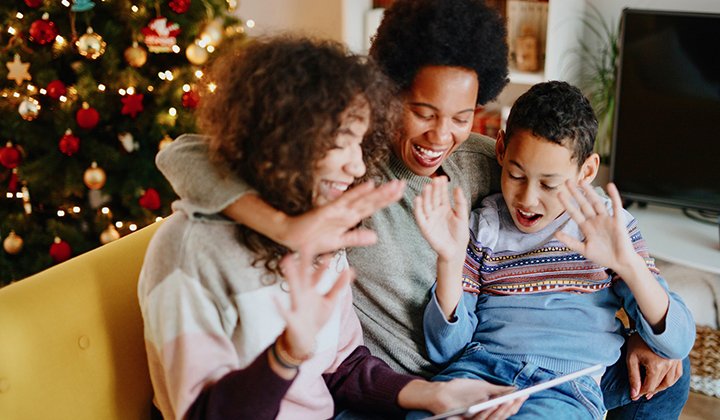 Many families are choosing to not have extended family and friends over for the holidays this year because of COVID-19. But, that doesn't mean the holidays can't be fun. Here are a few ideas to get that holiday party popping – virtually!
Decide a platform
There are many options for staying connected with friends and family. Try any of these popular platforms that offer free options - FaceTime, Zoom, Skype, Facebook Messenger, Google Hangout or Houseparty.
Top virtual party activities
Watch movies together online.
Streaming services have adapted this year and started offering a way to have multiple households all watch the same thing at once. Netflix offers a Google extension that lets groups watch and even chat together. Amazon Prime offers an Amazon Watch Party feature and Hulu offers their own Hulu Watch Party. There are other multi-watch platforms like Kast, Scener and Syncplay.
Home scavenger hunt
When everyone is gathered together, try an old-fashioned scavenger hunt with a twist. Have one person create a list and call out the items to search for. Sending one person from each household at a time to locate the needed item can add to the excitement. The first household back with their item gets a point! Try to find some of these common household items:
Nutmeg
Holiday movie
Ornament
Scarf
Candy
Ugly sweater contest
Just like you would in-person, host an ugly sweater contest. Ask friends and family to don their fun holiday sweaters for prizes! Have everyone vote for their favorite, most festive or truly ugliest.
Game night
Think you can't play games if everyone's not together? Think again! Even socially distanced games can be fun. Try these:
Holiday trivia
BINGO
Charades
Pictionary
Cookie decorating contest
Have each household prepare sugar cookies, and then decorate them together! After you're finished, hold a vote for the cutest, most creative or most abstract cookie.
Talent show
Everyone has a talent. Whether it's singing, telling a joke, reciting a story, dancing or even reenacting a scene from their favorite movie. A talent show is a great way to get everyone involved for some good entertainment.
Dinner together
It may be overlooked but setting up the phone or computer in the dining room as you are eating can at least make it feel like you are together, even when you're not.