April 25, 2019
Stressing about what to do with your teen this summer? Relax. We have a few ideas.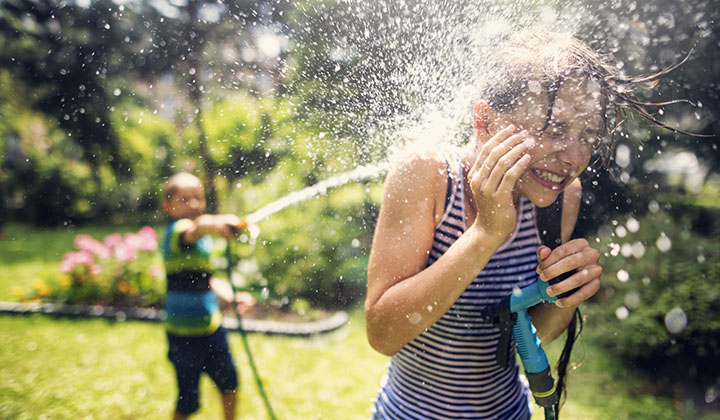 Summer is coming. You have a teen at home. Did your heart just start pounding a little faster?
Don't freak out. We at Parent-ish have compiled a whole list of ideas to help keep your teen busy this summer. Not only did we talk to a number of experienced parents—a.k.a. "teen-summer survivors"—we even checked in with a few experts from Children's Mercy Division of Adolescent Medicine. (Yep, we mean business.)
Before we get started, there are a few things you may want to consider. First, be sure to include your teen in the conversation. Encourage them to share their goals for the summer, then walk through their options with them. Planning together is a fantastic opportunity to help them practice some of the decision-making skills they'll need as they grow into adulthood.
Second, grab a calendar (or print a few blank pages) and map out a plan with them—whether it's week-by-week or month-by-month. This is also a good time to set clear expectations, like where it's okay for them to go or which friends it's okay for them to hang out with. (It's a good way to keep your phone from blowing up all summer with "Can I..." texts, too.)
And last, but not least: don't forget about rewards. Rewards work wonders. Help your teen set up a series of mini goals and checkpoints, with appropriate rewards given along the way. From ice cream cones to pool days to sleepovers, summer is full of things your teen can work toward.
Ready? You got this.
12 Ways to Keep Your Teen Busy This Summer:
A summer job. Your teen may or may not be old enough to start a job, but it doesn't hurt to look around. It's always good to start the hunt earlier than later, but no need to stress: they can always wait till school is out. And if they're definitely too young, encourage them to do a little research for future summers—or even beyond that. Is there a specific job that interests them? Or a career they might want to learn more about? Help them figure out what their next steps are, or who they might contact to gather more information. Together, you may even be able to find someone willing to let them do a little job shadowing.


Exploring entrepreneurship. Even if your teen isn't old enough to work, they could always start up their own neighborhood business, like dog walking, babysitting, yard work or other miscellaneous chores. (Are they into computers? Lots of people could use low-cost tech support!) Help them brainstorm what they could help with, and how to get the word out. They could be their own boss in no time.


Giving back. There are so many ways your teen can give back—and so many great lessons to be picked up while they're at it. Whether it's helping someone in your family (teaching a younger sibling how to do something, mowing a lawn for a grandparent, etc.) or helping out in the community, summer is the perfect opportunity for teens to learn the importance of helping others. Could they organize a charity drive with friends? Volunteer at a local pet shelter? Spend some time visiting seniors? Start with what interests them first, then help them brainstorm how they might use that passion for good.


Good old-fashioned chores. If you're like most busy families, there's plenty of work to be done right inside (or outside) your own front door. Make a daily or weekly list with your teen of how they can help—whether it's as little as playing a game with siblings or as big as cleaning and organizing around the house. Rewards work great here: is there something they'd like to save for? Or a special outing they could work toward, like a movie or a day at the water park? Summer is a great time for teens to pitch in. (And take a few chores off your hands, too!)


Cooking. Try assigning your teen a dinner night every week. Help them learn how to plan, budget and shop for a meal, then see what they come up with. Not only will it benefit you come dinnertime, it will encourage your teen to think creatively—plus it offers a sneaky little way of keeping those math and reading skills sharp, too!


Reading. Don't let a few eye rolls stop you: encourage your teen to set reading goals for the summer. Plan a few library outings and help them figure out what kind of books interest them the most. When they're done with one, ask them to report back—whether they'd like to dazzle you with a PowerPoint or just share a few thoughts off the top of their head. (Are you a big reader yourself? Consider picking a book or two you could both read and start your own little book club.)


Writing. Just like it's good for your teen to keep reading, it's good for them to keep writing, too. No big, serious assignments are necessary, though—just have them write about something they love. Are they a gamer? Ask them to try writing a review or two. Is there a TV series they're into? Challenge them to write up a recap. Your screen-loving teen could build some serious writing skills over the summer. (And they may not even realize it!) If they're not into screens, even a short weekly journal will help keep those young brains sharp.


Diving into family history. Have any relatives close by or within calling distance? Your teen could conduct an interview (either written or video), something the entire family would treasure. It's a great way for your teen to learn about history firsthand—and get to know their relatives a little better in the process.


A sports or creativity challenge. Wild guess here, but there's a pretty good chance your teen is already hooked on YouTube. If so, why not have them find a tutorial to tackle? From pet tricks to soccer dribbling to advanced hair braiding, there are thousands of 'em to choose from. Encourage them to find something they'd like to try, whether it's a new sport, hobby or creative skill. Does your teen have a phone? Challenge them to film a movie or practice a few new photography skills. (And whatever they choose, don't forget to set up a few checkpoints so they can show off those new skills.)


Send them outdoors. Are there projects outside you could use some help with? Maybe a spot in your yard just begging for a garden? Help your teen pick an outdoor activity they're interested in and make it a part of their weekly to-do list. (Bonus idea: have them take photos of their outdoor adventures to make into an end-of-summer slideshow.)


Camps. There are lots of camps out there for just about every interest your teen might have. All it takes is a little research. Contact your local school district or parks department to see what's available. (If you're in the greater KC area, check out the summer camp guide from Kansas City Parent magazine. It's chock full of great options.)


Downtime. Remember, teens are busy during the school year. Summer provides the perfect opportunity to let them de-stress and just chill for a bit. Sleeping in, being lazy, doing nothing at all—those are perfectly normal things to do at their age. Feel like just letting your teen be a teen? We say go for it. (And remember: we mean business!)
Related articles and resources:
---