May 27, 2021
How early work experience can positively impact kids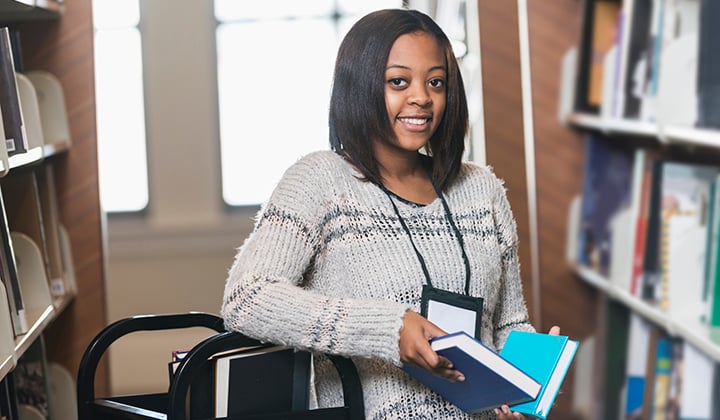 One of the best things I get to see in my role is the change in confidence in young adults after getting a job or starting a volunteer experience. In my role as the Project RISE manager at Children's Mercy, I help teens and young adults find volunteer roles and employment. Within a month of starting their role, I often see an improvement in their self-worth, demeanor and confidence. It's incredible. I believe giving an individual an opportunity to prove they can be independent, and even pushing them a little out of their comfort zone through early work experiences, is extremely impactful on their confidence in knowing they can do new and potentially challenging things.
Developing skills
Early work experience can build many life skills, including:
Independent problem-solving.
Time management.
Dependability learned from reporting to work on time each day and communicating schedule changes or time off requests.
Communication with co-workers and customers.
Learning how to receive constructive feedback from supervisors.
Money management.
Teamwork.
Leadership.
These skills are important when transitioning into adulthood and employment, but also valuable skills to build for engaging in relationships as an adult and managing a family. Having access to the opportunity to build these skills early on creates a strong foundation as individuals graduate high school and pursue their future.
When should kids get a job?
The "right time" to explore work opportunities will vary person-to-person. Around the age of 16 is a good time to start assessing if work opportunities might be a good fit for an individual. At this age a few things can impact the type of job that may be beneficial, like involvement in extracurricular activities, the ability to balance school and work and logistics such as access to transportation. A place to start that doesn't always demand a standard work commitment might be jobs like babysitting, neighborhood yard work or seasonal work opportunities. It's important to consider how many hours a teen works and that the time commitment does not affect a teen's ability to engage in appropriate school requirements and homework.
Volunteering is also a great opportunity to gain valuable work experience and explore interests, with a more limited commitment need. Volunteering helps children and teens connect with their community, develop empathy and build awareness of needs outside of themselves. Volunteer work is also a great addition to a resume.
Maturity plays an impact on the decision of when is the "best time" for a teen to pursue work opportunities. But work experiences often lend an opportunity to build maturity, through the expectations imparted on a teen in a work environment, with these expectations from someone other than their parents.
Life-long benefits
A study from the Employment Policies Institute reported early work experience is a strong predictor of future successful employment. Exposure to early work opportunities allows teens to explore different careers and job fields based on interests and skills, which will help them make informed decisions for future career choices.
Employment is also a social determinant of health. Having a job can mean access to healthier living environments, healthier foods and other health benefits. There is also a strong connection between employment and quality of life, including a positive impact on mental health, which can start with early work experience.
Related articles and resources:
---