Returning to School and the Community Safely
Updated April 1, 2021
As a community, we're facing decisions about returning to school while our community is still experiencing rises in COVID-19. Experts at Children's Mercy are working with the community to help navigate school re-openings during COVID-19.
Returning to school during COVID-19

Information for educators and school health professionals

Children's Mercy is committed to helping children return safely to school during the COVID-19 pandemic. We have compiled resources for school health care professionals to help children as group activities and facilities re-open.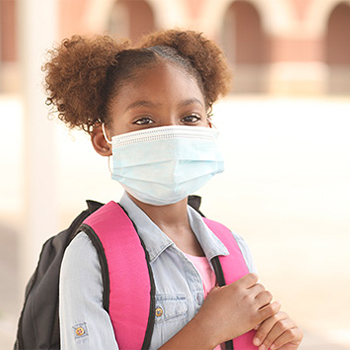 Guidance for school re-opening
As a community, we're facing decisions about returning to school while our community is still experiencing rises in COVID-19. Experts at Children's Mercy developed resource to help the community - both families and administrators - navigate school reopenings during COVID-19.
Below are more resources to aid you with school re-entry.
Screening:
Masks:
Virtual Learning:
Cleaning and Disinfecting:
Town Halls:
Sports:
Other resources to help with school reopening and operations.
If you have any COVID-19 school re-entry questions or would like to request a consultation, please fill out and submit a COVID-19 School Assistance form. We will get in contact with you as soon as possible.
The CDC offers the following recommendations to keep communities safe while resuming peer-to-peer learning and providing critical support for parents and guardians returning to work, make sure the following actions are being taken:
Frequently touched surfaces are cleaned, sanitized, and disinfected multiple times per day. (Examples: playground equipment, door handles, sink handles, drinking fountains.)
School buses are cleaned and disinfected, and children are kept 6 feet apart while on the bus.
Student and staff groupings are as static as possible by having the same group of children stay with the same staff (all day for young children, and as much as possible for older children).
Mixing between groups is restricted.
Gatherings, events, and extracurricular activities are limited to those that can maintain social distancing, support proper hand hygiene, and restrict attendance.
Nonessential visitors, volunteers, and activities involving other groups are limited.
Seating/desks are at least six feet apart.
Communal use spaces such as dining halls and playgrounds are closed if possible; otherwise use is staggered and disinfected in between use.
Meals are served in classrooms if possible. Meals should be individually plated.
Arrival and drop-off times should be staggered, or other protocols put in place to limit direct contact with parents as much as possible.
Social distance between children should be adhered to on school buses.
Each child's belongings should be separated from others' and in individually labeled containers, cubbies, or areas.
Sharing is minimized of high touch materials (art supplies, equipment etc.) or use of supplies and equipment limited by one group of children at a time and clean and disinfect between use.
Avoid sharing of foods and utensils; electronic devices; toys; books; other games; and learning aids.
Avoid immediate contact (such as shaking or holding hands, hugging, or kissing).
Daily health checks, such as symptom and temperature checks, should be done of both staff and children prior to arrival.
The CDC recommends consult with state and local health departments to determine if and how to put into place these considerations. Each community may need to make adjustments to meet its unique needs and circumstances.
The CDC does recommend actions youth sports organizations can take to help lower the risk of COVID-19 exposure and reduce the spread during competition and practice which involve free play, individual training, and virtual team activities through video conference training.
In the meantime, if your child's teams are starting to practice and compete here are some guidelines to follow:
If a team member or coach is feeling ill or has been exposed to COVID-19 in the last two weeks, do not attend or participate in any team activities.
Clean and wipe down any equipment, before and after practice or competition.
Do not share water bottles, equipment, towels, etc.
Avoid touching your face or any object unless necessary and wash your hands after.
No high fives, fist bumps or chest bumps.
Maintain social distancing from teammates, coaches and other players when taking breaks and between games.
It is recommended that coaches wear masks or face protection, and masks for athletes are optional unless not actively participating.
Athletes, coaches, spectators and officials should undergo screening using symptom checklists and temperature checks for all athletes and fans/parents before each practice or competition.
Consider utilizing a sign-in roster for spectators, participants, coaches and officials to allow for contact tracing.
Discourage big tournaments that cannot adhere to physical distancing, on and off the field of play.
Consider limiting competition to single-elimination games, without any double headers and/or limit the number of teams allowed in the building or area of competition at a single time to avoid athletes congregating and to allow for appropriate physical distancing.
Minimize parents spectating at practices for physical distancing and encourage them to wear masks at competitions, while adhering to social distancing.
Read recommendations for a safe return to sport from Children's Mercy specialists
For all areas, these safety actions are suggested:
Promote healthy hygiene practices:
Teach and reinforce washing hands for at least 20 seconds (sing "Happy Birthday" or another song)
Cover coughs and sneezes with your elbow
Teach and reinforce use of cloth face coverings. Face coverings are most essential in times when physical distancing is not possible. Everyone should frequently be reminded not to touch the face covering and to wash their hands frequently.