Helping Your Child Wear a Mask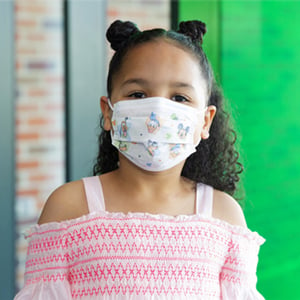 The Child Life specialists at Children's Mercy help children cope with the feelings they may have about their illness, injury, disability, or hospitalization.
Children's Mercy may ask a child to wear a mask if they have a respiratory illness or symptoms of COVID-19. The Child Life team has created tips for you and your family to help your child with wearing a mask.
NOTE: Cloth face coverings should not be put on babies and children under the age of 2 because of the danger of suffocation.
Tips:

Explain why it is important to wear a mask.
Explain germs and why we need to use masks in simple language that they can understand. An example phrase to share with your child could be, "Germs can go from our body to someone else's body when we cough, sneeze, spit, or breath too close to someone else."
Explain that face mask wearing is a rule right now. For example, "It's a rule to wear shoes outside and for now, it's a rule to wear a face mask when we go to visit the doctor."
Put your mask on first.
This will show your child it is safe to wear a mask by wearing yours, too.
Does your child want to put it on or does your child want help?
Offer choices.
Tell your child before putting on the mask.
If your child is having difficulty, find a safe place for your child to take breaks from
wearing the mask.
Decorate the mask to make it more fun.
Let your child choose some stickers!
If the mask is uncomfortable, think of ways to help!
Add buttons to a headband or use ribbon to help keep the mask off your child's
ears.
Practice wearing the mask at home.
Let your child put a mask on a favorite stuffed animal.
Put it on for short time periods to help your child get used to it.
Play games with masks.
Play peek-a-boo or pretend doctor!
Family members can validate their children's emotions and normalize them by sharing, "It's frustrating that we have to wear masks," or "I'm sad too that we have to do this." Let your child know that even when their mouth is covered, their eyes still show, and people will be able to recognize them. You can further validate their emotions by sharing, "People can look at your eyes to know how you may be feeling - happy, sad, confused, or worried." To boost their spirits, you can show your child pictures of other children or superheroes wearing masks.