Understanding COVID-19
Updated October 21, 2021
Keeping all visitors safe
Nothing is more important than your safety when you visit Children's Mercy. To reduce the potential spread of COVID-19, masks are required for all visitors 2 years of age and older, and staff. You may bring your own mask. If you do not have one, a mask will be provided for you.
See visitor guidelines
Important information from Children's Mercy


Children's Mercy is taking all precautions to protect our patients, families and staff. We are working with public health officials to help protect our community.
Below is some important information to keep you and your loved ones safe.
What is COVID-19?

The coronavirus disease 2019, abbreviated as COVID-19, is a new virus that causes respiratory illness in people and can spread from person to person. This virus was first identified during an investigation into an outbreak in Wuhan, China.
For more information about the virus, please visit:
What other complications does COVID-19 cause?

Doctors in Europe and the U.S. have reported new cases of an inflammatory illness in children that resembles Kawasaki disease (KD) and toxic shock syndrome (TSS), two uncommon illnesses in children. This new illness is called pediatric multisystem inflammatory syndrome (MIS-C). While there have been cases of MIS-C reported in the U.S., this appears to be rare compared to overall COVID cases.
Experts have defined this syndrome in children who have prolonged fever, inflammation on lab tests, and abnormalities in one or more organ. Some of these children also have signs and symptoms seen in KD and/or TSS, including red eyes, red lips and rash. There are also some patients that have had a positive test for SARS-CoV-2, the virus that causes COVID-19. And some patients have the virus in their nose and/or have antibodies to the virus in their blood, which means they were previously infected, while others do not have evidence of current infection. There is concern that COVID-19 could be the cause of MIS-C. Patients may become sick and need to be hospitalized, some needing intensive care.
Pediatricians in the U.S. and Europe, including pediatricians at Children's Mercy, and the Centers for Disease Control and Prevention are working together to learn more about MIS-C. Additionally, teams in New York are looking at the virus and the patients to see if the changes that occur in the virus' genes and/or specific genetic factors in children make some people at higher risk for this syndrome.
Experts around the world, including the team at Children's Mercy, are working together to determine the cause and best treatments for MIS-C. At Children's Mercy, Pediatric Intensivists, Cardiologists, Rheumatologists, Hospitalists and Infectious Diseases physicians are all working together to help make the diagnosis and provide the best care for the children in our community.
Parents should seek immediate medical attention if their child is having difficulty breathing, showing signs of dehydration, is acting lethargic or has a fever that cannot be reduced with acetaminophen.
Concerned your child has symptoms of MIS-C?


If you are concerned your child may have symptoms of MIS-C, please discuss with your primary care physician. You can learn more about MIS-C through the following resources:
Centers for Disease Control and Prevention
What is Children's Mercy doing to prepare for COVID-19?

Children's Mercy leaders are meeting frequently monitor the COVID-19 pandemic and ensure that we are providing the best care for patients, families, employees and community.
Has there been any confirmed COVID-19 cases at Children's Mercy?

We are communicating information on testing and positive cases of COVID-19 on our FAQ for Physicians & Providers page.
Can adults get tested at Children's Mercy?


Children's Mercy is unable to provide COVID-19 testing to adults.
Is there anything else patients/families should know?

Other respiratory viruses are circulating in our community that have similar symptoms as COVID-19. See below for symptoms and seeking medical care for more information.
How can I help protect myself and my child?

COVID-19 spreads similarly to other respiratory viruses such as influenza. Coughing, sneezing or touching surfaces that contain the virus are common ways to spread the infection. The best way to prevent infection is to be prepared. You and your child should:
Avoid close contact with people who are sick.
Avoid touching your eyes, nose and mouth with unwashed hands.
Wash your hands often with soap and water for at least 20 seconds or use an alcohol-based hand sanitizer.
Practice social distancing.
Wear a mask and have children who are 2 years of age and older wear a mask in public.
Get yourself and your child vaccinated as soon as eligible.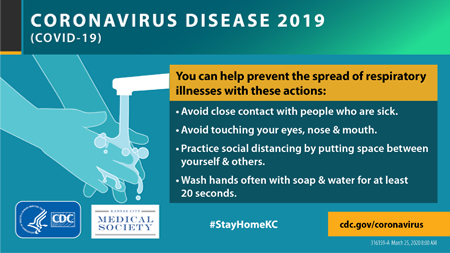 How can I protect my child in day care or out and about?

The best way to protect your child either at day care or out and about is wash their hands, and teach them how to wash their hands. We recommend washing your hands for 20 seconds – so the length of time it takes you to sing "Happy Birthday."
Wash your hands before you eat, before you come into the house and after you've been out and about. This is the best way to prevent getting any sort of virus. We also recommend coughing into your elbow, sneezing into your elbow and curbing any droplets that may be coming out of your mouth or nose.
Day care workers and attendees should all be undergoing daily illness checks and all workers should be masked.
See more tips for returning to the community safely, including day care.
What about animals/pets and COVID-19?

Although some animals/pets have tested positive for the virus that causes COVID-19, it is not known whether they can spread the virus to humans. If you are not sick, you can continue to feed and care for your pet. As always, you should wash your hands before and after interactions with your animal to prevent the spread of other diseases.
If you are sick with COVID-19, restrict contact with animals or pets, just like you would with other people. Have another member of your house help with feeding and caring for them. If you have a service animal or are unable to get assistance with caring for your animal/pet, wear a cloth facemask during your interactions with them and continue good hand-washing.
For more information, please visit:
What should you do if your child has been exposed to someone with a confirmed COVID-19 diagnosis?

If your child has been exposed to someone with or suspected to have COVID-19, your child should quarantine. Quarantine lengths vary based on vaccination status and geographic locations, check local school and health department guidelines. Visit the CDC website for symptoms of COVID-19.
If your child develops symptoms that you do not think are related to seasonal allergies or are not improved by allergy medication, call your child's doctor to see if your child needs to be seen either by a telehealth or in person visit. It is OK to give fever reducers if your child develops fever.
Please note this is an emerging, rapidly evolving situation. We are regularly updating this page with key information as we receive it, but we encourage you to refer to the Centers for Disease Control and Prevention (CDC) as a reliable source for the most updated information as it becomes available, in addition to updated guidance.