COVID-19 Vaccine FAQ
Updated July 20, 2021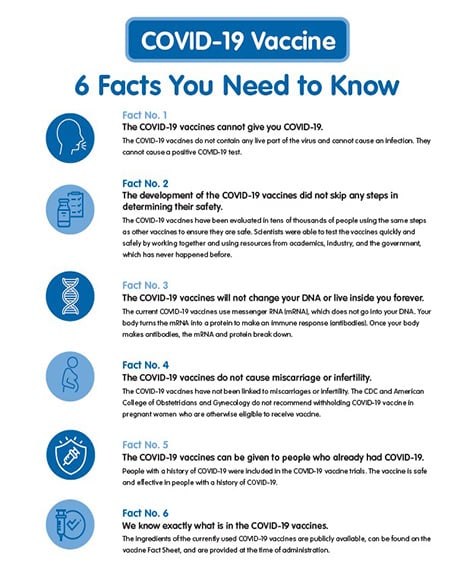 6 Facts You Need to Know
It is important to understand the facts about COVID-19 vaccine. Providers from Children's Mercy share 6 facts you need to know.
Frequently asked questions about children and the vaccine
The Pfizer COVID-19 vaccine is safe and effective for children 12 years and older. The safety and efficacy data for children younger than 12 years is expected soon.
Yes. Vaccinating your child as soon as they are eligible will help protect them and their contacts such as their parents, grandparents and other children who are not yet eligible for COVID-19 vaccines.
You should always discuss specific vaccine recommendations with your doctor, but the COVID-19 vaccine is recommended for all people who meet eligibility criteria. The only contraindication to the vaccine is previous severe allergic reaction (e.g., anaphylaxis) to a previous vaccine dose or to a vaccine component (e.g., PEG). The vaccine should also not be given for 90 days following treatment with a COVID-19 monoclonal antibody.
Fully vaccinated people (two weeks after last vaccine dose) can visit with unvaccinated people from a single household who are at low risk for severe COVID-19 disease indoors without wearing masks or physical distancing. For more vaccination guidance, check out the CDC website.
While we don't know for sure when vaccines will be authorized and recommended for all age groups, there are ongoing COVID-19 vaccine trials in all age groups and data is expected to be available soon.
Yes. When the vaccines were tested in children, the side effects were the same as those for adults. The most common side effect was pain at the injection site, and it was generally mild. Other common reactions were fatigue, headaches, muscle pain and chills. Fever was an uncommon side effect. These post-vaccination symptoms are a sign that the body is reacting properly to the vaccine. Essentially, it shows you that your immune system is revving up to protect you. We will continue to evaluate new information as the trials in children continue.
The information available about how well the current vaccines from Pfizer, Moderna and Johnson & Johnson protect against new variant COVID-19 strains continues to change as the vaccines are tested against these variant strains and as new variant strains continue to emerge. It appears that the vaccines all provide some protection against the current variant strains, but the protection varies based on the vaccine and the variant strain.
Children's Mercy will continue to provide vaccines to children who are eligible following authorization from the FDA and recommendations to give the vaccines from the CDC.
As of April 13, 2021, Children's Mercy will bill for the cost of administering the vaccine. There will be no out-of-pocket cost for any vaccine recipient.
What will happen for those with insurance?
Vaccine recipients with insurance will not have any out-of-pocket costs for vaccine administration. If you have health insurance, you must provide that information at the time of scheduling and/or registration and we will bill your insurance
What will happen for those without insurance?
If you do not have insurance, we will submit your vaccine administration cost to the Provider Federal Uninsured program requesting reimbursement on your behalf. You will not incur any out-of-pocket cost.
What will happen if I receive an Explanation of Benefit (EOB) from my insurance showing that I owe a balance from my child's COVID vaccine?
Your child's insurance will be billed for COVID vaccine charges. However, any patient responsibility left from your insurance will not be billed to you on a statement.
Who can I call for questions related to COVID vaccine changes?
Children's Mercy Customer Service: (816) 701-5100 or RevenueCycleFeedback@cmh.edu
Health Resources and Administration has provided answers to frequently asked questions about claims reimbursement for testing, treatment and vaccines.