Kidney Transplant: Josiah's Story
PICU nurse mother faces constant, unforeseen challenges in her son's road toward a life-saving kidney transplant


Early in her pregnancy with her second child, Danica Stewart had a sinking feeling. Perhaps it was due to her training and expertise as a Pediatric Intensive Care Unit (PICU) nurse at Children's Mercy Kansas City or simply a mother's intuition, but she knew deep down her son Josiah—a Hebrew name meaning "God heals"—was going to have a difficult start to his life.
"When I read his name during my pregnancy, I had this very strong feeling imprinted in my soul that whether it would be physical or emotional, there was going to be healing for me, my husband and our family," Danica said.
She was right. But Danica never could have prepared for the road ahead for Josiah, and ultimately, the unexpected gifts he would bring to their family, their community and Children's Mercy.
Setbacks and surprises define Josiah's first PICU stay

What was supposed to be a routine ultrasound at 20 weeks, soon evolved into two years of multiple medications, surgeries, life threatening complications, dialysis and deep emotions that were anything but routine, even for seasoned physicians and care teams.
"When the doctor said she saw something really wrong with his kidneys, I immediately felt this huge weight on my chest," Danica said. "You're so overwhelmed knowing there's something wrong with your baby."
By 28 weeks in utero, his kidneys had completely stopped making any urine. Danica's amniotic fluid volume had drastically dropped, and the family was referred to the Fetal Health Center and the Division of Pediatric Nephrology at Children's Mercy. There, they consulted with the Division Director of Pediatric Nephrology, Bradley Warady, MD, and other nephrologists, neonatologists, the Palliative Care team and many additional specialists and care providers.
"The physicians and staff there—my colleagues—are just so wonderful," Danica said. "It gave me peace of mind knowing that when delivering our baby, there would be a team of doctors ready, and we wouldn't have to transfer to a different facility. I would be right there with Josiah, and he would be in the best place he could possibly be in Kansas City."
On Dec. 18, 2018, Josiah James came into the world, but not without complications.
Danica was only able to spend 30 seconds with him before the care team rushed him off to be stabilized with a breathing tube and ventilator. Days after his birth, Josiah had his first surgery. In the weeks and months ahead, he required peritoneal dialysis, developed iodine toxicity, experienced dangerously high blood pressure and cardiac issues and had to have both of his kidneys removed due to the presence of enormous cysts in them. He was placed on continuous renal replacement therapy, which involved equipment that serves as an external kidney to filter blood and remove fluid and waste. Soon he faced even more obstacles, including infections, issues with medications, blood clots and seizures.
"I found myself wondering how much can you throw at a little body and expect him to just keep fighting through it?" Danica said. "But he did; he fought it all off."
Through all of this, Danica says she, her husband Mitch and their family were impressed by the steadfast care, and most importantly the collaboration and constant communication between the teams at Children's Mercy.
"The PICU and Nephrology physicians and nurses, and everyone involved in Josiah's care worked so well together," Danica said. "They would try new things and make really brave decisions. We had all these complications throwing curveballs every day, and they were ready for all of them. They worked together using their different specialties to try and save Josiah. I will forever and always be grateful, and it's something I can never repay."
Finally in August 2019, after six months in the PICU, Josiah was stable enough to go home, while continuing dialysis six days a week. The family held a celebration at the hospital and thanked the care providers. They were eager to get him home for the first time, but unfortunately, Josiah's journey was far from over.
2020 brings high stakes and low points

In March 2020, Josiah's blood pressure rose to an extremely high level and he was readmitted to the PICU, just days before the city and the entire world began to shut down due to the COVID-19 pandemic.
Danica described that time as lonely, isolating, and scary. She said early in the pandemic she and her husband couldn't even be there at the same time due to visitor limitations.
"When you're going through that, you just want to have a loved one you can sit with, cry with and feel the depths of that despair with you," Danica said. "The hardest part was Josiah lived there for almost an entire year, and he only saw his brother six times. For a mom, that is soul crushing to not be able to have your boys together."
While the doctors worked to better understand the cause of the high blood pressure, Josiah underwent spinal taps to check the spinal fluid pressure on his brain. He was also sedated and placed back on a ventilator to help support his heart and lung function.
"Through the ups and downs, the intensivists and the Nephrology team always had cautious optimism that we could move forward and successfully address the many significant challenges that we were facing," Dr. Warady said. "And this young boy, despite all the things going on, was so very resilient; it was amazing."
During all of this, Danica was still working as a nurse, facing the dual role as a mother, and as a caretaker for other children in the PICU.
"It was so strange to show up to work and be strong for other families and take care of their kids, while already dealing with pain and grieving a loss of normalcy," Danica said. "I couldn't just show up to work and check out or be absent-minded; I had to be very engaged at my job. I learned how to compartmentalize, to put on a brave face and keep busy at work with the tasks at hand."
"Not only were there a great many medical obstacles to overcome, but there were so many emotional challenges," Dr. Warady said. "I would sit with Danica on a repeated basis, and there were times when she was in tears and wondering if she was doing the right thing. It's hard to imagine, even today, how she had the strength to do what she did".
Finding a kidney donor close to home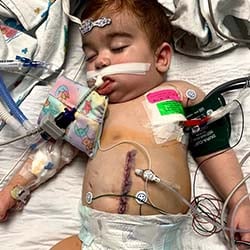 At this point, Josiah was hooked up to a dialysis machine for the better part of every day. To regulate his fluids and minimize the risk for worsening cardiac issues, it was clear that he ultimately needed a kidney transplant.
Fortunately, the family didn't have to look far for Josiah's kidney donor. His dad Mitch immediately stepped up and was deemed a good match with Josiah.
"He did this so selflessly," Danica said. "It wasn't even a second thought for him. He said, 'Of course I'm going to give my son my kidney.'"
The transplant surgery by Rich Hendrickson, MD, took place on Dec. 2, 2020, and was a complete success.
"Josiah just had this glow after his transplant," Danica said. We could tell he was finally feeling healthy. As soon as they took his breathing tube out, he started to climb out of bed. He was ready to go home."
Josiah finally did go home two weeks later. He was discharged a day before his second birthday, ending his second long-term stay in the PICU.
Parents are essential to care at Children's Mercy

Throughout Josiah's life and his complicated medical management, Josiah's parents have been an integral part of his care team.
"At Children's Mercy, we have such a big emphasis on parents being part of the medical team," Danica said. "Everyone who treated Josiah investigated things that were a concern to me and made sure to bring me along throughout his care. There were tears and disagreements sometimes, but they remained patient and treated me with so much grace."
"It was such a team effort, and we never felt challenged by her questions or management concerns," Dr. Warady said. "Her insights were always spot on and she was unquestionably a vital member of the team helping us guide the care for her son."
Danica says she wouldn't trade the suffering they went through because of the good things it brought, including shedding light on alternative tests and treatments for other patients.
Throughout his stay in the PICU, the doctors were puzzled by Josiah's high blood pressure. However, subsequent studies revealed a high level of a rare antibody in his blood that can be associated with elevated blood pressure. The introduction of a blood pressure medication which targets the pathway of that antibody made it possible for Josiah to discontinue all other blood pressure medicines, and his blood pressure has returned to normal. Doctors have now started to check for this antibody in other complicated cases and have seen positive outcomes as well.
"It's pretty cool to see medical professionals using things they've learned from Josiah and apply it to other patients," Danica said. "It makes us feel like all of this had a purpose and can help other families."
A happy ending for Josiah and his family

Despite being fraught with challenges, Danica reflects on Josiah's medical journey with gratitude because it created an unbreakable bond and brought everyone in their family closer together.
"In a way, Josiah has been gifted to me so many different times," she said through tears. "That day of his birth when I saw him take a breath, I didn't know if we would get that. During those two admissions, the input we received from all the physicians and nurses in Nephrology and the PICU was such a gift to Mitch and me—seeing all these people band together for us, fight for us and care for Josiah. Dr. Warady would come in on his days off and see how Josiah was doing and how we were doing. He would call me in the evenings and check on me. That was such a gift to me too. That year was laced with so much uncertainty with the pandemic and not knowing if we would even make it to transplant, but we did. And again, he was gifted to me as this beautiful little boy who has so much potential and life ahead of him."
"I know in my heart none of this would have been possible if all these doctors, nurses and therapists didn't bond together in the way they did. They were so engaged and gave me my little boy back when there were times I didn't know whether it was going to be our reality. I am very touched when I think about all the ways they have blessed our family."
A year after his transplant, Josiah celebrated his third birthday in December 2021, and Danica says while he still is catching up with his speech and eating habits, the only evidence of his hospital stays are scars from his procedures and his kidney transplant.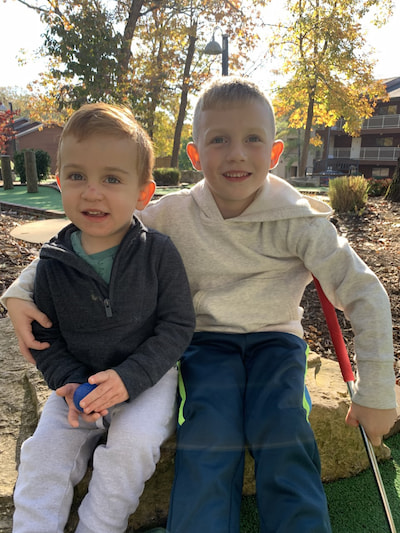 "It's amazing to think about all the things he pushed through and how remarkably well he's doing," Danica said. "He couldn't walk when we brought him home, and now he's running and bouncing off everything. He's just a happy, smiling and very affectionate little boy."
Dr. Warady says the Children's Mercy teams are grateful to see Josiah flourishing after being in the hospital for more than half his life.
"This is one of the most rewarding experiences that I have ever been involved with," says Dr. Warady, who has been at Children's Mercy for nearly 40 years. "Through the efforts of so many people working together through a lot of trauma and emotion, we were able to get to the other side—a brighter side—and share the joy that has resulted from a very happy ending for this young boy and his family."
Stories
A better quality of life: Hayden's story
Hayden Murnahan defied the odds when he received a long-distance kidney donation via private plane for a second transplant.
Meet Hayden
Kidney transplant: Isaac's and Colin's stories
Isaac Schroeder, a 2 ½-year-old patient from Omaha, Neb., and his mother celebrate the one-year anniversary of Isaac's lifesaving kidney transplant at Children's Mercy. Meanwhile 18-year-old Colin Martin recovers from a kidney transplant made possible by his brother, William. This was the first brother-to-brother transplant performed at Children's Mercy, and both young men are doing well.
Pediatric Nephrology
McLaughlin Family Endowed Chair in Nephrology; Division Director, Pediatric Nephrology; Director, Dialysis & Transplantation; Professor of Pediatrics, University of Missouri-Kansas City School of Medicine; Education Professor of Pediatrics, University of Kansas School of Medicine
Pediatric Surgery
Surgical Director, Small Intestine Rehabilitation; Surgical Director, Prenatal Consultation, Surgery; Professor of Surgery, University of Missouri-Kansas City School of Medicine